Sharing the current state of c19 and living in the state of Victoria, in the land ɹǝpun uʍop
********
Melbourne now under one of the strictest lockdowns in the world
Melburnians now endure some of the strictest lockdown conditions in the world, as the Victorian government battles to contain hundreds of new coronavirus infections every day.
Many countries that were initially hit hard by the deadly virus are now reopening for the sake of rebuilding their economies, with social gathering limits dropped and dining establishments reopened.
Others, which had early success in containing the virus, are now being forced into secondary lockdowns due to infections rising beyond control.
Still, other leaders whose countries have skyrocketing infections and death tolls are refusing to implement lockdowns.
Here's how Melbourne compares.
MELBOURNE'S 'DEVASTATING' RESTRICTIONS
Under Melbourne's strict new rules, residents are only allowed to leave the house for one of four essential reasons – shopping for groceries and essential items; medical needs and caregiving; daily exercise in your local area; and work where it's not possible to do so from home.
A citywide curfew has been implemented from 8pm to 5am every day, meaning everyone has to stay at home during those hours.
Exercise is limited to one hour, once per day, and must take place within five kilometres of home.
Mask-wearing is mandatory, including in regional Victoria, and all restaurants and cafes are closed for dining in.
Schools will return to remote learning, religious services will need to be broadcast online, weddings will no longer be permitted from August 6, and funerals will be limited to 10 people.
The new phase of restrictions is expected to trigger an estimated 250,000 job losses with Victorian Chamber of Commerce and Industry Chief Executive Paul Guerra describing the projected effect as "devastating and long-lasting.
Victorian Premier Daniel Andrews himself described the unfolding situation as "heartbreaking" when declaring the need for the city's shutdown.
********
What about the rest of Australia, you ask per chance?
The rest of Australia enforces social distancing rules to varying degrees, but not nearly on the same scale as Melbourne.
Victoria's outbreak is sending the other states into panic mode.
I've already suggested to Victoria State Tourism, the new catch phrase. Not my original.
Victoria, the State of Disaster.
Nowhere to go and all day to get there.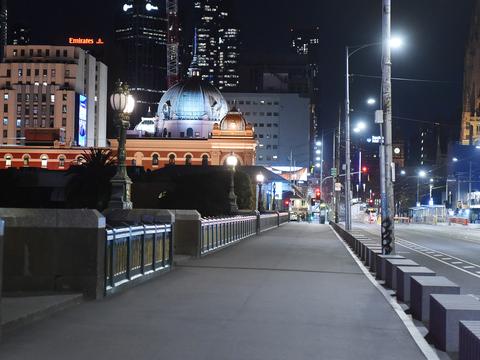 (source: AAP)
---
We are all born ignorant, but one must work hard to remain stupid." ~ Benjamin Franklin.

"If anyone in this country doesn't minimise their tax, they want their head read, because as a government, you are not spending it that well, that we should be donating extra...:
Kerry Packer

SIGForum: the island of reality in an ocean of diarrhoea.