quote:

Originally posted by 92fstech:

Well, it's Tuesday. What have you got for us, offgrid?
Hopefully a fun one for you guys!
If we're not fast enough, it doesn't matter how accurate we are. And if we're not accurate enough, it doesn't matter how fast we are. This will test both.
Prefer carry pistol, any pistol works. Iron sights, red dots no matter.
10rds
Two targets, two distances.
3yd target, standard copy paper folded in half, hung vertically.
25yd target, B8
3yds .8 second par time. Start low ready, finger indexed, gun pointed a little below the target, not on sights/heads above sights. Like this guy. Pass or fail. Pass, make time and hit target anywhere. Fail, miss either time or target.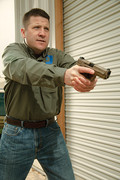 25yds not timed, start at will, start position doesn't matter. Pass or fail. Pass, break the 9 ring line or anywhere inside 9 ring. Fail, hit outside the 9 ring line.
Start at 3yds, then move to 25yds, alternate distances until all 10rds are fired, five shots at each distance. Shoot it cold. Not too leisurely between distances.
Highest pass hits win, tie breaker fastest time at 3yd hit, record your times.
Maybe dry fire the 3yd target at home on a timer to get a feel for that time!
I'll try to shoot it this Thursday.
Have safe fun!
RichardC, I talked to friend who commonly shoots at a indoor range. He has had good luck with his shot timer at his range when shooting next to other pistols. If a rifle is next to him, it'll probably pick up on his timer. Guess with the rifle muzzle outside of the side dividers the bang comes back into his cubicle?