Local Zimmermann wows in front of family
April 10th, 2021
Joe Trezza
Last September, when Bruce Zimmermann debuted for his hometown Orioles in a fan-free Oriole Park, his family huddled in small groups scattered across the city, watching from afar due to the pandemic. Had those been normal times, Bruce's older brother, Joe, said that the Ellicott City native's debut "would probably double the normal attendance" at Camden Yards. That's how deep the Zimmermanns' local ties run.
Part of the beauty of 2021 is the way it's already, one week or so into the regular season, providing second chances. Making what Zimmermann dubbed his "debut 2.0" Saturday, the lefty produced a quality start in front of a small army of friends and family before the O's fell 6-4 to the Red Sox in 10 innings. More than three dozen family members were part of the 9,307 announced crowd at Oriole Park, including his parents Bruce Sr. and Marcie.
"We're just very, very excited and very happy and very proud of him," Marcie Zimmermann told MLB.com. "It's one of those things where you're still pinching yourself. We're still pinching ourselves."
Bruce Sr. and Marcie traveled to Boston last weekend to watch Zimmermann earn his first big league win in person at Fenway Park, along with two of his sisters and three other relatives (Zimmermann is the youngest of five siblings). On Saturday, they were part of a much larger contingent that included friends and acquaintances from throughout Greater Baltimore, including Zimmermann's high school buddies and at least four of his former Little League coaches. Zimmermann is the 28th Maryland native to play for the Orioles, and the 12th to start on the mound for them.
"It was everything I could've imagined. It was extremely special," Zimmermann said. "You name it, they were out there supporting me. I definitely heard them throughout the night."
They watched as Zimmermann struck out four while completing six innings of three-run ball, hurt most by Rafael Devers' run-scoring single in the first and go-ahead solo homer in the sixth. The other run came at little fault of Zimmermann, scoring when the Orioles botched a run-down in the first inning.
Baltimore Orioles @Orioles
From fantasy to reality.
how it started ...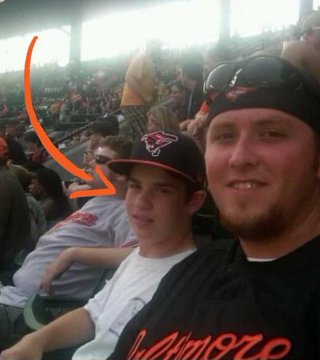 how it's going...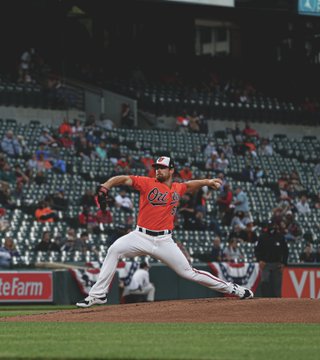 The O's managed solo homers from Anthony Santander and Trey Mancini -- his first since beating Stage 3 colon cancer -- behind him, before rallying to take a one-run lead off Adam Ottavino in the eighth. But César Valdez's first blown save sent the game to extras, and the decisive run scored on Dillon Tate's wild pitch in the 10th.
"He gave us six really good innings to keep us in the game," manager Brandon Hyde said. "That was an excellent job of pitching."
It was an evening, even in a losing effort, a long time in the making. Never a top prospect, Zimmermann grew up rooting for the Orioles and was overlooked by scouts in high school, cycling through three colleges before the Braves made him a fifth-round MLB Draft pick out of the University of Mount Olive in '17. He arrived in the Orioles organization as part of the Kevin Gausman trade in '18, beating sizable odds to reach the Majors by late '20 and making two appearances down the stretch.
He then returned home to Ellicott City for the winter, determined enough to earn a place on the Orioles' Opening Day roster that he gave himself daily reminders, in the form of post-it notes stuck to his bathroom mirror. Every morning, Zimmermann woke up and the notes were the first thing he saw.
The first one read: "Make the team out of Spring Training."
The second?
"Be a starter."
That's exactly what happened. Zimmerman didn't just pitch his way into the O's rotation this spring, he opened the year as their No. 3 starter. When he phoned his parents from Florida to relay the news, they were driving over the Maryland/West Virginia border en route to visiting a friend, traversing windy, mountainous roads.
"We almost drove off the road," Bruce Sr. said.
Eying the schedule, that was when Zimmermann's hope of a "debut 2.0" in front of fans at Camden Yards became a reality. Flash forward to Saturday, and he prepared for the event like a native would, stopping for a morning meal at his favorite bagel spot -- THB Bagels in Canton -- before heading to Oriole Park. Zimmermann shouted out the local joint after the game, after living out the type of childhood dream that few get to realize.
"It was an outpouring of support that a hometown kid could only dream of having at the ballpark behind him," he said. "I tried to take in the moment as much as I could."
https://www.mlb.com/orioles/ne...t-in-front-of-family
---
"Some things are apparent. Where government moves in, community retreats, civil society disintegrates and our ability to control our own destiny atrophies. The result is: families under siege; war in the streets; unapologetic expropriation of property; the precipitous decline of the rule of law; the rapid rise of corruption; the loss of civility and the triumph of deceit. The result is a debased, debauched culture which finds moral depravity entertaining and virtue contemptible."
-- Justice Janice Rogers Brown

"The United States government is the largest criminal enterprise on earth."
-rduckwor