I've wanted one for years. Yes, it's "the gun from Heat," (and Black Hawk Down) but more than that, it's just a damn cool configuration. I have a 6933 a friend put together for me recently that I thought would scratch that itch but only made it worse. He had a flat top upper he could put together with an 11" pencil, and the choice was "you can have this now, or you can have a 733 when I can find an upper." Patience isn't my strong suit, so I have a 6933 type. Yes, the forward assist came off a rifle that was painted and neither of us cleaned it off. I don't care. Yes, the grip plug is missing from the MOE+. I also don't care about that.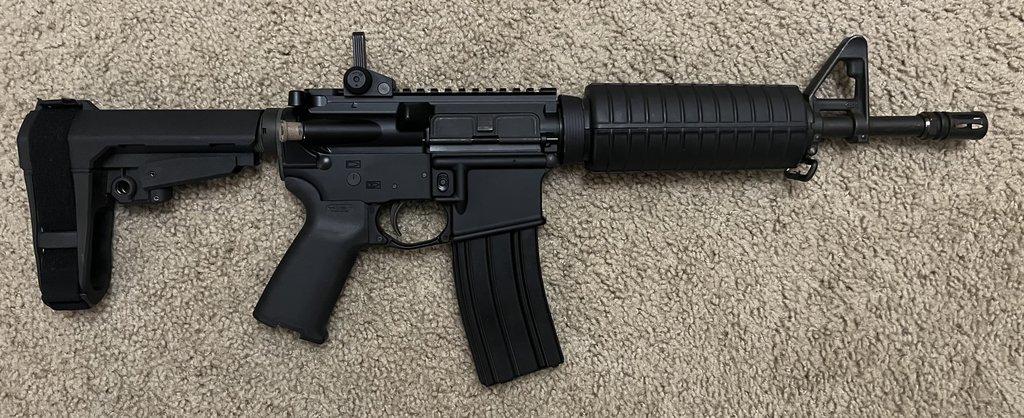 Yes, I have the paperwork submitted. Yes, the brace will get whatevered according to whatever legal whatever gets decided next week before the whatever. Whatever. Legal! Please don't come shoot my Maine Coon, I swear he's a cat, not a dog, even though he's bigger than your dog. Please don't shoot him, he's a good boy.
Now, about the 6933, there's been some discussion lately about "everything you need and nothing you don't," and I think for a minimalist home defense carbine, it will neatly fill the role once I get a simple sling, and a light mount figured out for the handguard. My plan was an IWC Mount 'N Slot for a Streamlight Polytac X on a set of original MOE carbine length handguard that Primary Arms inexplicably threw in for free with an order about a decade ago that has sat in a bin all this time. Unfortunately, the IWC guy passed away and the online store has been suspended, and it's anyone's guess if that company will ever produce or sell anything ever again. So it's the secondary market and whatever I can find, I guess. The only thing I don't love when shooting the 6933 is it jumps around a fair bit. Now, that's not surprising at 5lbs 1oz unloaded plus a pound and an ounce loaded with M193. With a proper stock once my Form 1 gets approved, it should be easier to get a tighter hold with it to mitigate that some. PA also threw in an MOE vertical grip that is also NIB. Bet your ass I'll be putting that on before I install the handguard. Again, when approved. I like irons, and tried a few red dots on it, but it adds enough weight that I pulled them. Without anything extra, it's a true one-hand gun. I love it.
That brings us back to the 733. You ever buy a gun just for fun? That's what this is. The AR's I grew up seeing in films and TV all had carry handles, but I finally came to the platform at a time where it was considered silly to bother with any of that. A1, A2, and C7 uppers were cheap and plentiful because people wanted rails on rails, so of course, I didn't buy one. I have a C7 upper coming, and an 11" pencil barrel waiting for it. The various bits and bobs are mostly put together, lacking only an A1 sight kit and a handguard end cap, then construction can commence and I'll finally have my retro AR in the bag. Shamelessly stolen example photo so people who don't know don't have to search.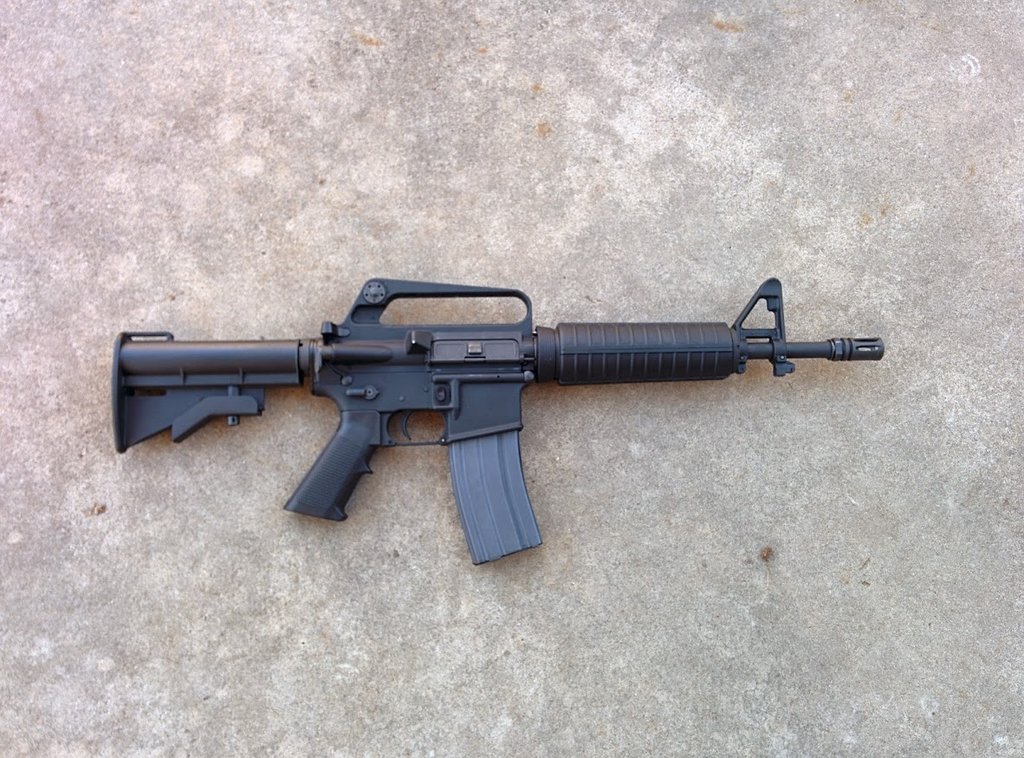 What to do with the 6933? Basically, it's gonna be the exact same gun, just with different types of iron sights since I don't want to put an optic on the flat top, even though I can. Anymore, I'm not a fan of needless redundancy, and in this last year or so, I went from a few AR's to about a half dozen. I didn't want it to happen, and I used to wonder at guys with that many AR's, but it happened anyway. As with everyone else, it starts with extra parts that turn into extra uppers which logically proceeds to grabbing some $50 blem PSA lowers which of course, need budget LPK's so you can use up the various stocks and grips you have sitting around in parts bins and the next thing you know, you AR count has doubled or tripled. The least I can do is make them all different, I guess. I have a 10" Diamondhead VRS-T that's paired with a flat top upper and a 10.5"... (sighs) heavy barrel. It seemed like a good idea at the time, but I don't drink anymore, so it feels as heavy and silly as it shouldn't. I'm now thinking of cannibalizing that thing and pairing that rail with this 11" pencil in my "6933" and then putting the can, the light, the LAM, optic, and all that shit that goes on an NV capable carbine and turning a 5lb gun into a 10lb gun. It doesn't feel like the smartest thing to do, but I can see in the dark, and I don't have a gun that works with that. I will soon, however, have everything I need to make that happen, so that's looking like what will happen.
Lots of rambling, but whatever. I'm sure I'm not alone in this question here. I have two form 1's for AR lowers in the hopper, and I'm gonna do another for one of these PSA lowers I put together this past weekend. Then it's Form 4's for cans, and I think I'll probably start with a Rugged Razor to get the ball rolling for rifles, then figure out muzzle devices while I wait. Short rifles like suppressors, especially for any kind of serious or defensive use. 11" 5.56 out in the open? It's fine. 11" 5.56 in an indoor range, or even under an awning? It sucks,
hard
. I know hearing is a secondary consideration if you have to shoot someone in a defensive scenario, but damn.


______________________________________________
Divided we stand.