*** This will be the final report on this little guy. ***
Gun came back from SIG on 3/18 after SSP. Almost as good as new. As noted in another thread,
the new white P229 recoil spring is shorter and weaker than the original P228 spring
.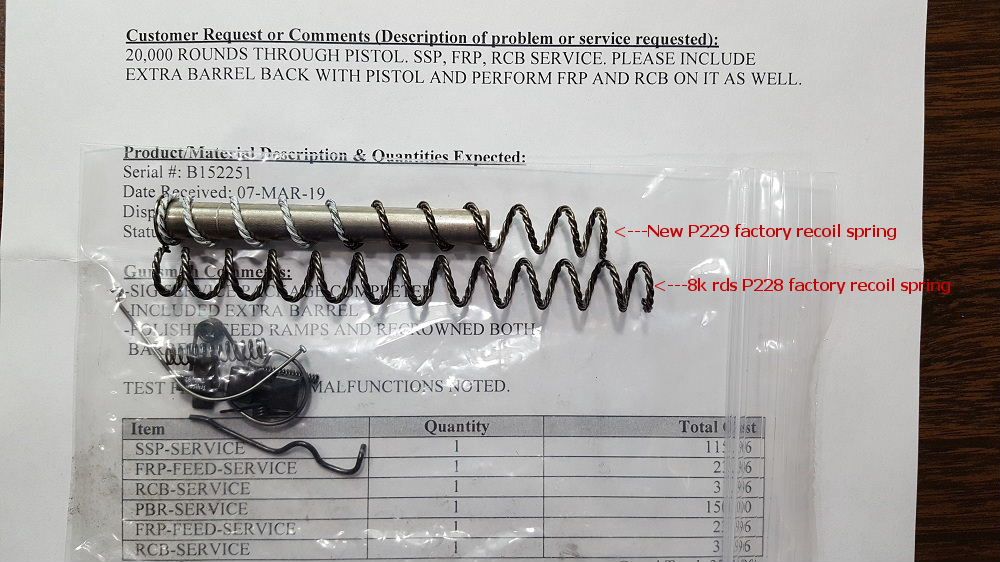 Also, a couple of things that really annoyed me about the factory service that has never happened before with all my other SIGs sent in.
1- The roll pins were not replaced.
2- The gun was nearly bone dry devoid of lubrication, except for the hammer/sear area.
I knew this was a sloppy job by some of their workers. So, I emailed the new CSR that started working with me on this gun and asked if SIG had changed lubing and roll pins replacement protocols. I got a reply 5 days later that I knew was total BS, instead of an admission of the screw-up and an apology.
quote:

I am not aware of any changes to our lubrication protocol but in general we usually lubricate the firearm if extensive testing is required. In the case of a service we would not lubricate as to show the customer the cleaning from the ultrasonic tank.
Really man? Even your company website says, under the SSP, "
Reassembly and lubrication to factory specifications
". Factory specs doesn't mean only the hammer/sear area gets greased. Man, I hate it when the so-called experts try to pull one over you. I know, lubing the gun is easy, I'll do it myself. But, this is about carelessness in servicing your gun and then tried to BS you.

quote:

If you would like I can set up an RMA and we can expedite the pistol back here and replace the breech block pins if you would like. Please let me know how you would like to proceed.
I told him to just send me the roll pins, and I can do it myself. But, it's really meaningless, now (see cracked frame at 25K, last 6 pics at bottom of this post).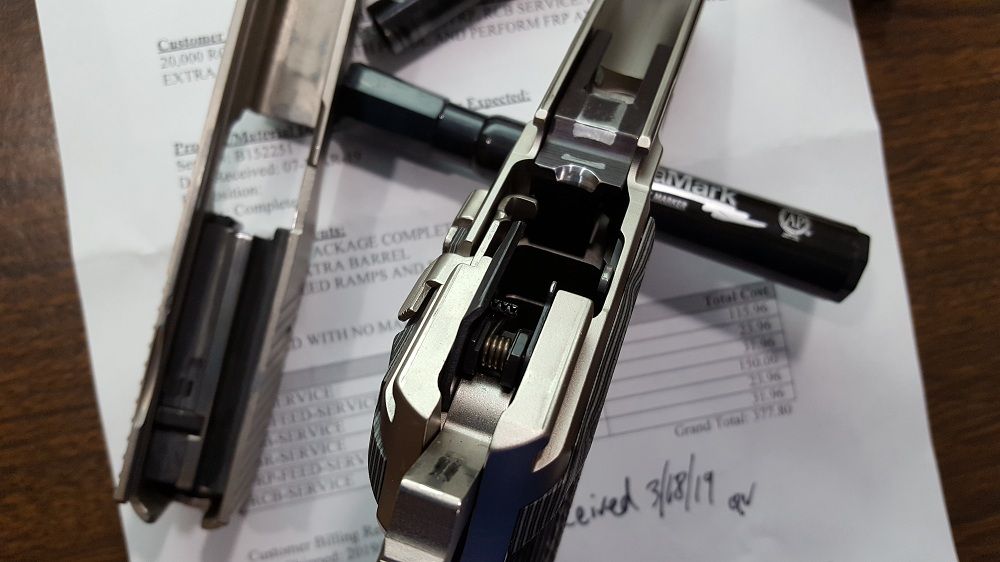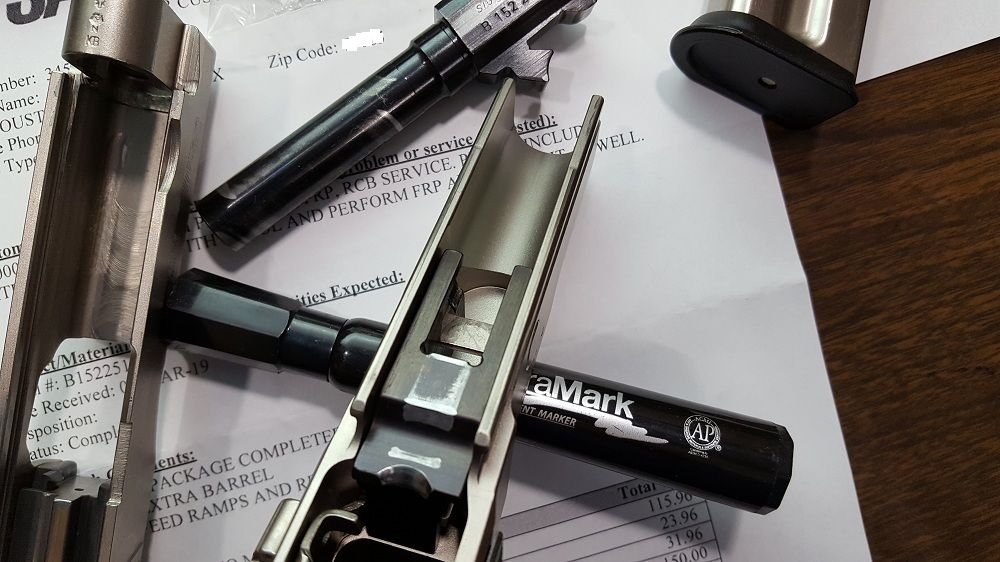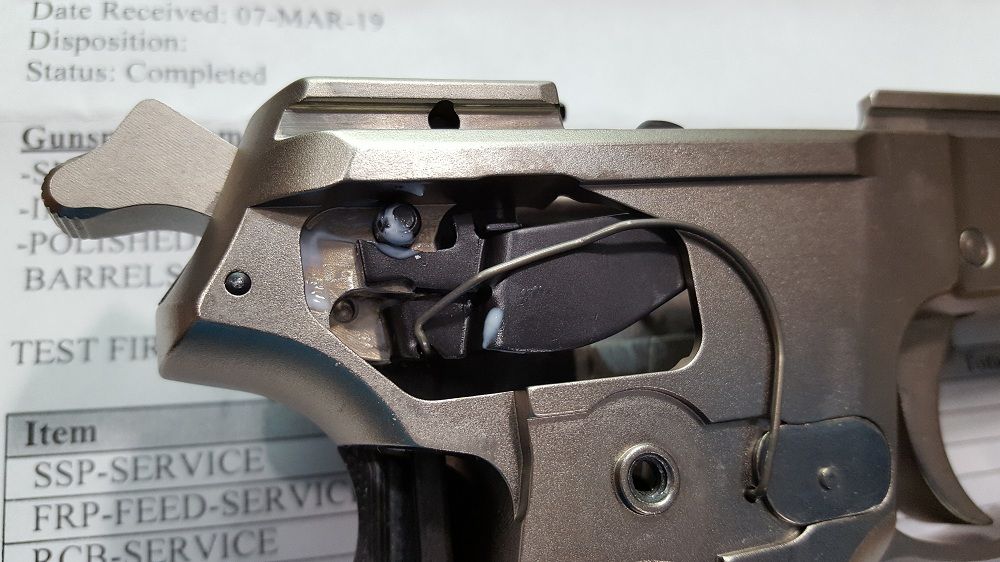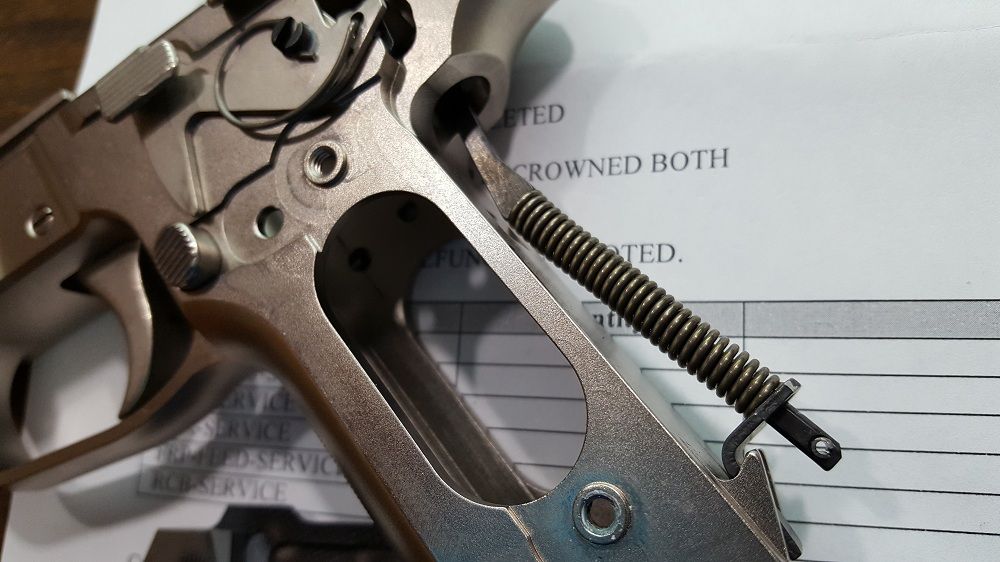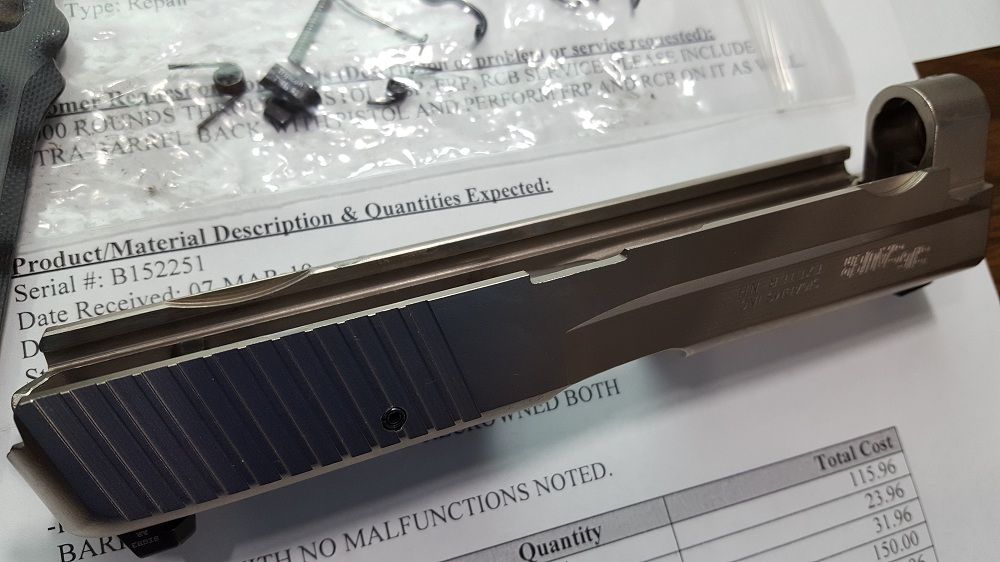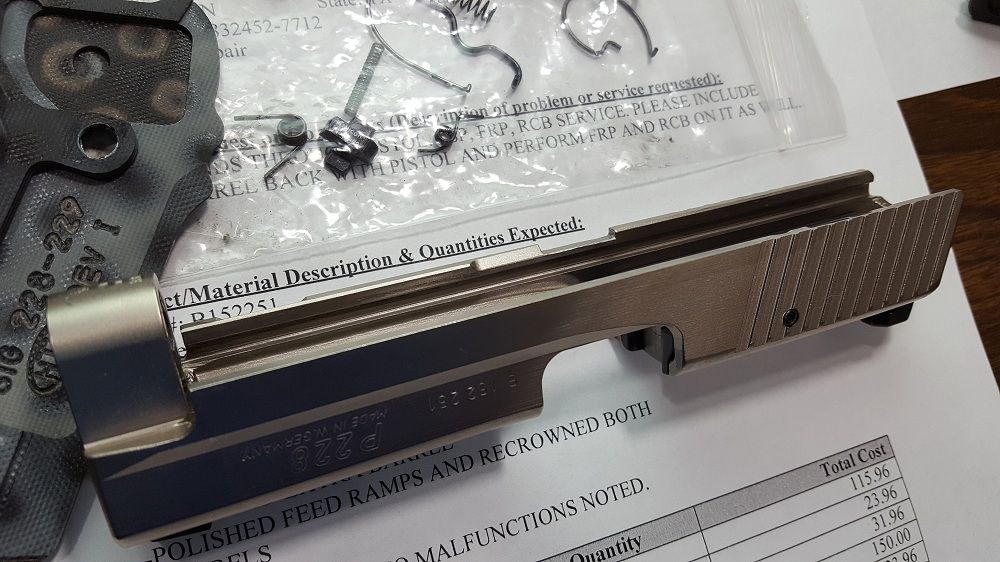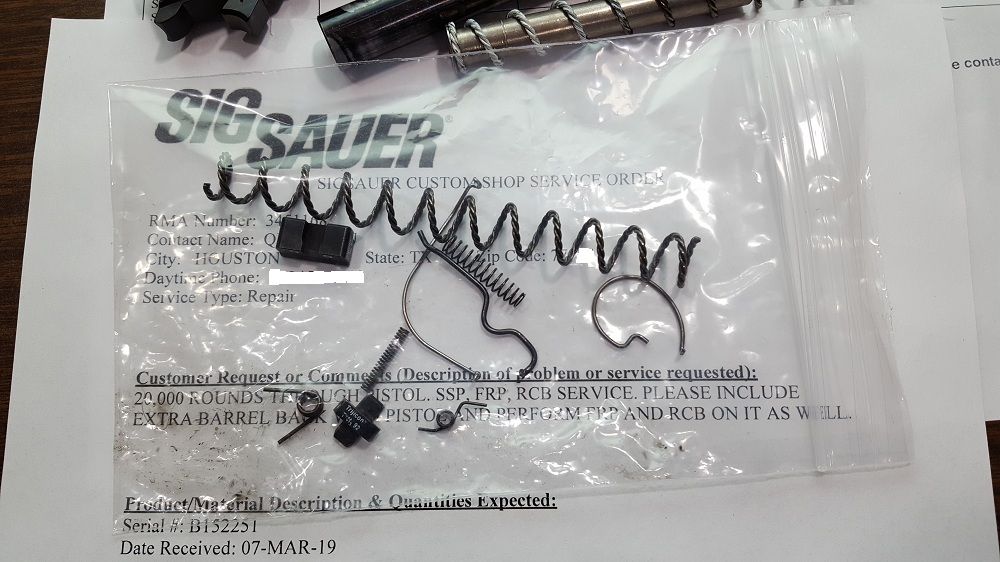 ---
---
---
Onto the next phase of testing. I was planning on another 10k before month's end. But, sadly, it only got to the halfway mark, then everything fell apart.
Ammo: Magtech 115 FMJ (4000 rds) and Magtech 124 FMJ (1000 rds)
Range days:
#1- 3/19: 1000 rds
#2- 3/20: 1000 rds
#3- 3/21: 1000 rds
#4- 3/22: 1000 rds
#5- 3/23: 1000 rds
On the 4th day, at round # 3650 (total # 23650), the trigger was stuck and failed to reset. I thought it was due to so much crud inside. I jiggled it a little and it reset. Then, I looked down on the platform, there was this little piece just laying there. Had no idea what it was. I took off the slide and did some inspection. Nothing out of the ordinary jumped out. So, I put the piece away to study it at home, put the slide back and continued shooting until ammo ran out (#24,000). There was no further malfunctions. But, I think this proved to be a fatal mistake I made for the gun.
When something fell out of your gun, you don't continue shooting
. When I got home and took everything out, there it was, the locking insert was fractured. Of all the things that can break, the locking insert is the last thing I expected to go first. Luckily, I have 2 spare locking inserts. So, I put the new one in, and the gun was ready for more action.
The 5th day went uneventfully.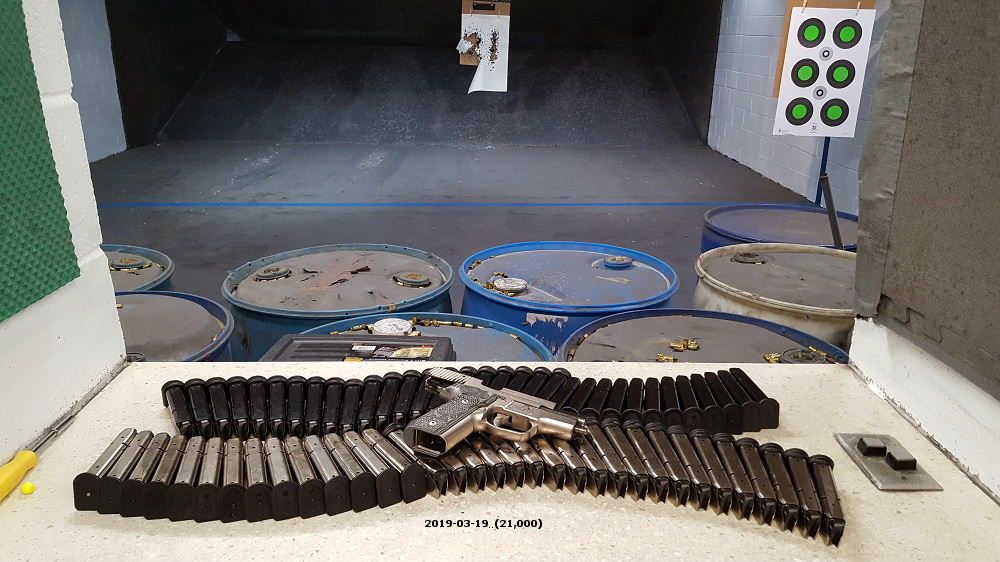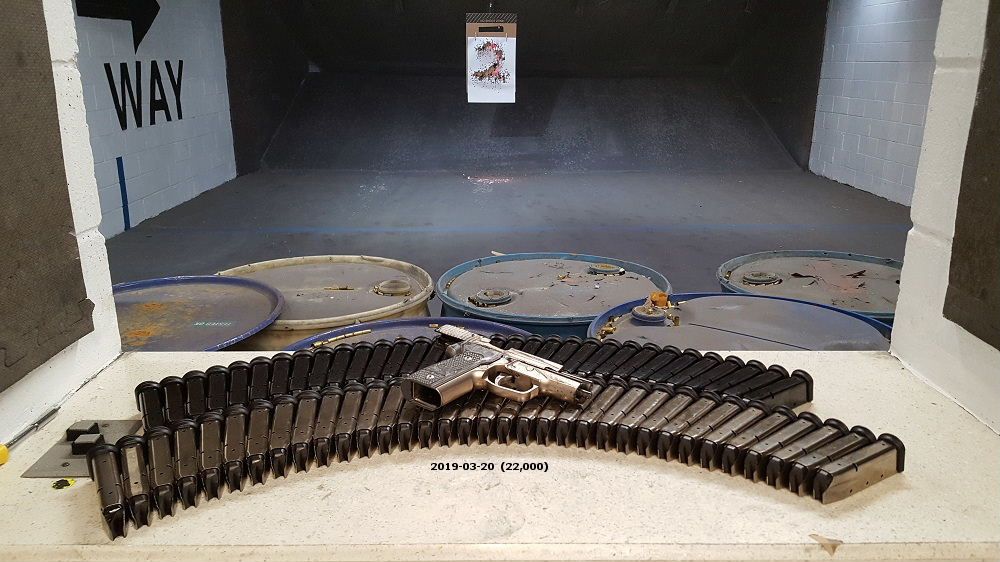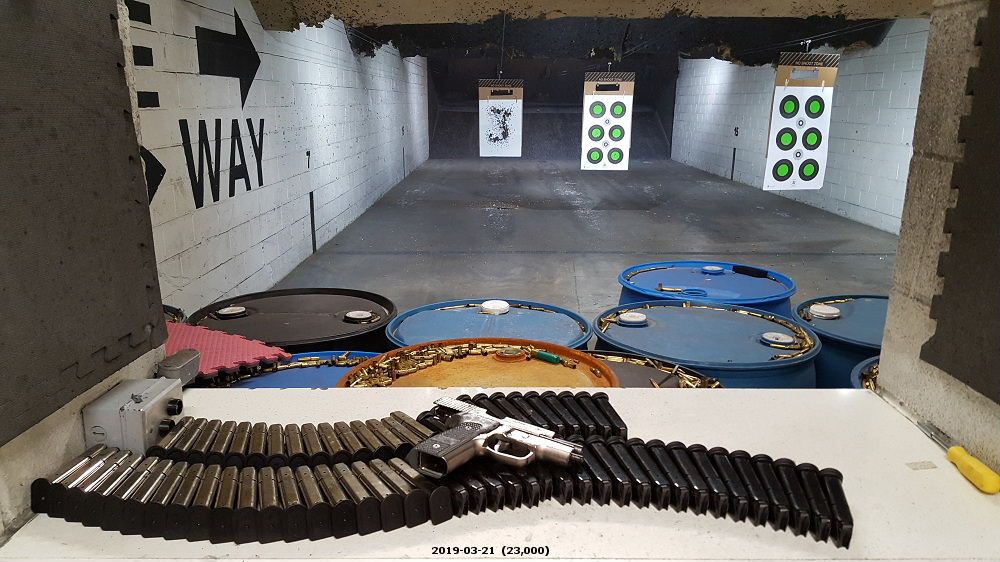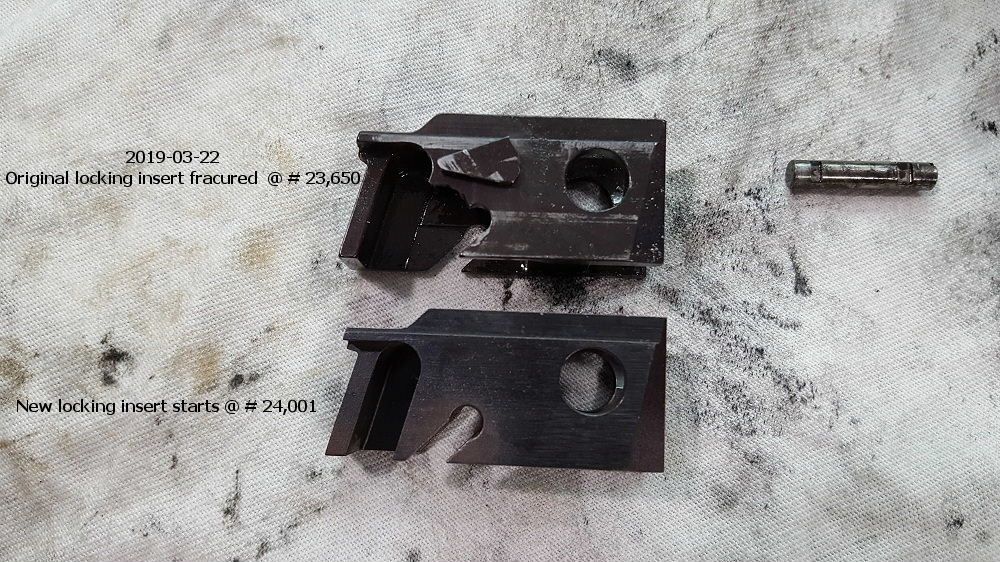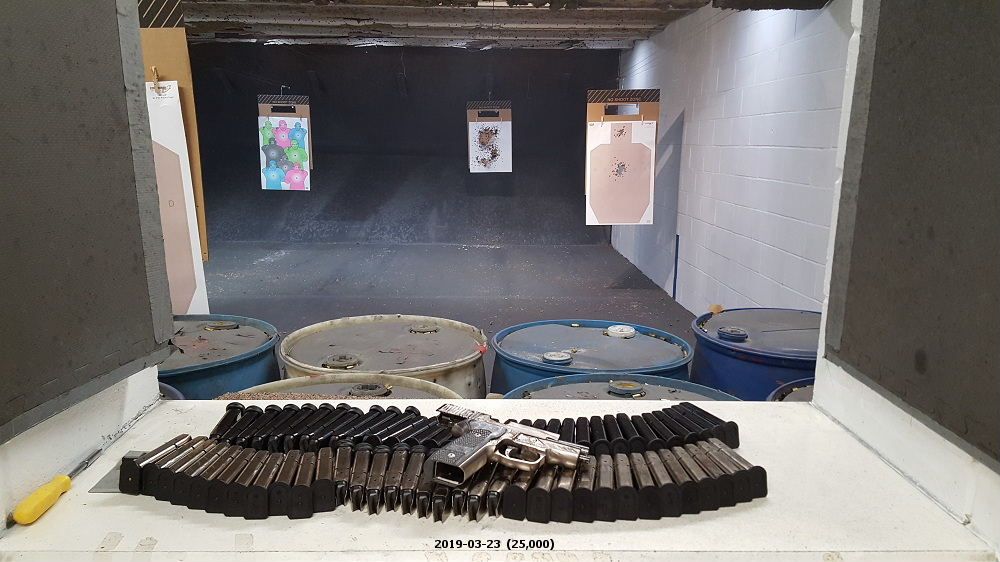 ---
---
Today, 3/25, was cleaning gun day getting ready for the next session. But, sadly, there will be no more range days for it. RIP.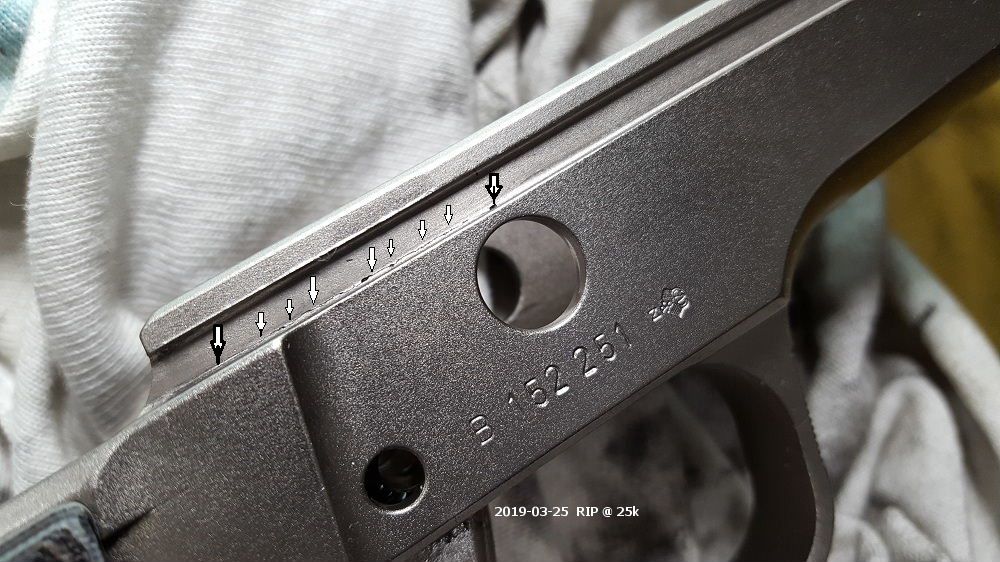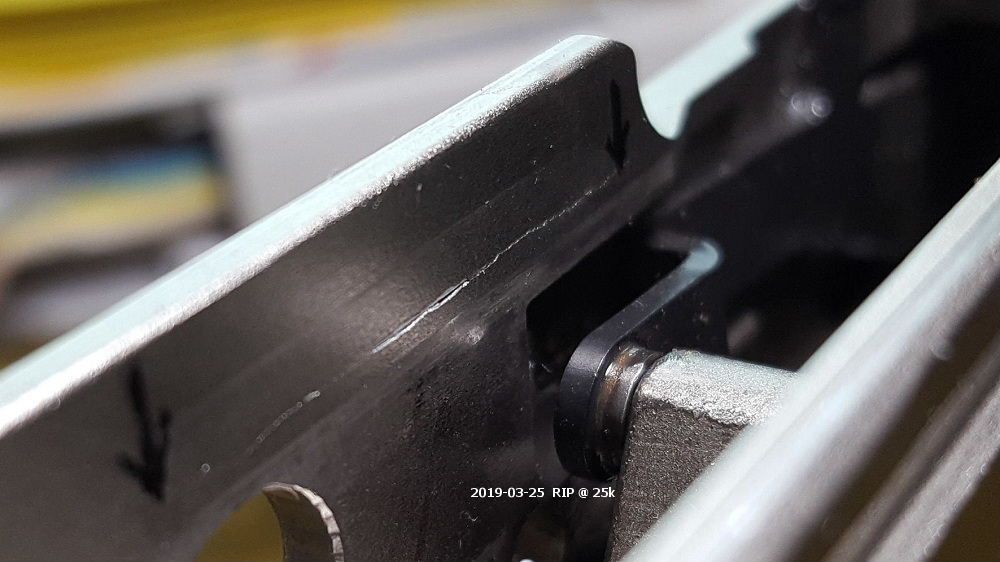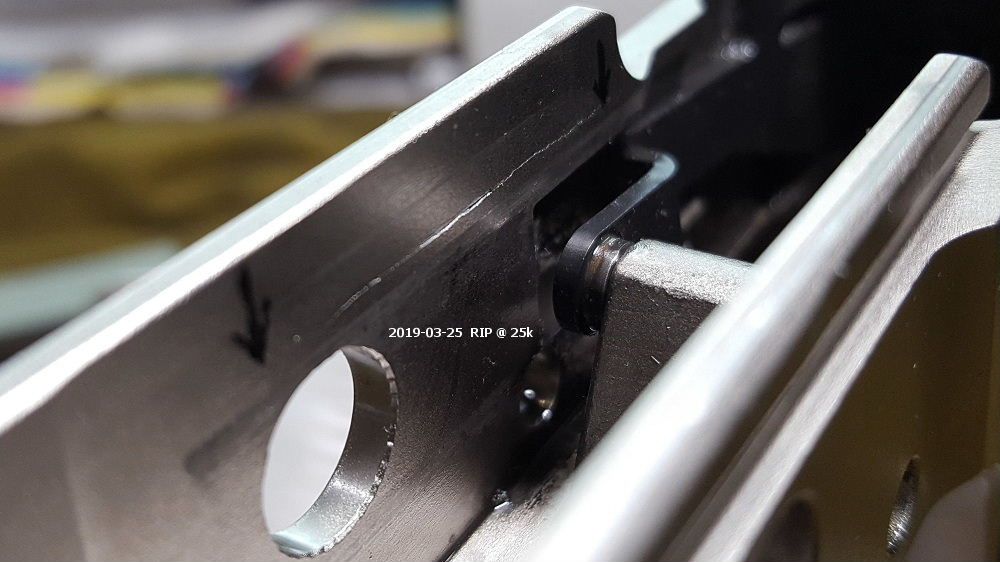 ---
---
Looking back, what could have done differently that could have averted this catastrophic failure? Suggestions?
This message has been edited. Last edited by: 12131,


Q

---