Originally posted by 9mm_shooter:
How about getting a smaller Victorinox? Super cheap, disposable, easy to carry, will not elicit a "hey look he has a knife!" reaction? It can be used to cut apples, pears, open envelopes, slice grapes, slash beef, and other activities. Looks better in court - ie you weren't
planning
to have to use a knife, you just
had
to use what you had on you.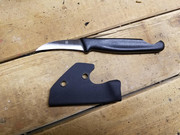 $25
https://www.etsy.com/listing/5...ds?ref=hp_rv-1&frs=1