quote:

Originally posted by redstone:
yeah, I am having a lot of fun. Arc, you are right. The workshops are great for harvesting scrap and building resources. I am pretty bummed that at my lowly level I cannot have actual plates on power armor but I am having fun exploring and interacting. few "wanted" notifications, but so far I have not been attacked. On a few occasions I have lost to some bad guys, there are some crazy animals/mutants out there. I need to spend more time building my character and skills.

I am trying to figure out how to blueprint things away from my camp. I can still only craft a stupid sleeping bag. I want a nice clean bed dangit.
The "blueprint" feature is just for rebuilding your base in one step. If you move camp and don't blueprint, you build it piece by piece over again, but the pieces are stored either way.
To build items, you have to find the plans. They are randomly out in the world, also rewarded for quests, and taking over a workshop. They can also be purchased at vendors.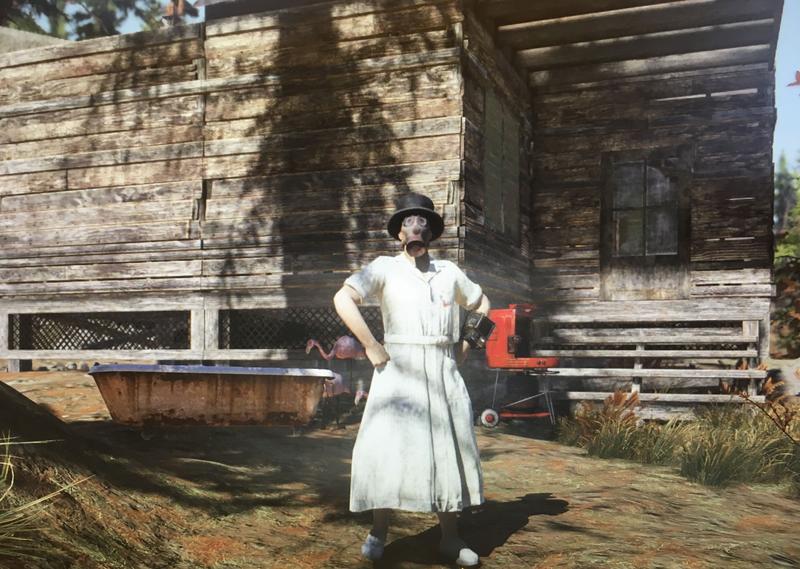 The pink flamingos and bathtub I found randomly while scrounging about.
Basically, this game is what you did already in other Falout games when you were ignoring the "main storyline." While there is one, and it's not a bad story, the purpose of Fallout 76 is to explore, kill stuff, and PvP if you want.
I and a number of folks have been enjoying ourselves. The butthurt I've read about this game, complaining about the graphics and engine? Well, I'm too busy hitting super mutants in the face with a Super Sledge to be upset.
Is it sometimes glitchy? Yes. So what. Is it an old engine? Yes, but it looks great and runs on my 10 year old computer.
Some day, they'll give us a Fallout as good as New Vegas. This isn't that, and it's not really a solo thing. You're going to have a hard time in later levels alone, and some stuff is impossible. Bring friends.
There are a number of perks that benefit the group, and incentive for each person to use them. Also the workshops and many missions are multiple people necessary.
You CAN solo a lot of things, but better build levels before venturing in certain areas.
I recommend picking a weapon type and sticking with it. The perk system is really nice because it is flexible, but your SPECIAL choices are permanent.
A pugilist build would be the toughest, the damage isn't there. Next toughest would be a Melee weapon build. Ballistic damage is good, but the most damage is still in energy weapons.
A bunch of people I know are trying non power armor builds, I'm not sure if they can survive late game, or PvP with power armor.
Ideally you have a crew with a mix of weapons and at least one person who can craft/repair at a high level.
I'll probably do a new build at some point. I'd still max strength, and put probably 8 points in intelligence, at least three in charisma, haven't decided on the rest.


Arc.
______________________________

"Like a bitter weed, I'm a bad seed"- Johnny Cash

"I'm a loner, Dottie. A rebel." - Pee Wee Herman

Rode hard, put away wet. RIP JHM

"You're a junkyard dog." - Lupe Flores. RIP