Many years ago, I originally got interested in the fast 357 Sig because I hypothesized that it would be superior at 50-100 yards. The rules changed at our range and I never got to shoot it past 50 yards.

Then? I read this article a little while back. It killed my hero, man.



I would assume that the physics apply to PCC's also.
How Effective Is Pistol Ammo at 100 Yards?
Jul, 15, 2019
This time, we're looking at what pistol ammo does at 100 yards. Calibers tested were 9mm, .40 S&W, .45 ACP, and .357 Sig. We compared bullet velocity at the muzzle and 100 yards and also fired some rounds into ballistic gelatin. The results were a bit unexpected (especially for .357 Sig…). Details in the video below or scroll down to read the full transcript!
JOHN: For whatever reason, we forgot the basic tenets of physics and were super surprised when the lighter, faster stuff did not retain velocity or momentum as well as the heavier stuff. Going into this — and I don't know why this is, because I'm trying to think back to where I got this idea — going into this, I expected .357 Sig to be like the king of the heap and it's like, "well, if I've got to shoot something at long distance, I want to do it with the .357 Sig."
And the .357 Sig, out of everything, did the worst.
CHRIS: Right, so there's this long standing reputation, for whatever reason, that .357 Sig has as being a great bullet for longer range, both in terms of ballistics and the lack of bullet drop. It supposedly has a flatter trajectory than other pistol bullets. But we did not find that to be the case. The lighter and faster bullets not only lost more velocity but lost a larger percentage of their velocity. And we'll put up a chart for you guys to see with the magic of editing.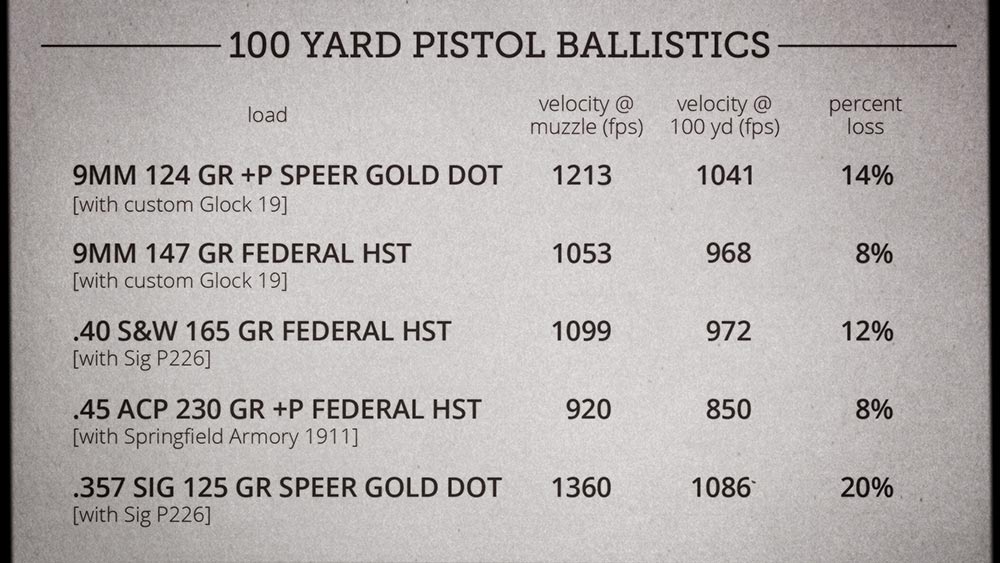 CHRIS: Let's take a look at the actual ballistic gel results.
These are all loads that perform well in a typical 10-foot ballistic gel test with a fabric barrier — they will penetrate 12 to 18 inches and expand to at least 1.5 times their initial diameter, so we're looking to see if they still do that at these reduced velocities. Looking at the penetration first, the 9mm Gold Dot is doing well. The 9mm HST, also. The first of those HSTs actually entered from the side of the block at an angle and missed the fabric barrier. It penetrated about 15 inches, not the whole length of both blocks like it might seem on camera.
The .40 S&W HST is over penetrating by a few inches. We only caught one of the .45 HSTs but its penetration depth looks pretty good. And the .357 Sig — the first one that hit the blocks sailed all the way through and into the berm, so we put some extra fabric on the back to catch the next one. And then we got a third round into the block that stopped at about 25 inches.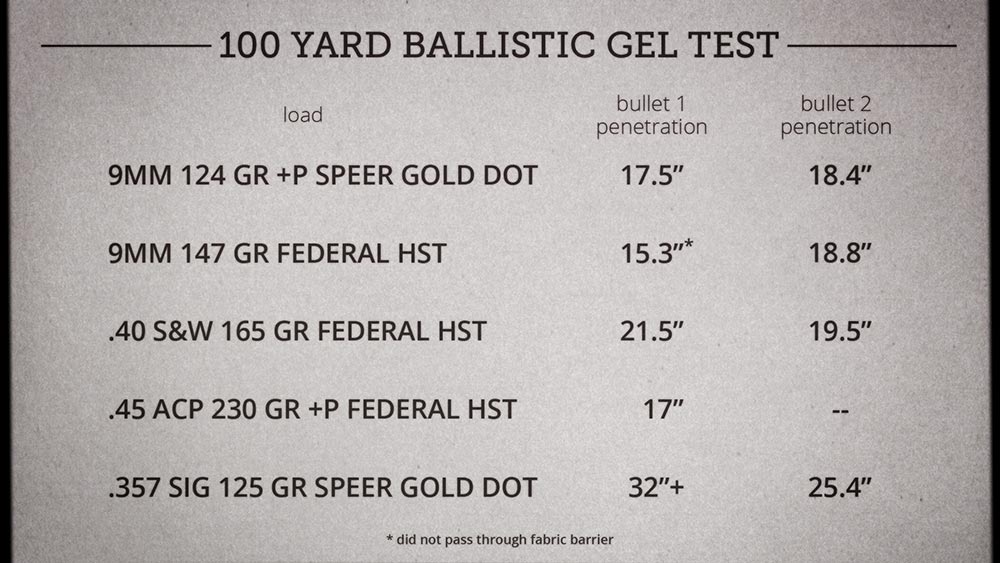 Here are the expanded bullets and you can see neither of the .357 Sig rounds we recovered expanded at all, which is why they over-penetrated. They were just moving too slow for that bullet design at 100 yards. The .40 S&W HST and the 9mm Gold Dot had uneven expansion and were starting to fail.
The heavy-for-caliber 9mm and .45 Federal HSTs expanded very nicely, even at the reduced velocities.
CHRIS: Setting aside the fact that this was not a huge sample size — we didn't get a ton of rounds into these blocks — but the tentative takeaway would be that heavier-for-caliber bullets seem to work better ballistically at long distance than the faster, lighter bullets. But accuracy first: make sure you can hit the target before anything else.
JOHN: Yeah, and — man, I'm sad because between some of the stuff that you've posted and this — I'm like a die-hard .357 Sig guy and it's like my kid is going to a meet or something and I'm in the stands jumping up and down and cheering and like, "oh, I don't — my kid's not so good."
CHRIS: I'm killing your heroes, man.
https://www.luckygunner.com/lo...l-ammo-at-100-yards/


_____________________