One knife which seems to get overlooked is the H1. It's the same overall length as the F1 but its blade is a half millimeter thicker, really gives the impression of a stout knife.
It's essentially guardless, so if you don't trust yourself to keep your hand from running up on the blade, the F1 will still be a fine choice.
I own an S1 but I find the handle too small for me. If you're considering an S1, you should make an effort to examine one in person before purchasing.
The A1 and A2 are survival-class knives. The A1 is a real peach. I know that Fallkniven has introduced "Pro" variations of some of their classic knives- F1, A1 and A2 but I've never handled these variants.
The Northern Lights series of knives are lovely- very well-made, but they have gotten to be prohibitively expensive.
If you ask me, the H1 is a superb choice and would serve you well. My only criticism of it is its Zytel sheath, which leaves much to be desired. I'd recommend a quality leather pouch sheath for it. The guardless design lends itself to a pouch sheath.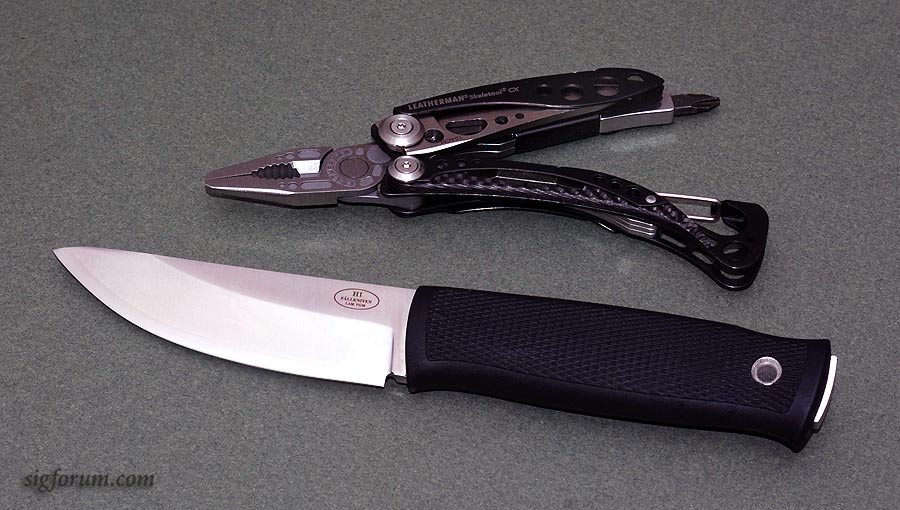 As for the knives with the black blades- they look really sharp. I have an F1 and S1 in black and they are great collectibles, but if you plan on using your Fallkniven, get the uncoated blade. Fallknivens are convex-ground knives. When you sharpen a convex-ground blade, you are sharpening not just a tiny bevel, you are sharpening a substantial portion of the blade, and that black coating will be half off of your blade before you know it.