SIGforum
Contemplating the value of carrying a fixed blade knfe in these troubled times
August 18, 2020, 02:43 PM
parabellum
Contemplating the value of carrying a fixed blade knfe in these troubled times
In a time when I'm actually considering devising a method to ankle-carry a Glock 31 round magazine, it occurred to me the value of a fixed blade knife as a last resort.
In terms of blades available to consumers, it's much like the handgun market- never has there been a time with more choices. A huge number of choices has the effect of stymying me. You can't possibly consider all available choices. There are just too many.
I don't want anything expensive. Quite the opposite. My requirements for this knife are that it has to be a sticker with a strong point; sufficient blade length; a handle which affords a secure grip in overhand, underhand and dagger positions; a practical sheath; and something which is unlikely to break easily.
In my early days of knife collecting, I bought quite a few Cold Steel knives, the main reason being the presence of Cold Steel advertising in gun publications. In pre-internet days, that's how we old guys got our gun news. I haven't bought a new Cold Steel knife since the late 1990s. I, like all other serious collectors who have matured, considered Cold Steel knives to be not all that great. Budget knives for kids and the fantasy crowd.
However, I think Cold Steel might just fit the bill for my needs. Specifically, the Kobun, which has been in the CS lineup for a very long time. 5.5" blade
Cold Steel promotional material can sometimes be unintentionally comical, and the following video harkens back to an old post of mine in this forum- now long gone- entitled "What manner of meat-filled boots are these?"
Let's check it out:
This knife is
available on Amazon for about 44 bucks
. Suggestions of other knves in this price range, which fit my requirements, are most welcome.
BTW, why not folders? Why not automatics? Well, because of speed of deployment, blade length and overall knife strength. Additionally, while Microtech makes some nifty automatics which are surprisingly strong and can be deployed like lightning, they are far from cheap. I want something which I do not care about more than its utility as a tool to accomplish a task.
August 18, 2020, 02:50 PM
95flhr
What I want is a boot type of knife that is ceramic. Too many metal detectors in my life right now.
---

"Government exists to protect us from each other. Where government has gone beyond its limits is in deciding to protect us from ourselves."
― Ronald Reagan

The postings on this site are my own and do not necessarily represent the positions, strategies or opinions of my employer.


August 18, 2020, 02:53 PM

YooperSigs

I have been known to carry Cold Steel Push Daggers and have been satisfied with them. I also carry a short KaBar in a custom sheath.

Other options: Esee or Shadow Tech.

If you can find or already have training in its use, a Karambit is a good EDC knife.



End of Earth: 2 Miles
Upper Peninsula: 4 Miles

August 18, 2020, 02:53 PM

parabellum
quote:

Originally posted by 95flhr:
What I want is a boot type of knife that is ceramic. Too many metal detectors in my life right now.
Such knives have no lateral strength and are expensive.
August 18, 2020, 02:58 PM
nhtagmember
I have Benchmade that is perfect for the job
I avoid places met metal detectors - if it has one, there's a really good reason why I don't have to be there
August 18, 2020, 02:59 PM
parabellum
The Kobun is nice and flat with a flat sheath, perfect for ankle carrry if the belt clip is removed. The sheath has lashing points for straps.
quote:

Originally posted by nhtagmember:
...Benchmade...
Their politics leave them out of the question for me.
August 18, 2020, 03:10 PM
Greymann
I keep a Buck 119 in my truck, good knife 6 inch blade . Looks like about 65.00.
https://www.buckknives.com/pro...ial-knife/0119FAM01/
August 18, 2020, 03:15 PM
old rugged cross
I am not a fan of that style of blade design. Since you are not evidently wanting to use the Fallkniven you already own. I would also check out Sog and Kabar



"Practice like you want to play in the game"
August 18, 2020, 03:15 PM
bigwagon
How about an old school Gerber Mark 1?
August 18, 2020, 03:16 PM
mark60
I don't own any Cold Steel knives and pretty much have the same opinion as you. However, for the intended purpose that knife seems to fit the bill nicely. I like the flattish handle.
August 18, 2020, 03:19 PM
Rinehart
I have had a Gerber MK 2 for many years that should meet your need. (I recommend the earlier model without the serrations the latest version present, but if you are ok with those it will do).
Also the Ka-Bar EK44 is another consideration.
Both are low key and not flashy. Can't help with the metal detectors-
When I lived in NY and was a Den Leader and Scoutmaster it was highly depressing that you were not allowed to wear any type of sheath/fixed blade. Violated every single rule of "Be Prepared".
August 18, 2020, 03:24 PM
Il Cattivo
Following with interest. The closest I've come is the Hogue EF-X02 with a Tanto point; the damned thing is twice your budget when it's on a good sale and the sheath flat-out sucks.
FWIW, you may find Russian options you like that are within your price range at Legion USA. Some of those designs look like comic book specials, but a couple look pretty solid.
August 18, 2020, 03:28 PM
architect
$38.95 at
Knife Center
. However, it is shown as "pre-order" and "Delayed by the Manufacturerer."
August 18, 2020, 03:29 PM
esdunbar
ESEE knives might be worth a look. When carrying, sheaths will be of prime importance. ESEE knives are extremely common and there are all kinds if various sheaths available for them.
August 18, 2020, 03:35 PM
Gibb
I've found for boot carry of a sizable blade, the thin handle works best. I love my Ka Bar and Fairbains Sykes dagger, but both are best carried thigh or better for me.
I have a fixed-blade tanto tip blank that had a cord wrap. It was about a 4 inch blade, 9 inch overall, very similar to the Mantis MF-1.
The cord wrap made a huge difference in feel, and I never felt that it was lacking.
---

I shall respect you until you open your mouth, from that point on, you must earn it yourself.

August 18, 2020, 03:35 PM

parabellum

I have several ESEE knives. Great bushcrafting tools but none of them fit the bill for this particular need.

August 18, 2020, 03:36 PM

TXJIM

I am fan of the Sog Seal Pup for a more traditional blade shape. Nice kydex sheath as well.

https://www.knifecenter.com/it...handles-kydex-sheath

A quick video profiling the entire Sog line of combat knives.

https://youtu.be/73aDbOuIz80

Oops, looks like these are now made in China....my 20 year-old full size was made in Seki-Japan.



______________________________
"I'd like to know why well-educated idiots keep apologizing for lazy and complaining people who think the world owes them a living."
― John Wayne

August 18, 2020, 03:42 PM

dewhorse

Beat me to it Para, I was going to suggest the CS recon tanto or the SRK(?).

Inexpensive and strong

August 18, 2020, 03:43 PM

mod29

Bark River makes a quality knife, but might be more than you want to spend for your application.

This is my Bark River 'Necker' model. It retails for around $165.

They are available in several different lengths and styles.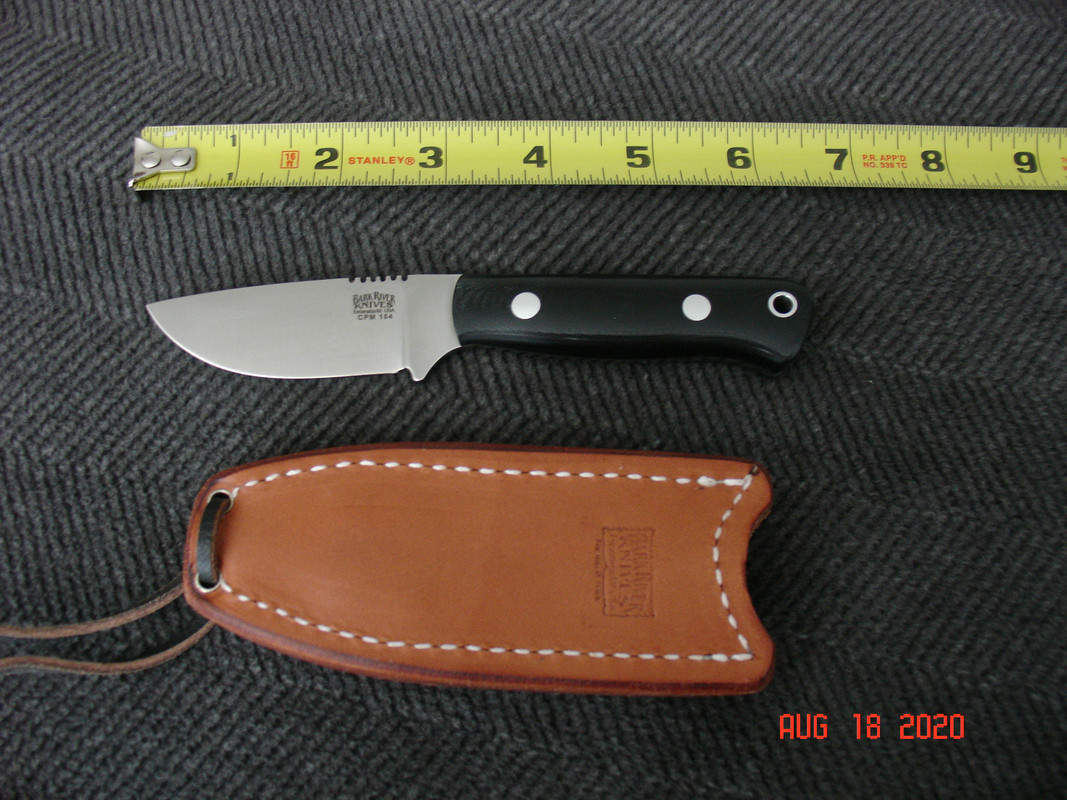 August 18, 2020, 03:43 PM
cyanide357
SOG Pentagon may fit your need.
SOG Pentagon