It all started a few months ago when I thought my eldest daughter was moving back to her home town (but not in with us) ... I got this grand idea that my 15 year old grandson and I would build/rebuild him a car.
I always wanted to build a VW Baja bug ... Had a couple false starts back in the 70's. Bought a car, got started but never finished. Lack of funds and life got in the way ... Got married, so priorities changed for a while ... Got on track again then the previously mentioned eldest daughter burnt the house down ... Well it was a brick house but all that was left was a shell (when she was in kindergarten) ... In the late 80's, got divorced, got on track again with a red 1960 ragtop ... Got a 2100cc engine built, but then life got in the way again and sold the project.
Back to the "Present Day"
Started looking for a bug and a buddy found this one locally online, and it has the bones of exactly what I've envisioned except it doesn't have an engine, and he wanted more than I was willing to pay.
So I found & bought this one, a 1972 Super Beetle that needs lots of love ... it has the basic engine I want, a 1600 dual port, but had been sitting in a field for at least the last 2 years.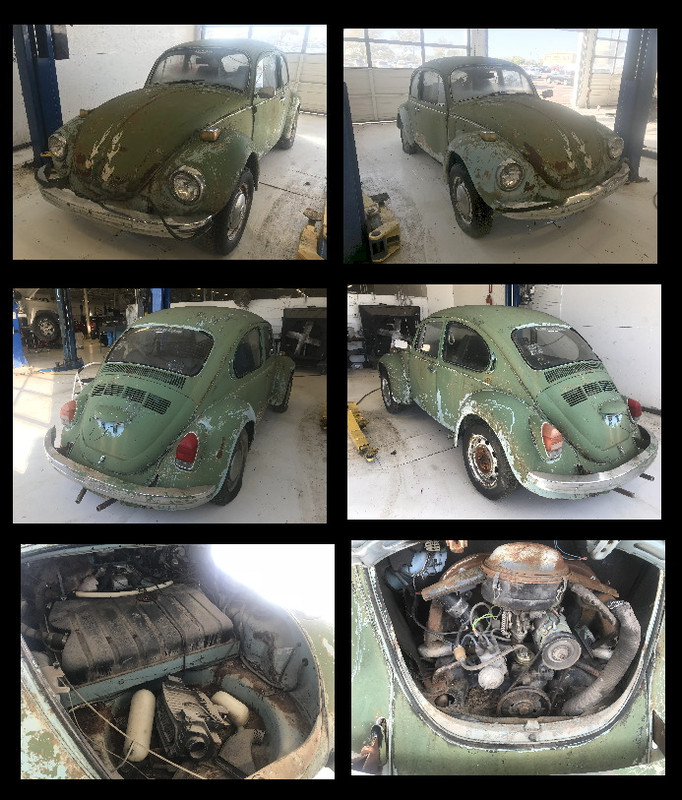 Well, as it turns out, my daughter settled in a town that about 45min to an hour away ... and the grandson, despite his claim to want to build it ... Really doesn't like to get dirty, or maybe just doesn't have an interest in this car ... yet!
Initially I was thinking this would be a parts car, pull the motor and other 12volt components for the 62 blue ragtop. After tinkering with it for about a month, it's now running, but still needs a lot of love but I started thinking I'd make this my Baja ... I can get a ragtop kit, a 7 piece Baja Kit (4fenders, hood, rear engine trim and front apron), front and rear cage's, 1 piece door glasses ... basically every thing I'd need to make it sorta like my vision for around $2500, and a LOT of work ... Except for its a "Super" which has struts in the front instead of the torsion front end like a standard bug ... which is much more durable for Baja-ing
As you may have surmised ... I'm back on track. And the guy with the '62 Blue called me; his "buyer" backed out ... we came to an understanding ... now I have 2 bugs ... the Baja will need paint, something nice with maybe ghost flames?
For the '72, I'm thinking keep the original "patina" and clear-coat it but it'll still need a ragtop and one-piece Windows ... maybe a 4" chop? And of course repair the huge holes in the floor pan that used to be steel but was reclaimed by salt, rust and life in the mid-west ... I'm bot sure where the 62 came from but it's had much better care as evidenced by a solid floor pan.
Anyway, my "fun money" will be going a different direction for the next few years, but who knows what the future will bring
If you really want something you'll find a way ...
... if you don't you'll find an excuse.

I'm really not a "kid" anymore ... but I haven't grown up yet either