September 30, 2020, 11:14 AM
2Malamutes
A couple of DBK customs, thanks Sybo!
Just want to acknowledge what all who have dealt with him already know, Sybo does some great work, and not only that, but is great to work with. I first found him in the classifieds here, and the OD Micarta is the result of that. Jim sent me pictures all along, and was extremely accommodating with my special requests to add a red liner, and add some extra jimping. When talking about handle material he sent me innumerable links of choices, and gave me the pros and cons of each for my use, things I would not have even thought to ask. It turned out great, I am one of those people that love damascus, so I really enjoy it.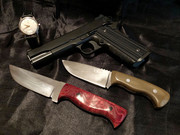 The other is an offering some of you may have seen here, and it turned out just as nice. I love the contouring Jim did on the handle, fits my hand perfectly even though he would have no idea what that might look like. I really enjoy them, and would highly recommend DBK knives to anyone, and somehow I am certain these won't be the only ones I end up with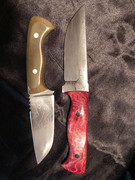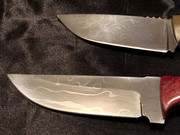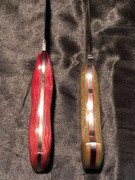 October 01, 2020, 10:09 AM
MRMATT
Another satisfied customer here.
October 02, 2020, 09:03 PM
OttoSig
Mirrors my experience as well.
That OD knife looks awesome!
Mr. Grice has essentially become a monthly expense at my house.
October 03, 2020, 03:40 AM
sybo
Thanks to all for your support and business!!