I finally have something to contribute to the watch thread!
For the past few years I've been wanting to buy a Revue Thommen GMT "Batman."
About six months ago, I decided to pull the trigger and put in an order on one of the more reputable online watch dealers.
A week after my order was accepted, while I was impatiently waiting for shipping notices, I received an e-mail telling me that this particular watch was out-of-stock. I canceled the order, figuring I could find the same watch elsewhere.
But, oh no, every site I visited said it was no longer in stock. After a few months of fruitless checking myriad websites, I found a "new in box" posting on fleabay.
It was listed for ~$85 more than I originally planned but I bought anyway.
It did arrive in a shabby original box, but the watch seemed unworn. All the links were there but most of the protective cellophane had been removed from the bracelet and face... but was still intact on the display back. Odd, and I was a little skeptical.
Keeps regular time, + 8 to +10 secs a day depending the the overnight orientation.
My wife refers to it as a "high end copy" of the Rolex GMT Master II... and I suppose that's exactly what it is. "Homage watch" seems a little pretentious to me. But, hey, I wanted a Revue Thommen and that's what I got. I am pleased.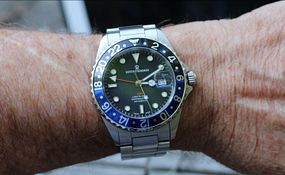 ___________________

Company, villainous company hath been the spoil of me.