* for some values of "breaking even"

I've been reloading for just under a year, so this isn't going to be an expert's opinion on the topic by any means, merely an overview of how things ended up working out for an amateur.
As of today, after loading 2758 rounds in four calibers (223, 45, 38, 9mm) I have managed to exceed the total cost of equipment and supplies by the total "value" of rounds loaded. I calculated this based on the average price per round the day they were loaded, using this page as a reference:
https://ammopricesnow.com/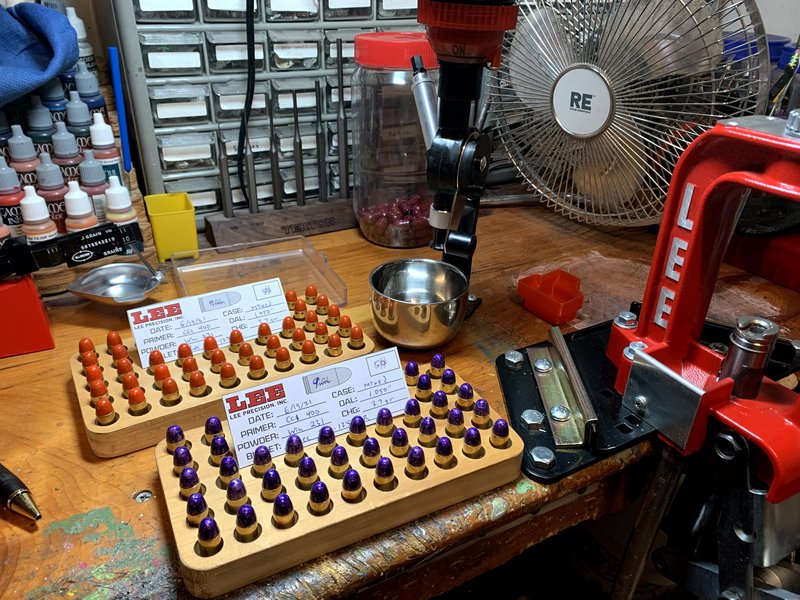 Now for the caveats (and there are a lot of them)
First, the elephant in the room: I've never actually purchased any factory ammo at the kinds of prices that I recorded. Earlier in the pandemic, I had found the occasional deal ("deal" being 9mm at $0.30 per round, etc) and had gotten my stock back to subsistence levels, but for the most part I avoided shooting factory ammo at all, even stuff I already had. I also have to admit that I did "cheat" occasionally. For example, when I saw the prices of .38 shoot up in January, I loaded more of that than I needed at the time just to feel better about balancing the costs. But it's not like they will go to waste, and the average price per round on the day it was loaded was as good a metric as any.
The next issue is one that every reloader faces: the opportunity cost of my time. Not counting casting and powder coating, I can load about 100 rounds per hour on my single stage press, and I try not to think too hard about what that means in terms of cost per round given my hourly wage. But, like virtually every other reloader out there, I find this an enjoyable hobby all by itself, and don't count time costs in any of my equations.
Throughout this process, I tried to go with the least expensive options whenever possible and made my own accessories where practical (loading trays, a case kicker, lots of storage boxes, and some other 3D printed stuff). There are times where I have deliberately not purchased something that would probably make my life a lot easier just because I wanted to reach this milestone.
Even so, my frugal attitude was frequently compromised by the learning process, mistakes made along the way, and my OCD when it comes to certain things.
Books represented a non-trivial part of the learning process, and while some of them I probably didn't need, I wanted to approach this hobby with as much knowledge and care as possible instead of jumping right in and risking getting hurt.
Part of learning of course includes making mistakes, and while I haven't made any of the kind that end up with missing fingers, I've made plenty in terms of what I needed along the way. Some things I bought but don't use any more (like switching from tumble lube to powder coat) and some things I bought that I never used (Lee measuring scoops). All told, this doesn't add up to a ton, but since I'm still in the early days, it did keep pushing back the break even point.
There are all sorts of things around the house that I could have used to store clean tumbled brass and other supplies, but for the sake of my OCD I chose to get a bunch of Harbor Freight ammo cans when they went on sale instead. I'm very happy how they work to organize tumbled brass (including a bunch of types I don't even own... yet) but it was a non-trivial cost to start out.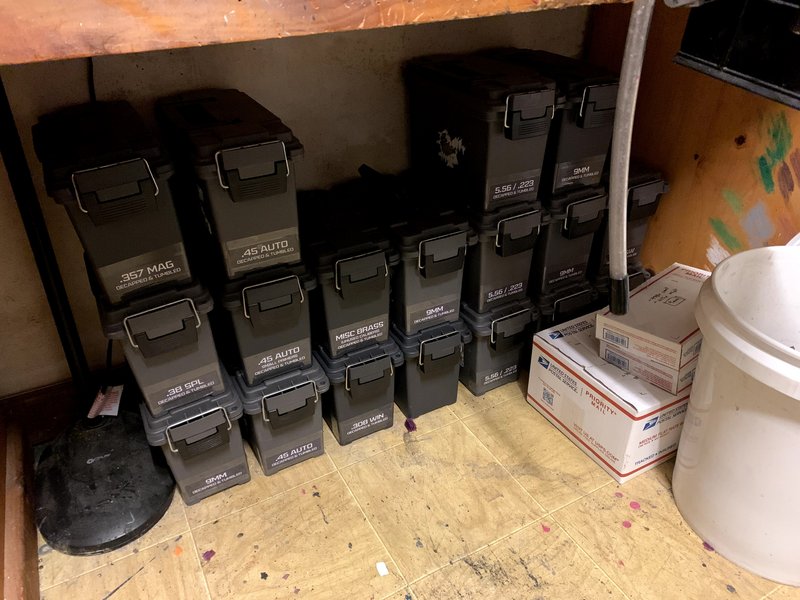 Of course I would also have broken even much quicker had I focused on just one caliber, rather than four, but that was in itself part of the learning process. I was cautious enough about getting into reloading and had read and heard enough horror stories that I decided it would be best to start on the most "disposable" firearm I owned: my "sweep up parts from the shop floor" AR. Ironically I've only put about 200 rounds through the rifle since then, and only half of those were my reloads, which leaves a non-trivial amount of money tied up in components I haven't loaded yet.
Casting my own bullets was a goal from the start both because I enjoy the recycling aspect and (eventually) it will keep costs down. I've got a line item in the spreadsheet to track my average cost per bullet by amortizing the total casting equipment cost over cast rounds loaded. At the moment that's hovering around $0.13 per bullet. Long term that will average out to something more economical, but shorter term it would have been cheaper and easier to just buy bullets.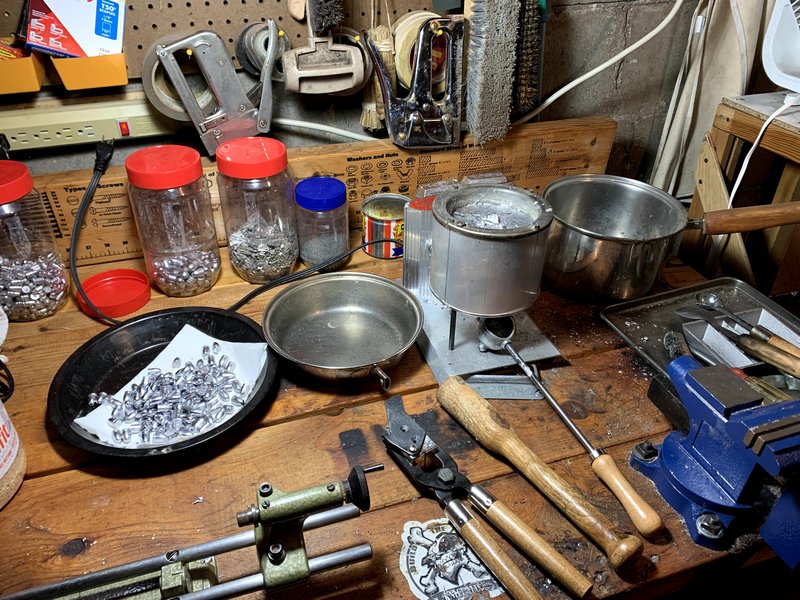 In addition to the data I used to hit this first milestone, I have more detailed calculations that amortize equipment costs over total rounds loaded and add actual costs for powder and primers. That gives me a slightly more accurate cost-per round calculation that I can compare to current or historical averages.
My next major milestone will be to bring my amortized cost for 9mm (currently loading at around $0.44 per round) down below the last price I willingly paid ($0.30 per round) for factory ammo. That still isn't down anywhere close to pre-pandemic pricing of course, but honestly I would consider it a good thing if prices come down enough that reloading 9mm ceases to be a good use of my time. At the very least I'd like to keep up with the falling prices, and loading 9mm lets me shoot a lot more of the guns I prefer to use.
Reloading this much on a single stage press is time consuming, and every new purchase that makes this process easier also pushes back that milestone, as amortized equipment costs continue to grow and grow. Even an inexpensive turret press and some other time-saving equipment and accessories will push that target back by 6 months or more, so it will be a constant battle between how much I value my time and how much I value my hard-earned money. At the moment I am enjoying the process, still learning, and feeling a lot more confident in my shooting, so I consider the time well spent.
In the end, the often-repeated adage that you won't save money reloading, you will only shoot more is definitely true in my case. Imaginary "breaking even" points aside, I have an enjoyable ancillary hobby that keeps me busy (and away from computer screens) when I'm not at the range, and I've shot far more in the last twelve months than I have in the last twelve YEARS as a consequence.
Reloading has helped me practice more, which has led to a lot more confidence in my shooting. In addition, I am getting a lot of use out of two guns I hadn't really liked much beforehand (Sig P220 and Ruger LCR). My range sessions improved in part because I spent so much time with light .38 loads and a heavy DA trigger followed by moderate recoil .45 in a full size handgun. After that, any of my 9mm hammer or striker fired guns were trivial to shoot accurately.
Anyway, I don't know if this will be more than mildly amusing to others, but I figured it was worth sharing the process in case it helps others in a similar situation make decisions about how they want to start.
Beginners are welcome to ask questions which I will answer to the best of my ability. Experienced reloaders are welcome to laugh at my mistakes and encouraged to correct any answers I give that are flat out wrong.
This message has been edited. Last edited by: tp1l,