Ok. So, I loaded up 20 of the exact same round, and 10 each of varying shorter rounds.
I have come to the conclusion that I now have a LOT of bullets for my better half's 30/30.
Check out this picture: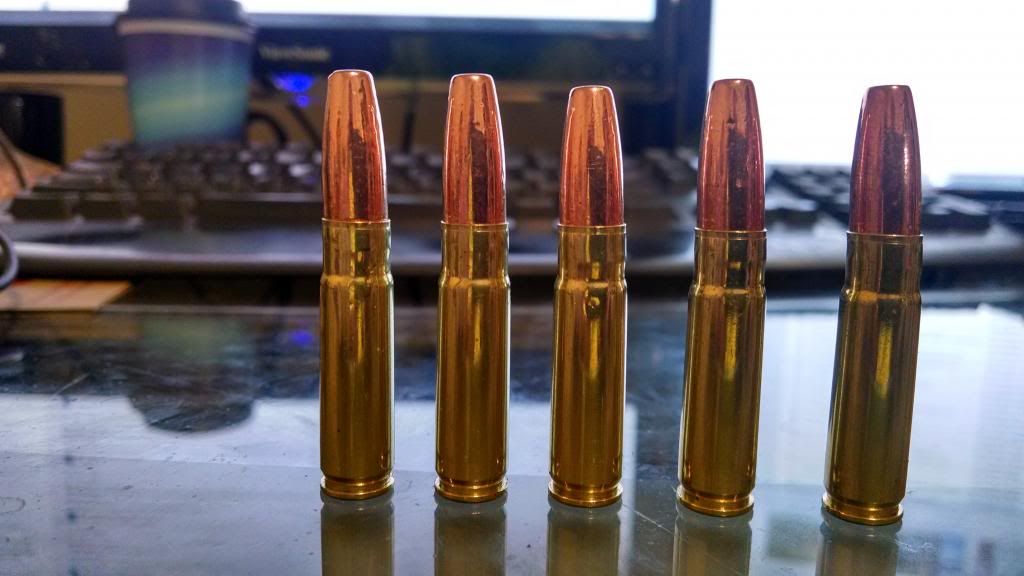 No, that's not an optical illusion. They are leaning over.
The right hand rounds did this. Drop the bolt, jamb. Drop the mag, strip that round. Drop the bolt on the left round. Good. Bang! Fail to feed again on the right round.
After this happened several times, I decided to strip the mag down to 5 rounds. Those rounds all cycled fine, not a single issue with the action. I loaded 5 more several times. Each group of 5 worked fine, so long as no more than 5 were in the mag.
But, I use a "Magpul grip" on this AR. It currently wears an AAC BrakeOut (see previous pics of rifle). One of the bullets struck the baffle in the brake, and I had to pick a rather large chunk of lead and copper out of one of my knuckles on my left hand. It was in there pretty good, needed to open it up a bit with my pocketknife to get it all out. Not a deep injury, no stitches or any crap like that, but certainly annoying.
After all that madness, I sent 5 full mags of 125gr SMK's downrange. Not a single hiccup, flaw, fart, misfire, failure to feed, nothing.
They might be more pricey, but I'm not exactly poor, and in some cases, saving money isn't worth the associated aggravation.
For me, this is one of those times.
For anyone else that ordered these bullets, I really hope you have better luck with them than I did.
For those of you that did not order any, do so at your own risk. I feel that I gave them a fair shot. Even if the accuracy had been poor to fair, I would have been ok with them as a plinking round as long as they could hold minute of beer can at 50 yards. But this many function problems? I'll stick to the more expensive bullets since they seem to work.
Oh well.