SIGforum
Old can of IMR 4350 was given to me
February 02, 2022, 06:38 PM
walker77
Old can of IMR 4350 was given to me
My father in law gave me some old cans of powder from a relative that passed away.
I'm guessing this was probably from the late 70's. Price on it is 2.44!!!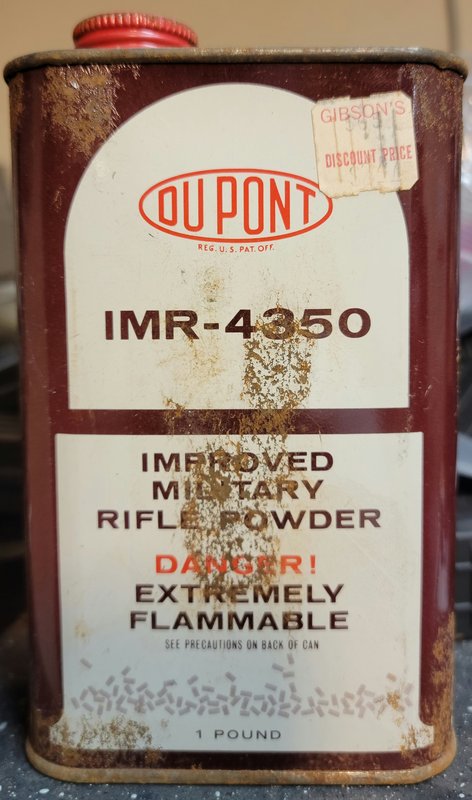 February 02, 2022, 07:57 PM
hairy2dawg
That's pretty awesome. As long as there's no rust or fowl odor inside the can, the powder should be just as good as was back then.
February 02, 2022, 07:59 PM
George43
If good, it will smell of ether.


A gun in the hand is worth more than ten policemen on the phone.
The American Revolution was carried out by a group of gun toting religious zealots.
February 03, 2022, 07:12 AM
walker77
The Alliant 2400 worked great in my 44 mag.
I also got IMR 3031. How well would that work for 308? I normally use 4895 for that.
February 03, 2022, 05:26 PM
sourdough44
3031 should be fine in a 308.
I have some old powder given from at least the mid 80's, I try to use it 1st.
February 07, 2022, 02:47 PM
Texas Bob C.
I have an empty can of IMR 4895 that has a 'Gibson's' price tag on it. Gibson's Discount Centers were a family owned business in several North Texas cities.
March 13, 2022, 08:14 AM
45 Cal
When I first started loading for the 06 it came in a square can with a snap lid ,then they changed to this style and now days its in a plastic bottle and 4 & 8 pound jug,Good powder.
March 26, 2022, 10:40 PM
Ed Fowler
quote:

Reply
Remember when you could buy 25 pound cans of?
When you went to buy some you had to bring your own bottle.