Ever on the search for The Perfect Belt I ran across this one, one day:
5.11 Tactical 1.5" Double Duty TDU® Belt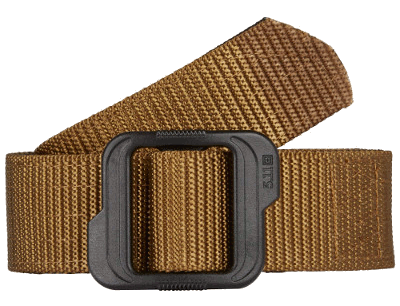 It was a mere $23, so I thought "What the heck, I'll give it a try."
You get essentially two belts in one, being as it's reversible. It's soft and flexible enough to hug what curves or projections (e.g.: hip bone) you have, but maintains decent vertical rigidity.
Funny thing is: I didn't buy it to be a gunbelt, per se. I just wanted a decent, solid, yet comfortable knock-around belt. Well, recently I started carrying my P239 SAS in a Milt Sparks I-BAK again. After trying my Beltman leather belt and finding one notch too tight and the other too loose I thought to myself "I wonder...?"
This thing turns out to be a great gunbelt! I can wear that Sig all day long and all but forget it's even there.
The only fly in the ointment is the same thing that makes the belt fool-proof, infinitely adjustable, and reversible is its one downside: The buckle makes it a bit of a challenge to get the belt as snug as you might want. Once you get it there it seems to stay put, but if you have weak or arthritic hands, this is probably not the belt for you.
The trick that works for me is to raise my waistband a bit, where things are a bit more compressible, cinch the belt about as snugly as I can, then ease it out until my waistband is where I want and things are
just
comfortable.
N.B.: Based on their sizing chart I had gone with an X-large.
Way
too much tail, even back when I was a good 36" waist, verging on 37" (or more?). So I sent it back and got a large. I'm now down to about a 35" waist (guessing), and I've got about 4-1/2" of tail wearing an OWB holster.
---

"America is at that awkward stage. It's too late to work within the system,,,, but too early to shoot the bastards." -- Claire Wolfe
"If we let things terrify us, life will not be worth living." -- Seneca the Younger, Roman Stoic philosopher
"The dominant media is no more ``mainstream`` than leftists are liberals." -- me