quote:

Originally posted by mike62:
Good points.

One thing I'm still vague on is the actual luggage. I know its best to lock it as well but is it mandatory?

Our softside cases have very small holes at each zipper so it won't be much of a lock to begin with I'm sure. A cable gun lock would fit great but the cable length woukd allow the zippers to be parted probably 6 inches.
I travel daily, sometimes several times a day. Much of the time, without a firearm, as it isn't possible under the circumstances. I don't lock my checked bag, most of the time. There's nothing wrong with doing do. If you do so, however, bear in mind that a checked bag is still subject to search, and if you lock it, the inability to search the bag will result in possibly a broken lock or luggage, or delayed luggage, or luggage that isn't allowed to transport.
If you have the means to lock your luggage, it's a good idea to do so, if there's a firearm inside.
I don't check a bag unless it has webbing strap that goes two ways around the bag, meaning that one strap goes around the bag horizontally to prevent it opening, and another around it vertically, crossing on both sides. I've had bags fail, get ripped apart or broken, and the contents poured out, including one bag getting ripped ocmpletely in half. It arrived on the baggage carrol in two pieces, with the contents spread everwhere. It was after that, I decided to put luggage straps on my checked bag. If the seam or zipper or edge or shell breaks, the pieces still stay together. It also makes the bag more recognizable when scanning for my case, in a bunch of cases.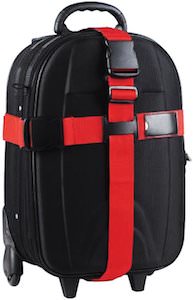 If you have a firearm in the bag, you definitely don't want the contents of the bag spilling out. If I have a firearm in a bag, I strap it and lock it. The lock won't stop an interested party by any means, but it does aid in not losing the contents by an act of machinery, careless ramper, or other means.
Your lock inside the suitcase, on the firearm case, can be a TSA lock, or any other lock. Your lock on the outside of the luggage should be openable by an inspector, for the reasons mentioned above.