A few weeks before Christmas, in addition to the Gillette open comb DE, I also found a 1912 gold plated Ever-Ready SE, in the travel case with a blade bank and four vintage blades. I was so enamored with the Gillette that it's all I used for a few weeks. Then I got sick, and didn't feel like shaving.
Well, after a few weeks of not shaving and then developing pneumonia, I decided it was time to clean up anyway.
The razor cleaned up very nicely and has been waiting for me. I loaded a new Gem SE blade into it, checked the alignment and went for it. Just in case it didn't go well, I prepped the '55 red tip Superspeed with a fresh Feather.
- Georgetown Pottery 20oz scuttle set to heat before the long shower (steam the lungs out).
- Inferior synthetic brush.
- Bloomed Stirling Spearmint.
- A small dallop of Cremo Cooling Mint (great combo with the soap).
- 1912 Ever-Ready with new Gem blade.
- Cold-wetted alum bar.
- Florida Water.
- Nivea soothing aftershave balm.
I went slow and gentle. The design tends to trap hair underneath the blade in such a way that it doesn't rinse out easily if you produce a lot of growth. Seems like I was only able to go a few strokes or so before I need to open the razor up and rinse out solid clumps of hair. This is definitely a razor designed in a time when men shaved very regularly, and is a bit tedious for knocking down heavy growth, even compared to Gillette TTO types, which really only require you to back off a few turns and run it under the faucet a few seconds.
I only did one pass. It was sufficient. Shaved down on my face and upwards on my neck, called it good. I didn't want to go for the gold with one of the most aggressive razors shy of a straight after a few weeks of not shaving. I'll use it again soon, depending on how my face fares. I was deliberate with the aftercare and should be fine, but we'll see in a few days.
I will say this: It's easier to get a perfect lineup on sideburns and a goatee with a single edge razor than the DE's I've owned so far. The only way it seems to get more precise with the goatee is with an actual straight razor.
If you're getting into the vintage wet-shaving thing and like the DE's, do yourself a favor and look at a Gem or Ever-Ready single edge razor. They're like a straight razor on a stick, being developmentally between straight razors and double-edge safety razors, and they're all an entirely different experience worth having. They're also generally a lot cheaper. I've paid between $8-12 for the three examples I own (1912 and 1922 Ever-Ready and a 50's Gem Featherweight). Oh, and make sure to only buy blades designed for shaving. Buy Gem or Treet blades at any drugstore. Don't buy paint scraper blades from Home Depot and then come complaining that you cut your face off.

Not my pics: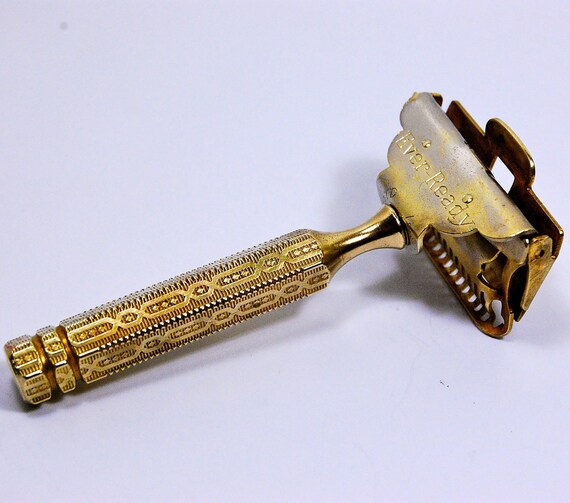 This message has been edited. Last edited by: P220 Smudge,


______________________________________________
Carthago delenda est