The advent of the 10/22 Takedown meant I rediscovered the 10/22. For some reason, while I'd kept my Mark II pistols over the years, (I'll be getting at least one Mark IV) I'd made room in the safe by eliminating my 10/22s. Silly, really, why sell them, they are ubiquitous.
The Takedown certainly got my attention, the Magpul stock for it reminding me of the myriad of accessories for these rifles. I thought to myself, I've never made an "all out" 10/22.
There are a number of ways to go "all out" or "why the hell not" with a 10/22. You can buy complete rifles from a number of makers, with screw in barrels and high quality parts. I didn't want to spend _quite_ that much, and I knew this wasn't exactly going to be cheap. So far though, while it hasn't been terribly expensive, compared to a factory Ruger it certainly is.
I knew I wanted to avoid having leftover parts, and if I was doing something different, it also didn't make sense to buy a complete base rifle. There are a number of offerings out there, Nodak was tempting. I settled on Tactical Innovations because of the left hand charging handle option, cleaning hole, and color choices. This'll be a scoped rifle, and a LHCH is a nicety.
The barrel is a Whistle Pig 22," They had the right mix of price, options, and reputation.
The trigger is a Volquartsen TG2000 complete group, if I'd already had a housing I'd have gone with the Kidd upgrade, but the TG2000 is very nice, complete, and available in colors.
The stock I've chosen should be here sometime soon, from
Richard's Microfit Stocks
The color scheme is "black widow":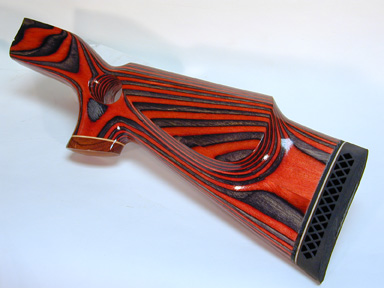 The tally for this dalliance is just under $900 so far.
Why the hell not.


Arc.
______________________________
"Like a bitter weed, I'm a bad seed"- Johnny Cash
"I'm a loner, Dottie. A rebel." - Pee Wee Herman
Rode hard, put away wet. RIP JHM
"You're a junkyard dog." - Lupe Flores. RIP