quote:

Originally posted by Guardian555:
This move away from Tanks is a smart move. The USMC is forever fighting the battle of "why do you exist?" The army can do everything you can do. The navy historically fought to have a dedicated infantry unit for things such as installation security and projection of forces ashore from Navy ships. How do you get a tank to go ashore from the gators or helicopters/V-22s? If you are going somewhere with enough port facilities built to bring in a RO/RO ship or land a C5, you can send in an Army tank unit.

The Marines need to be different enough in capability and focus to keep them from just being another Ranger Battalion.
Lol not even close. And this speaks to the different mindset between the services.
"How do you get a tank to go ashore from the gators or helicopters/V-22s? "
We called that the deep-water fording kit. A standard Abrams can ford 48". A USMC tank equipped with a deep-water fording kit can ford 96". We routinely came off LST's and LCAC's and hit the beach.
The Army Airborne loves to talk shit, but me, personally? I Love the Navy. Take you anywhere in the world and drop you right off at the beach.
"If you are going somewhere with enough port facilities built to bring in a RO/RO ship or land a C5, you can send in an Army tank unit."
Well that's the problem. The enemy doesn't just give up its ports so you can land an Army tank unit. They tend to want to keep them. That's why the USMC practiced amphibious assault.
May have heard of it. Worked well in WWII.
"The army can do everything you can do."
Again, LOL. Before this Commandant a Marine MAGTAF could be deployed anywhere in the world in 24 hours. That is enough combat firepower (air, land, sea) to fight for 30 days without resupply. Grunts, arty, tanks. At any one time the USMC had a two full tank battalions (116 tanks) on the water. With any one platoon ready to conduct a "breach' (full amphibious assault) within 24 hours of a coastline anywhere in the world (followed by the rest of the tank company). Army does not have that. Last time I checked the Army needed at least 96 hours and that required a massive lift from the US Air Force. Army has no pre-positioned forces floating around that can hit a coastline on a moment's notice with combined arms (and actually know how to conduct an amphibious assault and retain land).
Breaching. How many Army units know how to breach? How many Army tank units have trained with mine plows, blades, and mine rollers? All the USMC does (did) is train on how to breach. How many Army units even ATTACH their gear, let alone land on the sand with it?
Someone has to kick the door in.
USMC breaching platoon, AFG (FYI, Army never sent tanks to AFG, to "difficult" lol).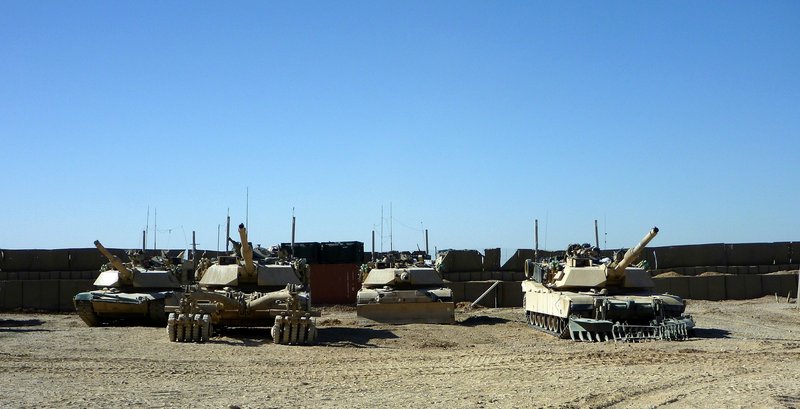 Know how many Army tanks were in AFG? Zero. Back in 2010 they actually asked us about the logistics of bringing tanks in. Decided it was too hard and expensive.
You know how awesome it was to have tanks out there? Priceless. On icom "chatter" they called us the 'monsters". When a tank section rolled in they ran away. Good feeling.
It got to the point that the grunts didn't want to go out on patrol without a tank section on overwatch. Noting like being able to schwac a mortar team setting up at 3000 meters with one round from the main gun at midnight with no moonlight.
So yes, the USMC is different than the Army. So yes, we used tanks different from the Army.
History time.
Both of the services were shaped by WWII. The US Army was shaped by Europe, the USMC was shaped by the Pacific. Just talking tanks it was totally different.
In Europe tanks were used against other tanks. Armor battles were fought between the US and Germany. Strategy about how to use tank platoons, companies, and battalions were thought out. Armor on armor.
In the Pacific tanks were used quite different. The Japs did not have the armor we had and the battlefields were smaller. Tanks in the USMC were used in infantry support. Tank on tank battles were rare. A tank was a Godsend to a Maine infantry platoon. This carried on throughout the decades.
We call that "tank infantry integration". And Marines trained on that concept hard.
So the USMC practiced tank infantry integration. Unlike the Army, where in a spearhead the armor was king, in the USMC the infantry was king. Backed up by armor. Totally different mindset.
The USMC carried this mindset to the present day. Grunts go first. We support them.
Fallujah was the perfect modern day show case of USMC tank infantry integration. While the Army was making "Thunder Runs" against Iraqi armor the USMC was doing what it does best. From the Japanese islands, to Hue city, to Iraq, USMC tanks worked side by side with the grunts to take ground. To conquer cities. To kill the enemy.
Good buddy of mine took his tank into Fallujah. When I was in the USMC museum a few years ago I saw they had his pic on the wall. Told him he was famous lol.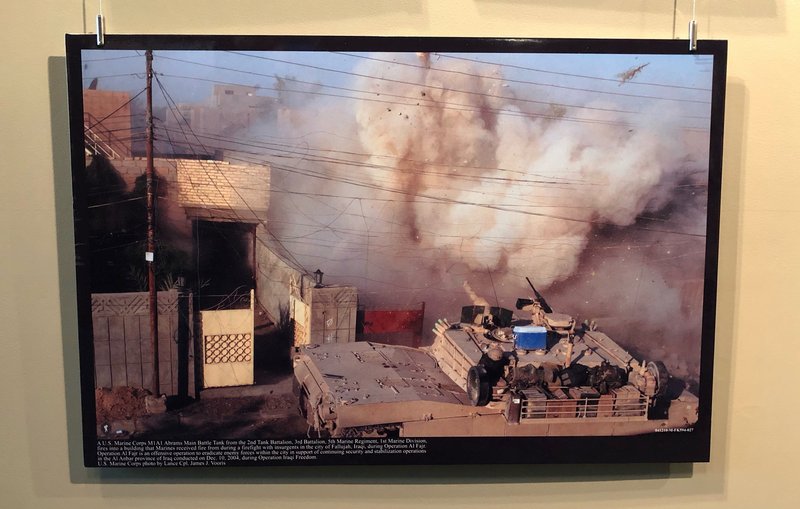 Early vid of a USMC tank practicing fording off the coast of Pendleton.
The USMC will never be replaced by the Army. Just a totally different reason for being.
Now, if the joint chiefs changes that reason….
Well then, I will still say "Semper Fi" and do what I know how to do. I'll fix tanks somewhere.
Sunday May 12th 2012 this pic was taken.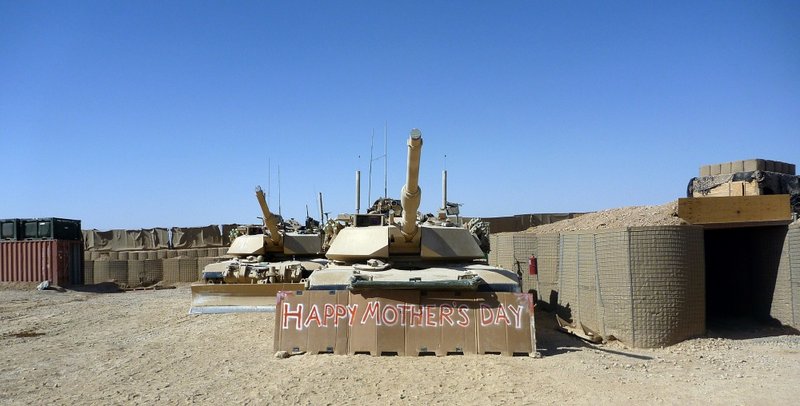 Next day some shit bag drove a truck full of boom into our ECP. Killed 3 Georgians and wounded 60 Marines.
Oh for the next 24 hours tanks didn't give anyone else the benefit of the doubt.
And now I am old. And posting on forums. Lol.
This message has been edited. Last edited by: mbinky,