quote:

Originally posted by Malysh:
...This is a good thread.
I never knew or thought about STGW 90 mags having a tendency to crack when left loaded for long periods of time.
I appreciate this information! I currently have nine 30 rd and six 20 rd SAN magazines...
I've been reading about isolated instances of SAN SIG 55X mag feed lip cracks for years, probably well more than a decade now. As the platform has slowly become more prevalent with more shooters in the U.S. the reports have slowly increased, and I don't think it's isolated to just mags that have been loaded while stored.
Years ago I did a deal with a forum member for a fairly sizeable quantity of
used
55X mags. 30 rounders for sure, and I can't recall for certain, but possibly 20 rounders as well. In addition, I also purchased a good quantity of 55X mag rebuild kits in the deal.
After receiving and inspecting the order I found 3 of the 30 rounders had feed lip cracks. All of the cracks were in the same location, all were on mags from the same year, and all were mags from the same Swiss manufacturer. The mags all showed definite signs of use, but nothing approaching abuse.
Are these instances of 55X mag cracked feed lips isolated to one year or time frame? Are they isolated to one manufacturer? Are they isolated to one or two bad batches of plastic? ...or, are they a reflection of a general flaw in design or material?
Years ago I posted photos detailing my mags with cracked feed lips in a previous SAN SIG 55X discussion thread here, but I haven't checked to see if it has been pruned.
I'd repost the photos in this thread but they reside on an old external hard drive that is currently T.U. I need to see about either getting it repaired or recovering the data from it.

My old digital camera recently gave up the ghost, and it's currently too dark to take decent camera photos.
========================
Took a few minutes over the weekend to take some new photos. My smart phone has a so-so camera so not great quality, but I'm including an assortment of photos, using both flash and natural lighting, as the cracks are tough to pick up in some light, and at some angles.
Note that the areas around these cracks show up as lighter in color. I would strongly suggest that when inspecting 55X mags for cracks, that they are inspected in good lighting, and from several angles, as some of the cracks start out as fairly subtle to detect.
All three of these mag bodies are marked
WEZ
, with
1835
directly below, a
1
below that, and the calendar clock is stamped
January 2003
, with a circular molding mark with an
L
inside it . Two have the same markings on the baseplate, one marked differently.
Obviously, these mags are relegated to range use but, at this point at least, are still fully functional. I'm currently tossing around ideas on how to repair them.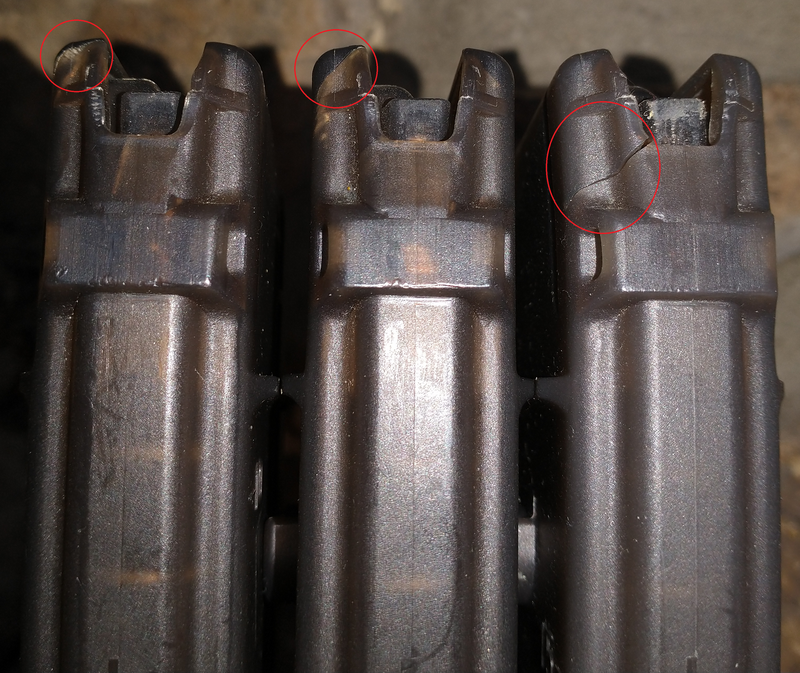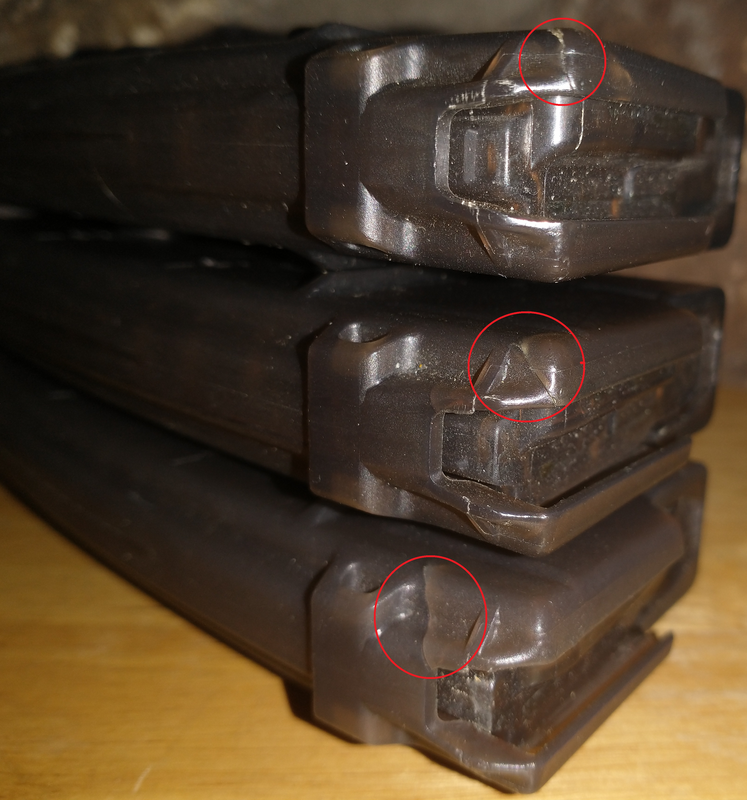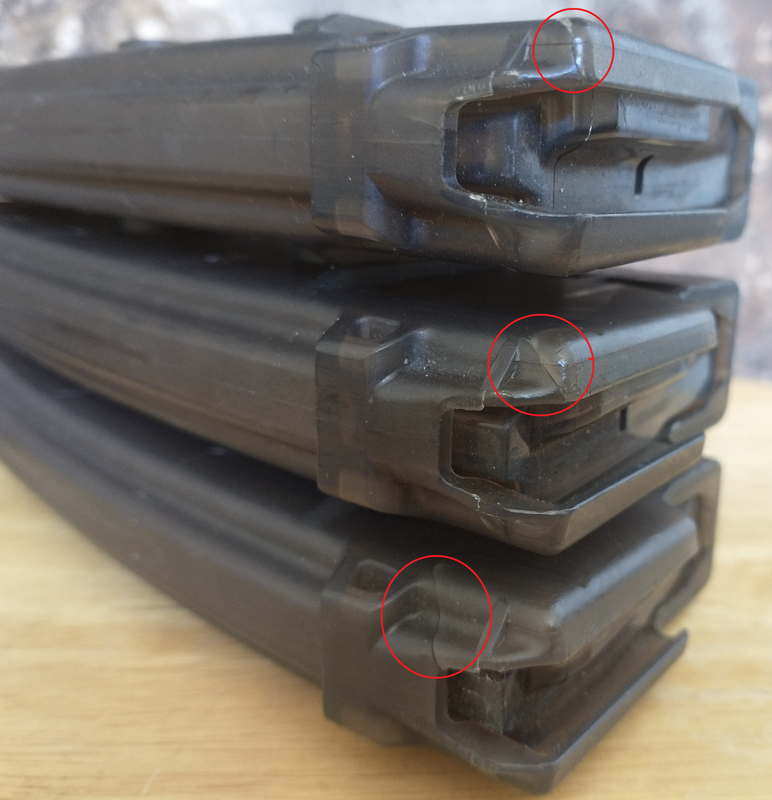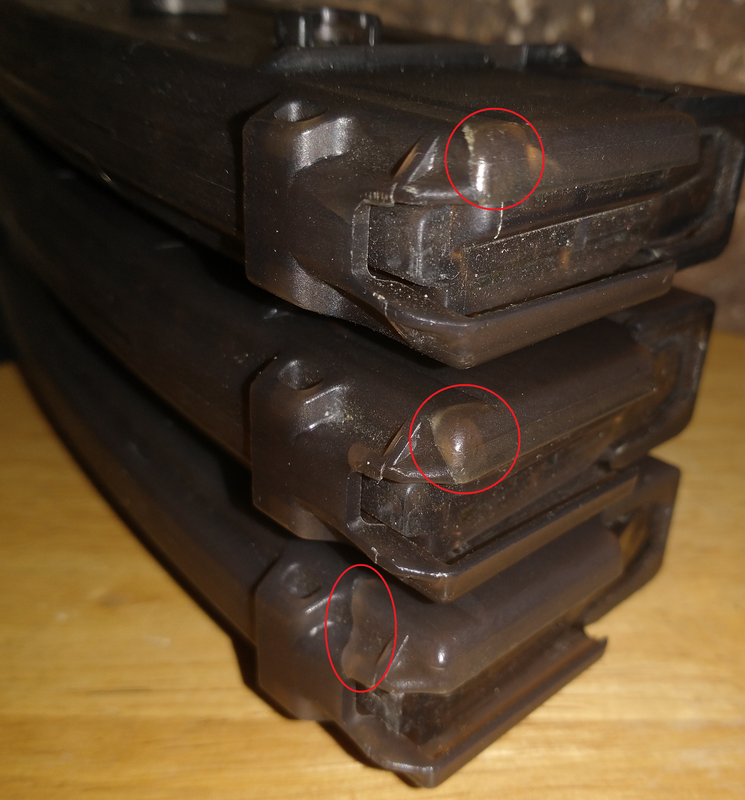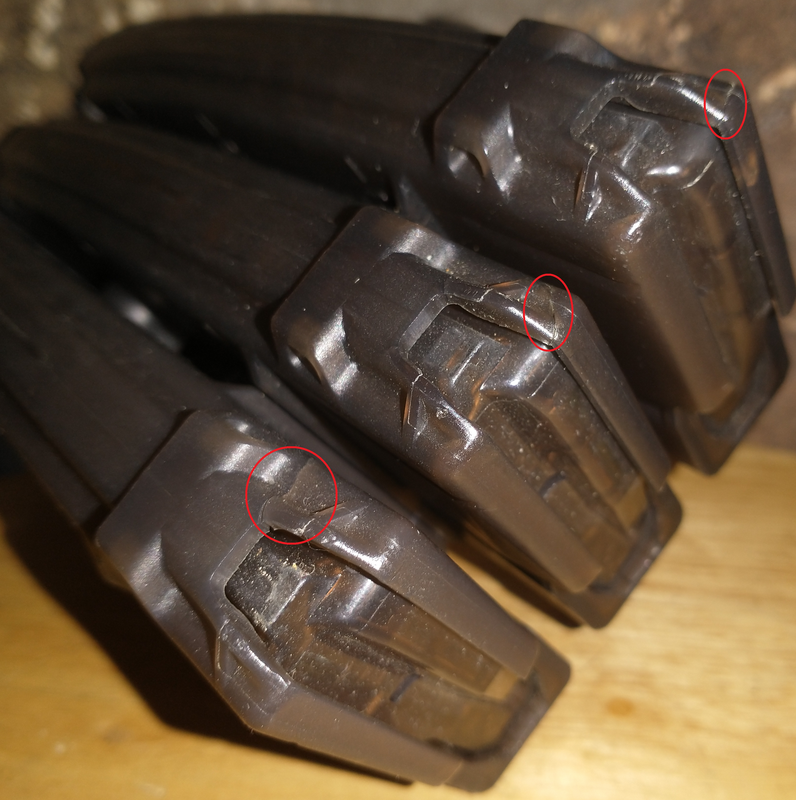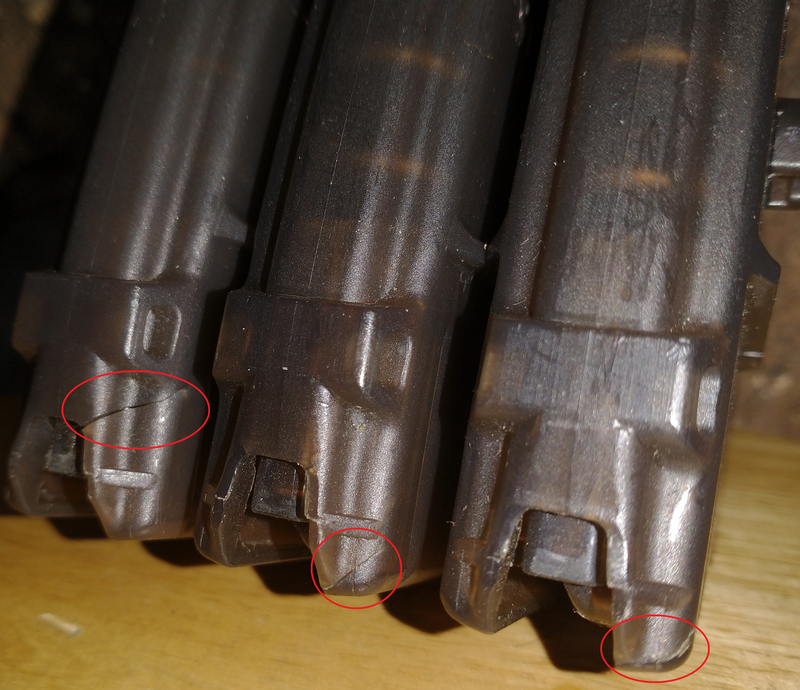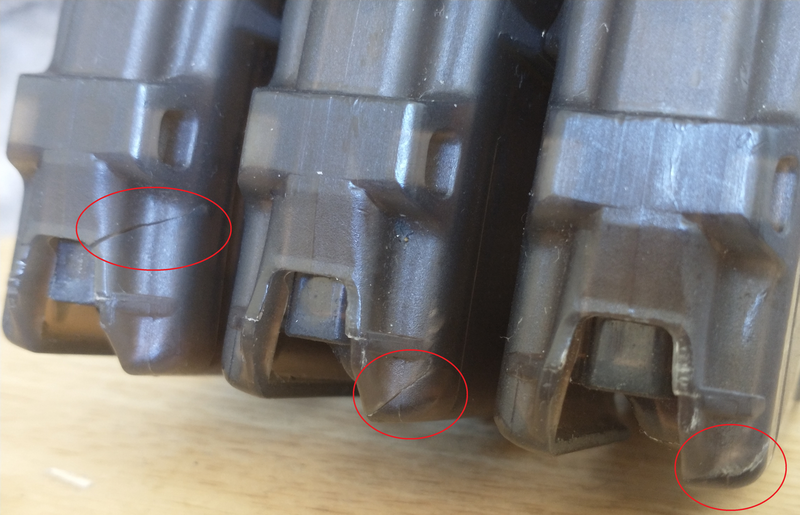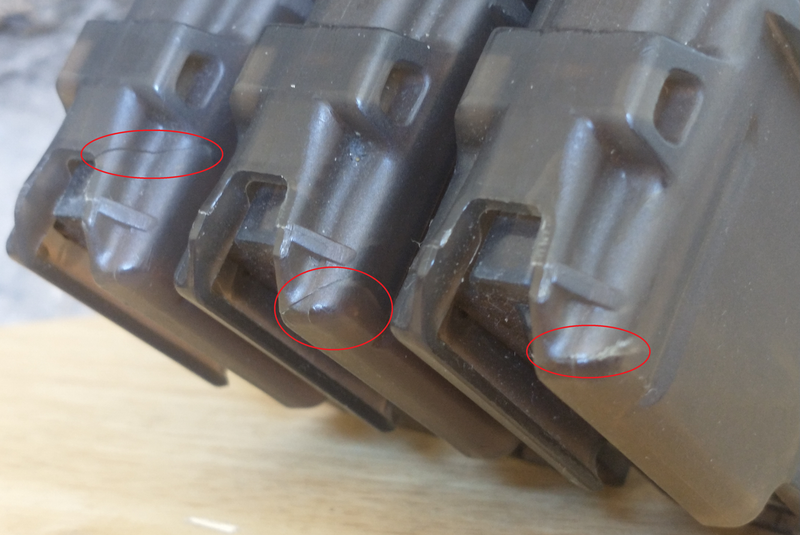 ETA: to include photos and add infoThis message has been edited. Last edited by: Modern Day Savage,