Originally posted by offgrid:
Helping a good friend set up a range. So far we have targets out to 1200yds. Eventually go to 2000yds.
Tough going setting up targets this time of year. Steel targets, T-post driver, T-post all humped out on foot/snow shoes, backpack.
Berms at 100, 200, 330, 450. Kind of see the targets past that last berm from the tracks. Turns at the 800yd target to the 1000 and 1200. We'll fill in some more in the next few weeks weather permitting. My buddy and I were both rewarded for our hard work with first round hits at 1000/1200yds with the 6! About 1.7 second flight time, see the target move, about 3 seconds for the sound to get back, ding! Fun stuff! Wind was a easypeasy 5-7 mph. Usually the wind there is hauling ass this time of year. That's me snow shoeing to the 450 berm to check out some loads from a 12.5" AR shot on paper. Have a 10" plate at 450, getting boring with the 12.5"! Took 3 shots at the 800yd target with the 12.5" AR, managed first two hits, 3rd miss, could not see the miss in the difficult bright snow conditions, stopped. Certainly helps shooting that far with a 77SMK when at 9200'. We're shooting from inside a heated building, 24 degrees outside. It's going to be a challenge reading the wind there, mirage the only indicator. Overcast day, very little mirage... gonna be tough. I'll enjoy the challenge!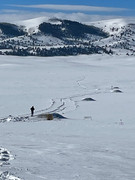 At the 1000yd target looking at the 1200yd target.