I recently picked up a CZ Scorpion pistol, along with a Tailhook brace set. I've had some time to tinker with it, and shot it a little this weekend, so I figured I'd post my initial thoughts.
Here's how my CZ Scorpion looks right now:
Overall, I really like the Scorpion. However, there are a number of things that irked me about various features. Luckily, most of them are minor issues that are relatively easily fixed with some modifications or some aftermarket parts.
First, I'll discuss my thoughts on the CZ Scorpion itself. There have been a number of other threads about these, so I'll skip the basic details and move directly on to my thoughts.
Pros:
1)
Relatively inexpensive.
I got mine for $695 shipped on sale from Sportsmans Outdoor Superstore. That's even better than CZ's factory LEO pricing. However, once you start factoring in all the wanted/needed aftermarket parts, the price starts to climb a bit...
2)
Cheap mags.
Factory all-plastic 20 and 30 round magazines are $15-$20. I also bought a couple Manticore Arms 32 rounders with metal feed lips, which are $30 each.
3)
Quality build.
Even though the Scorpion is basically two halves of a plastic shell held together with bolts, it doesn't feel cheap. (*cough* Keltec *cough*). It feel like a sturdy firearm.
4)
Excellent aftermarket support
: Even though the Scorpion has only been around for a few years, there are already a number of companies offering a wide variety of aftermarket accessories to customize it to your personal tastes. And the best part is that every single one of the issues I've identified with the Scorpion can be solved with one or more aftermarket parts.
5)
Ridiculously fun to shoot
: I think this may become my favorite plinker. Very accurate at plinking distances. Cheap ammo. Negligible recoil. Just overall a really fun gun to shoot.
Cons:
1)
Awfully heavy trigger pull
. Mine maxes out my trigger pull gauge. It's got to be 10+ pounds. Relatively short and crisp, though.
2)
Mags don't drop free.
It seems that the mags will drop free when the bolt is closed, or when the bolt is held back by the charging handle, but not when an empty magazine trips the bolt hold open lever. There are a number of threads elsewhere online where people claim to have gotten their Scorpion mags to drop free with some slight modifications. I tried all of them, and it still doesn't work when the bolt locks back after the last round. As a result, you have to strip magazines out by hand every time.
3)
Poorly-designed safety levers
: Yes, they're just as bad as you've heard. I have no idea what the CZ designers were thinking here.
The right side lever digs into your trigger finger when firing. And the left side lever is positioned in such as way that it isn't easy at all to flip with your thumb. Terrible. Even if you don't replace anything else on your Scorpion, this is a must. Luckily, there are a number of different options for aftermarket safety levers.
4)
Factory fixed sights are rather bulky.
: They're great quality, but they're rather large and bulky for such a small gun. And then tend to fill up much of the field of view of a micro red dot optic. I hope someone comes out with a set of micro fold-down BUIS, or something along those lines.
5)
Unimpressive sling attachments
: The Scorpion comes from the factory with four small sling attachment loops, two on either side. However, I don't really like the positioning or functionality of any of them. They require the use of something like a sling hook or a keyring to attach a sling to them. As a result, sling attachment is rather loose and sloppy. I haven't found a sling setup that I like yet, so it's currently sling-less.
6)
Factory pistol grip is not the best
: I like that the Scorpion's grip can be adjusted forwards/backwards to fit the trigger reach to each shooter. But the factory grip isn't the best. It's unnecessarily long, the texture is lacking, and the angle doesn't work very well for what's essentially a short, stubby little SMG/PDW.
I've already added a few things to my Scorpion, and plan to make several additional modifications, mainly to address some of the issues I've identified above.
Current add-ons:
1)
Apex replacement grip
: This is a big improvement over the factory grip, especially with its more vertical grip angle. It's still a bit too skinny for my big hands, though. I may end up trying the Yeti Wurks Switchback grip, which looks a bit fatter, but retains the more vertical grip angle.
2)
Stark Express angled foregrip
: Vertical foregrips are a no-no on a pistol. While most folks seem to be going with the Magpul AFG2, I wanted something that was more rounded, with a slightly steeper grip angle. This Stark grip is just right. As a bonus, it fits on the handguard along with the factory handstop, provided you modify the rear of the Stark grip's rail attachment a little bit. It only took a couple minutes with an Exacto, a Dremel, and some 180 grit sandpaper to remove a few bits of plastic to make it work.
3)
Inforce WML with extended IWC Thorntail offset rail mount
: This setup also took some modification to work right, but now that it's done, it's outstanding. It's positioned perfectly for my grip. Unfortunately, it will be tough to replicate... The extended Thorntail rail is no longer offered by IWC, and the standard length one is too short for this to work. I also had to slightly sand down one corner of the plastic on the WML, since the very front edge of the handguard prevented the rear corner of the WML from fully seating on the offset rail.
4)
Primary Arms MD-06 fixed based micro red dot
: This is a Primary Arms clone of the Aimpoint Micros, similar to the Busnell Tropy red dot. I've used these on a number of my other range toys. They're great quality for the price. This is a discontinued model that had a fixed base and a different control and emitter setup, which allows is to sit as low as possible on a rail. This allows this red dot to cowitness with the factory iron sights on the Scorpion. As noted above, the bulky fixed sights make for a bit of a cluttered field of view, but for a plinker, it's fine.
5)
Larue Index Clips
: I have a ton of these laying around. Not only do they look great, they do a great job of covering those cheesegrater rails.

Upcoming additions:
1)
HBI trigger spring set
: This reportedly lowers the trigger pull down to 5-6 pounds.
2)
Extended paddle magazine release
: Because the mags don't drop free, I'm going to have to change mags like a FAL/AK/HK. The factory mag release is just a bit too small for this to work comfortably for me. There are several companies that make replacement mag release paddles. I haven't decided what I'm going with yet, though.
3)
Extended charging handle
: The factory charging handle is just a bit too small for my taste. Again, there are a number of aftermarket options out there.
4)
Replacement safety levers
: After looking at all the options for replacement levers out there, I'm going with an Apex lever on the left, and either a Delete or the HBI AK lever on the right. These seem to be the best fit for me, but there are a ton of other options out there.
5)
Sling attachment?
: As noted, the factory sling loops aren't the best. I've tried mash hooks and snap hooks, but didn't like either one. I may look into a front QD attachment, which are available from a few different companies. (The Tailhook has a rear QD socket on it, as discussed below.) Or I may just leave the sling off of it altogether.
Now let's move on to the Tailhook brace setup.
This new pistol type of arm brace was designed by Gear Head Works. The Tailhook itself is just the rear portion, and is designed to be used on an AR pistol buffer tube. But Gear Head Works also designed an adapter to allow it to attach to the forward section of a CZ Scorpion factory stock. (They're currently working on a number of other adapters too, for things like Galils, MP5s, and Kriss Vectors.) This adapter allows a near-factory setup, with a factory folding mechanism in front and the custom adapter and Tailhook on the back of it.
The Tailhook itself will run you ~$120, and the factory folding mechanism and Tailhook adapter is another ~$130. So it's ~$250 for the entire Tailhook Scorpion setup. There are a couple places that sell package sets with both a Scorpion and a Tailhook setup for ~$1k total.
The Tailhook with adapter and factory folding mechanism mounts solidly to the Scorpion. (As expected, since it's basically 2/3rds of the factory stock.) It folds all the way in, with no interference, and the Scorpion can be fired when folded. There's no active retention when the stock is folded, but the hinge does offer a moderate amount of friction when fully folded, which helps keep it from flopping around.
The special Tailhook adapter is held in place to the factory folding mechanism with a roll pin, which can be removed and the adapter moved in/out to one of three different lengths, with the roll pin driven back into the corresponding hole to hold it at that length. All of them are relatively short, though. I'm 6", and even the longest hole is just a hair too short for my preference.
There's also a QD socket built into the left side of the Tailhook. That solves the issue of needing a better rear sling attachment point than the factory loops.
How does it work? Well, it looks pretty much like a factory stock, and it behaves pretty much like a factory stock, if so desired. Cheek weld is excellent. LOP is a little bit short compared to most of my rifles, even at the adapter's longest setting, but that's to be expected for a short SMG/PDW-style firearm. All told, it's the next best thing to a SBR Scorpion with a factory folding stock.
No matter how well it works as a stock, it's not a stock.

The Tailhook is intended to be an arm brace, designed to allow the Scorpion to be fired one-handed more easily. And in theory, it is a better setup that the previous generations of braces, which had to be strapped to your arm with Velcro. When you press a latch button on the side of the Tailhook, the right side of the Tailhook hinges downward, and this unfolded piece then braces against the underside of your forearm when you grab the Scorpion's pistol grip.
In practice, the arm brace configuration doesn't work quite as well as expected. It's comfortable, and does a really good job of counterbalancing the weight of the gun. However, the Tailhook's positioning just didn't work very well for me in most shooting positions. It may be because I have slightly larger than average forearms.
The only stance that worked well was the old-style "bullseye" shooting stance, with my body bladed fully, my right shoulder pointed towards the target, and my right arm extended straight out to my side: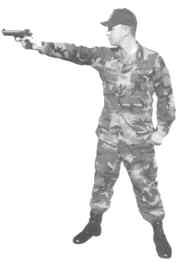 I can't get it to work very well with a modern Weaver/Isosceles stance, or even just a one-handed grip with my body squared to the target as I usually shoot. When I try, my bulky forearms force the bottom of the brace too far down, which forces the muzzle of the gun up. As a result, I have to bend my arm into an unnatural angle and contort my head in order to get a good sight alignment when using a modern pistol stance.
In summary, the CZ Scorpion is an amazingly fun gun to shoot. And in my opinion, the Scorpion with a Tailhook is one of the better options for a non-SBR pistol setup. However, plan on dropping a couple hundred more dollars on aftermarket parts to solve some minor-to-moderate issues with the Scorpion. In its factory configuration it has a number of flaws, ranging from minor nitpicks to major irritations. But in its final upgraded form, I foresee this becoming one of my favorite guns I own.
This message has been edited. Last edited by: RogueJSK,