I had a long discussion about what to buy earlier this year that culminated in buying a Bren 2,
discussion here.
Was going to update it there and decided not to muddle it further and just have a Bren 2 thread. I posted a few pictures in that one, but I made a few changes since, including a Neoteric Designs safety and folding charging handle (both very good improvements over stock and totally worth it), an HBI 10" rail, and a Holosun green dot.
After far too long of owning it and tinkering with it without shooting it, I finally got it to the range the other day. I shot a Palmetto 16" first to warm up, then broke out the Bren. Shooting PMC "X-Tac" M855, the first three shot group had one flyer about an inch right and the next two were touching at 50 yards. A much better group off the bat than the AR, surprisingly. I spent the next twenty minutes chasing groups all over the paper because there were no markings for what the sights did, and I do it rarely enough that I used the markings on the Troys as a reference... which were apparently opposite of what the Bren's sights do because European. But I got it more or less zeroed in at 50. Here's that first group.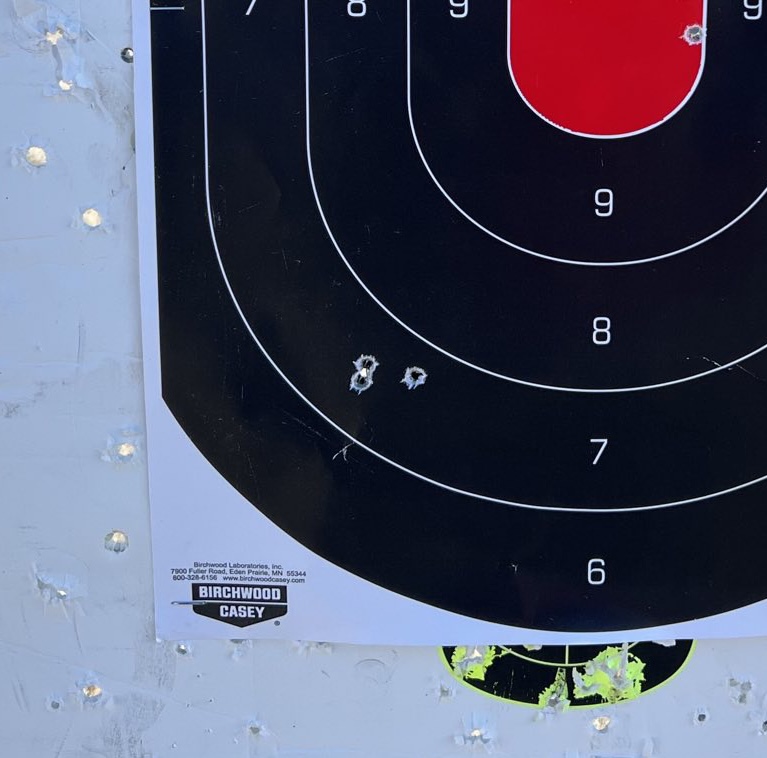 It was a casual range day with a new friend I made in class a few weeks back, so I didn't really get the time with it that I wanted, but my first impressions are that I really like this thing. It's staying, and I'm going to get the ball rolling on doing a form 1 here very soon and order
one of these.
. The HBI trigger is fantastic, made it real easy to score good hits. The Neoteric parts are absolutely worth it and are also staying. I think I want to try to chase down the larger size backstrap for the grip, because it's not bad at all, but it's kind of diminutive in my large hands. Probably will order the HBI grip tape sections pre cut for the handguard recesses, and I need to figure out a good light option. Other than the muzzle device, I think it's about as good as it will get. I see no need to tinker further.
This was my first time shooting, or being around an 11" 5.56, so... maybe they're all this way, but holy shit this thing is loud. Almost painfully so. We were at an outdoor range, but there was a corrugated tin roof kinda shelter over us, and it was booming and echoing with just that. When I shot it, people around would make noises or stop shooting their stuff. I was using foam earplugs plus Peltor electronic muffs and it was... comfortable enough, but because of the amplification, I heard one guy down the line remark "Got
Damn
, that sucker's loud. Must be a .308." I handed it to my buddy and he ran a mag though it, and with me standing behind him and to the left, the concussion was intense. Any thoughts of using as the house gun without a can vaporized, I'll deafen myself and my whole family. I know priorities and all that, but still. Too much. I'll have to get the ball rolling on a suppressor as well, I guess. Not the end of the world. Muzzle device and mounting needs to get figured out next....
Which brings me to my next point. That first three shot group, I was crouched behind the bench and holding the rifle over a pistol bag. The three prong flash hider works well enough that I never saw any muzzle flash whatsoever, but I did not take into account that one of those ports aims directly down... and this happened. I noticed it after my second shot. It
was
a nice pistol bag. There was maybe 6" of clearance or so, so that blast is intense. I kind of wanted to keep the flash hider, but something that doesn't direct any blast downward needs to happen, I think.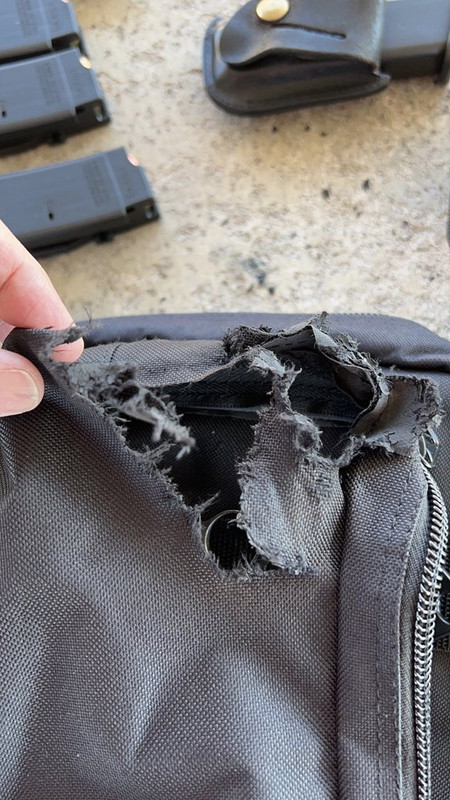 The Holosun is a cheapie, but I wanted to try a green dot to see what I think. My impression is favorable. Between what I brought and what my friend brought, I shot through a number of red dot sights that day. Some of them were hard to pick up in full desert sun. The green dot? Fast and easy, clear and bright. I'm sold on the idea of a green reticle, at least for where I live. Eventually, I think I'll look at the Eotech offerings, but sadly they don't seem to offer one that has a green reticle that also has NV modes. Last I looked, they made one but discontinued it. Maybe they're working out some kinks, I dunno.
This message has been edited. Last edited by: P220 Smudge,


______________________________________________
I believe in the 25th amendment.