Finally got to the range for an hour, yesterday, with my new Kimber Custom II 10mm GFO. The results were something of a mixed bag.
The good news is the gun will put bullets where I want if I do my job. (See targets, below.) Recoil was mild with the Armscor 180 gr. FMJ, a mild 10mm load (muzzle velocity ±1100 FPS), I was shooting.
The bad news is I had
many
FTFs. Sometimes on loading the first round, sometimes somewhere in the middle of the magazine, more often than not on the last round. Most of the FTFs had the round jammed going into the chamber. A couple of times it wasn't even stripped out of the magazine. When it cycled properly, I could occasionally feel a "hitch" in the slide going forward as it stripped and fed a round.
The pistol had been stripped, well-cleaned and well-lubed, and I'd left the mag fully-loaded for a couple days.
I'm writing this one off to the mag. Others have complained of similar problems with the mag included with this pistol. I've a couple Wilson 47NX mags on-order from Top Gun Supply.
The fit and finish of the pistol is without flaw. Slide is snug on the rails and moves smoothly. No play or rattle anywhere. Magazine inserts smoothly and easily, and drops free nicely. Magazine release and safety both operate smoothly--the latter being nice and "clicky." Sights are a nice compromise between target and combat sights, IMO. Grips are grippy without being overly aggressive. (I can attest to their working well with mildly sweaty hands. The range was warm.)
I have only two complaints: 1. The trigger isn't great. It isn't bad, but it's a bit on the heavy side and has a some creep in it that, oddly, comes and goes. 2. The manual slide release
I
find nearly impossible to use to drop the slide. (The guy behind the counter at the store had no problem, so maybe it's me.)
Here are my targets, in the order I shot them. Mind you: I've been doing a lot of dry-firing the last three weeks, but this was my first time to the range in maybe a year.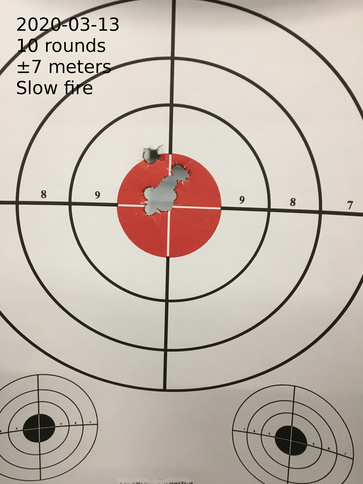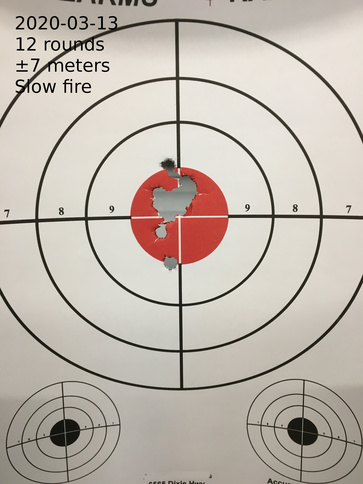 Here I was just shooting to break the gun in. Not trying particularly hard.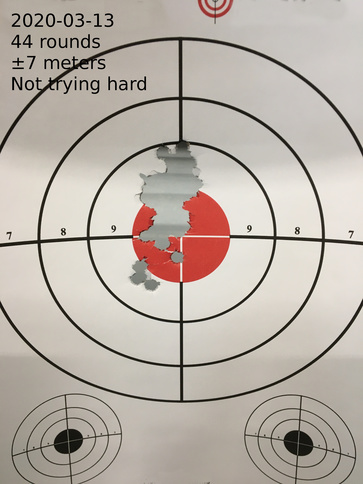 For reference: These circles are 4 inch diameter.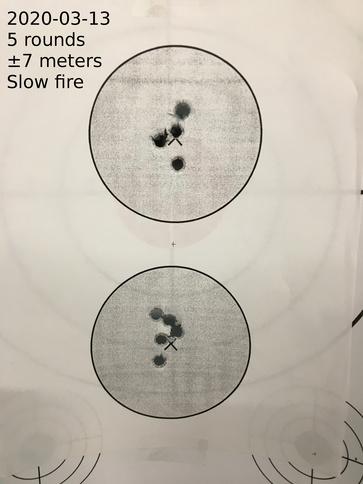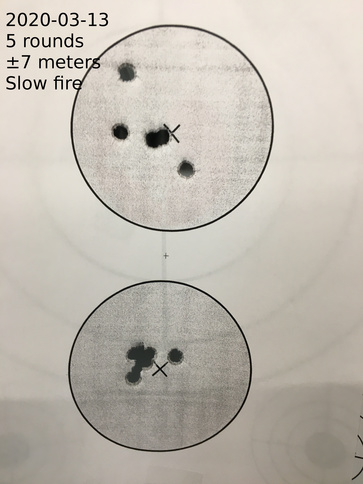 I
really
need to get to the range more often.
---

"America is at that awkward stage. It's too late to work within the system,,,, but too early to shoot the bastards." -- Claire Wolfe
"If we let things terrify us, life will not be worth living." -- Seneca the Younger, Roman Stoic philosopher
"The dominant media is no more ``mainstream`` than leftists are liberals." -- me