SIGforum
What was your first SIG and when?
November 09, 2021, 06:26 PM
mdblanton
What was your first SIG and when?
Given the name of this terrific place to hang out I thought this topic would be interesting. What was your first SIG, when did you purchase it, and do you still own it?
My infatuation with SIGs began while I was in high school. I purchased a P226 a few years later in 1993 and I do still own it.
November 09, 2021, 06:32 PM
cslinger
First one that I purchased, I had shot several previously, was a first Gen SIG P220ST. Still have it and had it out earlier this year.


"Guns are tools. The only weapon ever created was man."
November 09, 2021, 06:40 PM
220-9er
Still own it.
Bought in the later 90's
A P220-9mm, PW Arms import.
Took a little while to find Sigforum but I've been here since.


___________________________
Avoid buying ChiCom/CCP products whenever possible.
November 09, 2021, 06:42 PM
Vero8
SIG P2022 in 357SIG. Sold it because I couldn't afford to feed it. Plus 45Call and I worked up a 135gr 40S&W load that matched all the important numbers.


God bless America...and no one else

November 09, 2021, 06:48 PM
sj4550
A used P239 in 9mm found on this forum.
purchased in2006
Still in EDC rotation today.
November 09, 2021, 06:56 PM
Michael J. Shannon
January 1986, P220 .45ACP when I retired from U.S.
Secret Service. For most of my USSS 28 year career
I had carried my issued S&W Model 19 2.5 inch .357
magnum. Washington DC agents had just began going
to Sigs, and I wanted to own a Sig just for grins!
USSS policy didn't allow us to purchase our issued
weapons upon retirement. I've accumulated a number
of Sigs ever since!
November 09, 2021, 07:04 PM
WaterburyBob
My first Sig was a P239 9mm. I bought it as soon as they were available in 1996 and I still have it.
---
"If Gun Control worked, Chicago would look like Mayberry, not Thunderdome" - Cam Edwards
November 09, 2021, 07:04 PM
nhracecraft
A 1994 'KE' W.German P226

I purchased it not long after Congress passed the 1994 'Crime Bill'....I still have it, and I will NEVER part with it!


____________________________________________________________

If Some is Good, and More is Better.....then Too Much, is Just Enough !!
Trump 2024....Save America!
"May Almighty God bless the United States of America" - parabellum 7/26/20
Live Free or Die!
November 09, 2021, 07:05 PM
P-220
Early 90's. A P-220/.45. Sold this particular P-220 a couple of years ago, to fund my P-220 Legion.
It was love at first shot. The rest, well the rest is history.
The P-220 platform has served me well over the years. I do shoot my American P-220/.38 Super better than the .45.


Niech Zyje P-220

Steve
November 09, 2021, 07:13 PM
P250UA5
First experience was my dad's .40 P239, bought new in '96
Then my wife's boss' P220ST
Joined here for info on the P250, which I ended up not buying.
Bought my P320C a few years ago. Started as a 9mm & swapped with a member here for a 357Sig upper/mags.
Planning on getting the wife a 365 when we can find one to try out.
This message has been edited. Last edited by: P250UA5,
---

The Enemy's gate is down.

November 09, 2021, 07:15 PM

SW_Sig

January 2000, SP2340 in 40 S&W.

Bought a complete slide with 357 SIG barrel on EBay and later a Barsto 9mm conversion barrel.

2nd was a first Gen P220ST

November 09, 2021, 07:19 PM

pedropcola

Sig 220. West German. Yup, still have it.

November 09, 2021, 07:41 PM

ensigmatic

Sixteen years ago, Christmas, 2005, my wife gifted me my very first Sig:
Along with a Milt Sparks VM2 in which to carry it: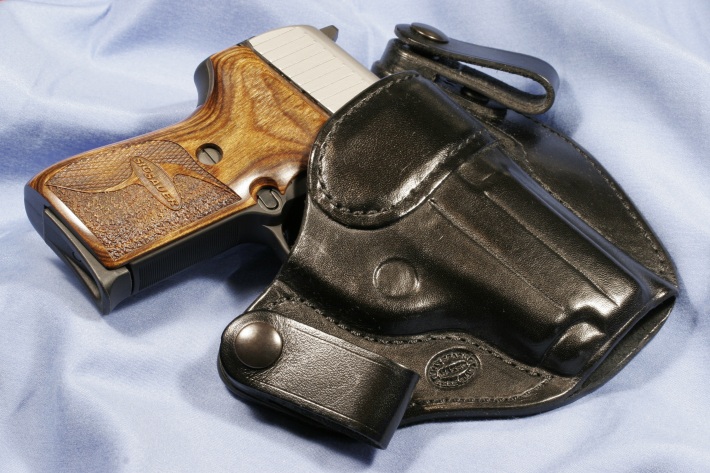 ---

"America is at that awkward stage. It's too late to work within the system,,,, but too early to shoot the bastards." -- Claire Wolfe
"If we let things terrify us, life will not be worth living." -- Seneca the Younger, Roman Stoic philosopher
"The dominant media is no more ``mainstream`` than leftists are liberals." -- me

November 09, 2021, 07:50 PM

Bob RI

P228 KF two tone 21 years ago

November 09, 2021, 08:06 PM

TannerBoyl

I joined this forum to help me decide on my first Sig. I was on here for about six or seven months before I decided to buy a P229 in .40S&W.

I had owned it for a few years and then sold it to

upgraydd

to a railed model. You know, two d's for a double dose of pimping. I'm sad to say, that I regret selling that pistol.

November 09, 2021, 08:12 PM

Dwill104

First was a new P226 bought in 85 or 86. Much later, I replaced it with a P226 SCT.

Oldest I still own is a P220 in .45, also bought in the 80's.

November 09, 2021, 08:20 PM

jbourneidentity

W. German P220 .45 in 1994. Paid $650 even back then. It was my second duty weapon.

I no longer own it. I sold it to a co-worker and later tried to buy it back. He lost it and I never got it back.

Yeah, that happened...

November 09, 2021, 08:23 PM

tigereye313

P228 from a member here in the forum. Think it was 2002. Still have it, still fits my hand like a glove.

---
November 09, 2021, 08:24 PM
Fenris
2008
Sig P226R/9mm alloy framed, with the large beaver tail.
---

The budget should be balanced, the Treasury should be refilled, public debt should be reduced, the arrogance of officialdom should be tempered and controlled, and the assistance to foreign lands should be curtailed lest Rome become bankrupt. People again must learn to work, instead of living on public assistance. ~ Cicero 55 BC

The Dhimocrats love America like ticks love a hound.

November 09, 2021, 08:24 PM

Oat_Action_Man

A 229 .40 on my 21st birthday in 2001.

Drove from college in VA back to PA just to buy the gun. Parents thought I was coming home to be with them on my birthday. LOL

Yes, still have the gun.


----------------------------

Chuck Norris put the laughter in "manslaughter"

Educating the youth of America, one declension at a time.