Finally
got my 9mm EMP out to the range today. Ate up 200 rounds of Blazer Brass and WWB w/o a single hiccup.
All targets are slow-fire, ±7 yards, standing, two-handed grip.
First target. I think this is 42 rounds. (First three mags with five ea, then three full mags.)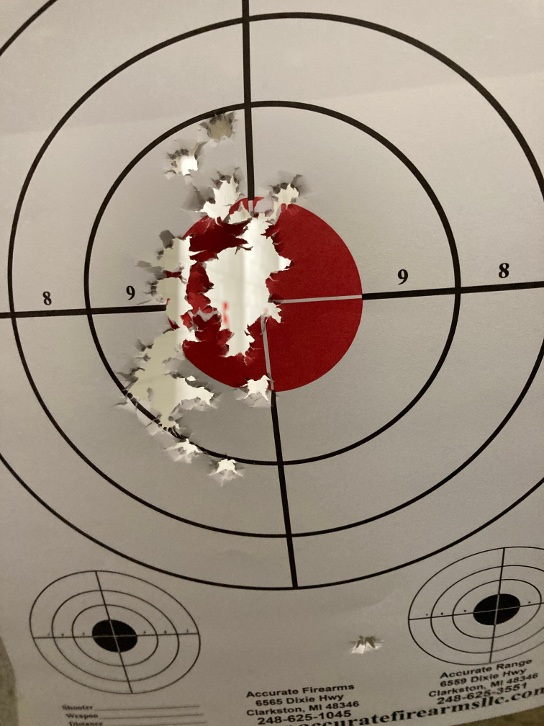 Second, and best target. (Three full mags.)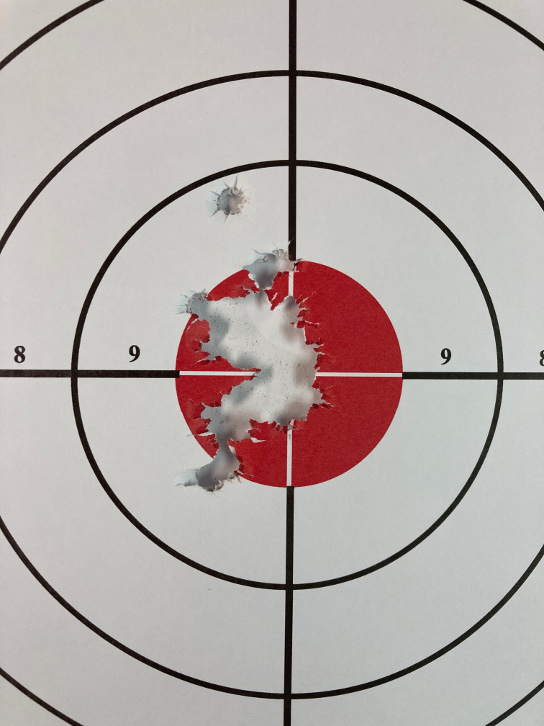 Last target. (I think this was 17 rounds?)
Obviously I changed my sight picture on that last one.
I'm aiming at 6 o'clock on all those, so it's shooting a bit higher than the top of the sights. Then again: I'm out of practice and my right eye is still impaired, so...
It
appears
it's shooting a bit left, but I think, before I go nudging the rear sight, I best get another range session in to make sure it wasn't me. Maybe bring along something I know I used to be able to hit with dead nuts and shoot that, as well.
I did do one rapid (-ish) target. Not great, but I did keep 25 of the 27 inside the 9-ring and about half in the red bullseye.
I'm quite pleased with the pistol and satisfied with my performance with it, considering I haven't done any shooting in at least a year and my right eye vision impairment.
---

"America is at that awkward stage. It's too late to work within the system,,,, but too early to shoot the bastards." -- Claire Wolfe
"If we let things terrify us, life will not be worth living." -- Seneca the Younger, Roman Stoic philosopher
"The dominant media is no more ``mainstream`` than leftists are liberals." -- me