quote:

Originally posted by RANGER20:

Lowlife.... How are you liking the 30s..

I've had both the 36 and a 30sf. I liked them both for different reasons. The 36 is thin. but limited in capacity. The 30sf chunky in the slide but it's a soft shooter in comparison to the 36 and very accurate. I was hoping the combo would negate the negitives of each.

How does it Conceal and how is the Recoil vs 36 ?

How does it conceal and how is the Recoil vs 30sf ?

There is one available to me locally I've thought about picking it up for CCW to have something in 45acp. Which would replace my 239 next Feb 2014. Leaving my two main guns GLOCK. Of course...

I have those same sites... for my sons G19 FDE.

I just put on XS Big Dots on my Gen2 17.. They work perfect for my older eyes.. for ccw..
I would probably love the Big Dots, as most of my range time consists of shooting from 3 to 25 yards.
I'd say the 3 to 21 yard range for the most part.
But I've never bought them.
I like the Caps sights, but I've still got Big Dots in the back of my mind, being this is purely a defensive pistol.
I know I've posted all this already, so long story short;
Last year (or so) caved in and bought a Glock 17 and 19 after reading this thread for a few years..
I recently (several months ago) bought a Gen 2 G21 (after only owning 9mm pistols and the 380 LCP for the several years) and fell in love the 45acp round.
I had tried 45acp in 1911s and found the grip too thin, even though I bought (and sold) a few 9mm 1911s..

So I researched a carry 45acp Glock and found the G36 and G30SF.
I also found how many were buying both to make their own G30SF/G36 hybrid carry pistols.
I bought a G30SF early this year.
I bought that G30SF on a Saturday, that Monday Glock announced the G30S at the shot show.

I did shoot that G30SF at the range and I liked it, but the bulky thick heavy slide was too big for comfortable OWB carry IMHO.
SO I sold it, and bought a G30S off GB that I paid way too much for, but being the pistol was just released I had to pay a premium for it.
So I got the G30S and thought, why don't I try to find a G36 frame on GB since someone (that did the hybrid thing) was probably trying to get rid of.
That way I'd have both the G30S (10+1) frame and the thinner G36 (6+1) frame, keeping my options open for different situations..
So I bought a G36 frame off GB.
Shot them side by side, and resold that G36 frame.
The G36 was a bit more of a handful as far as recoil goes, and for some reason, the G36 mag pinched my finger when shooting.
Much like the G30S 9 rd mag, it also pinched my finger when shooting.
But the G30S 10 rd mag (with or without the Pearce baseplate) doesn't pinch my finger at all..
My biggest issue was that the G30SF frame of the G30S felt better in my hand than the thinner G36 frame.
Kind of the same issue I had when I wanted to fall in love with the 1911 for carry, but found the grip too thin.
Besides that I found I didn't feel comfortable with an SA trigger for an SD pistol.
I feel I'll need a little slack in my trigger in a stressful situation, if confronted with one.
A man's got to know his limitations...
I've posted these before but I'll do it again.
I never did buy a holster for the G36.
But I don't feel the G36 would be any easier to conceal than the G30S (G30SF frame).
That thinner slide of the G30S makes a lot of difference IMHO..
The G36 frame VS the G30SF frame.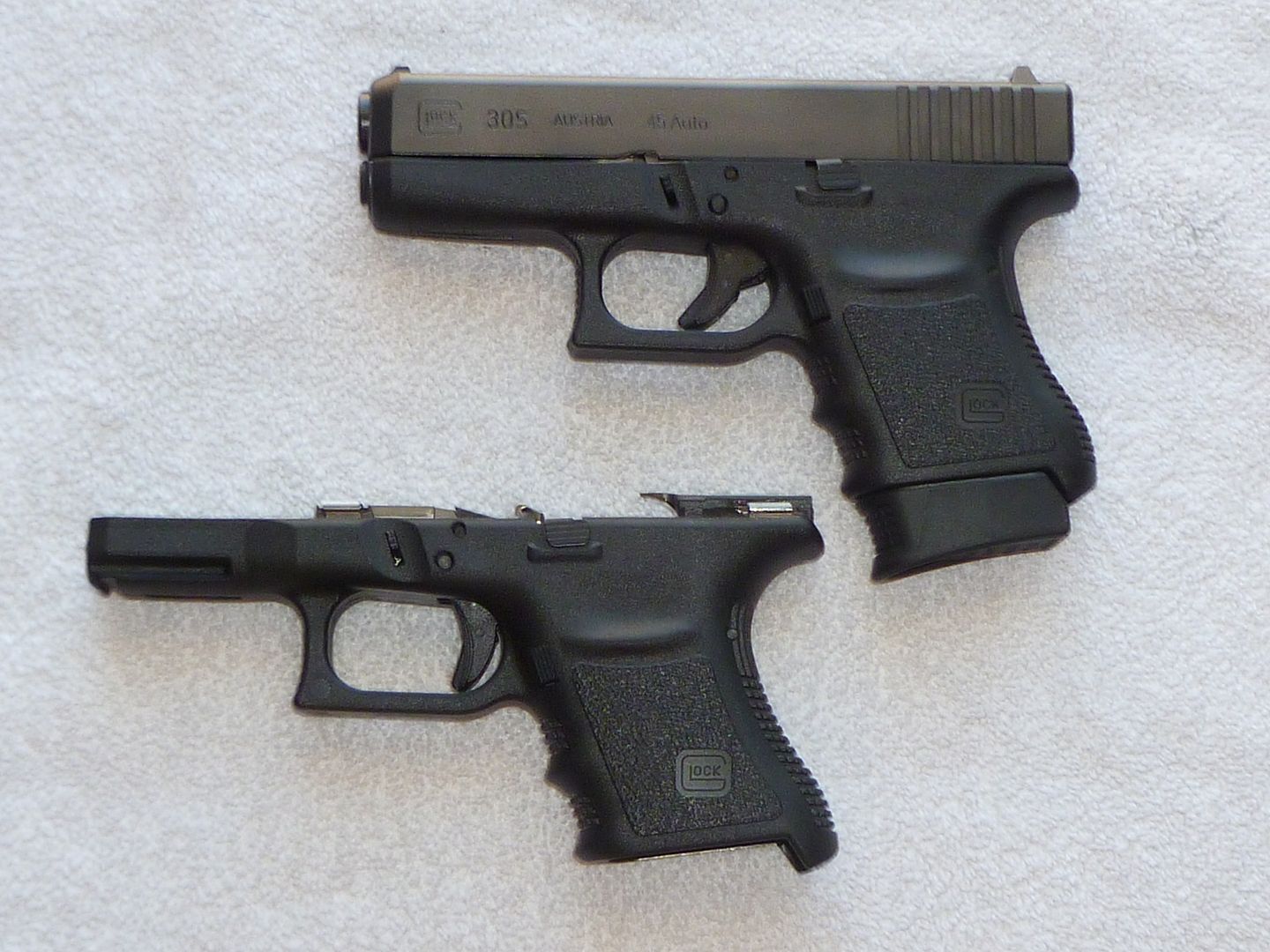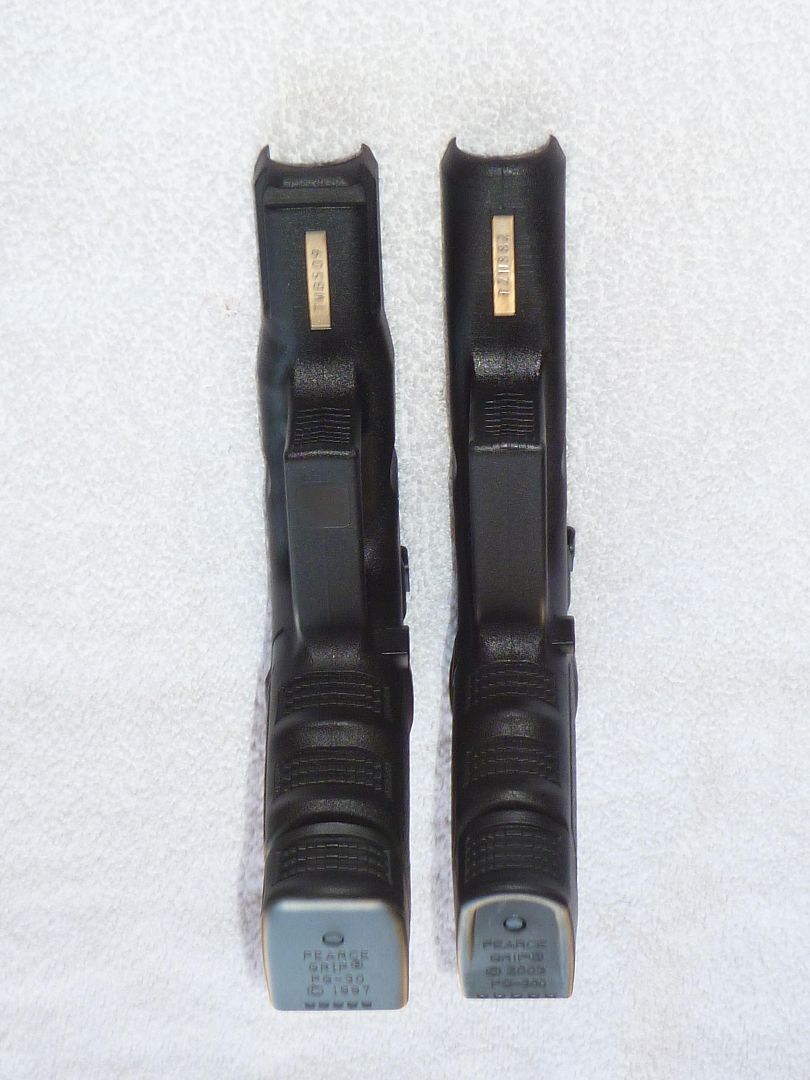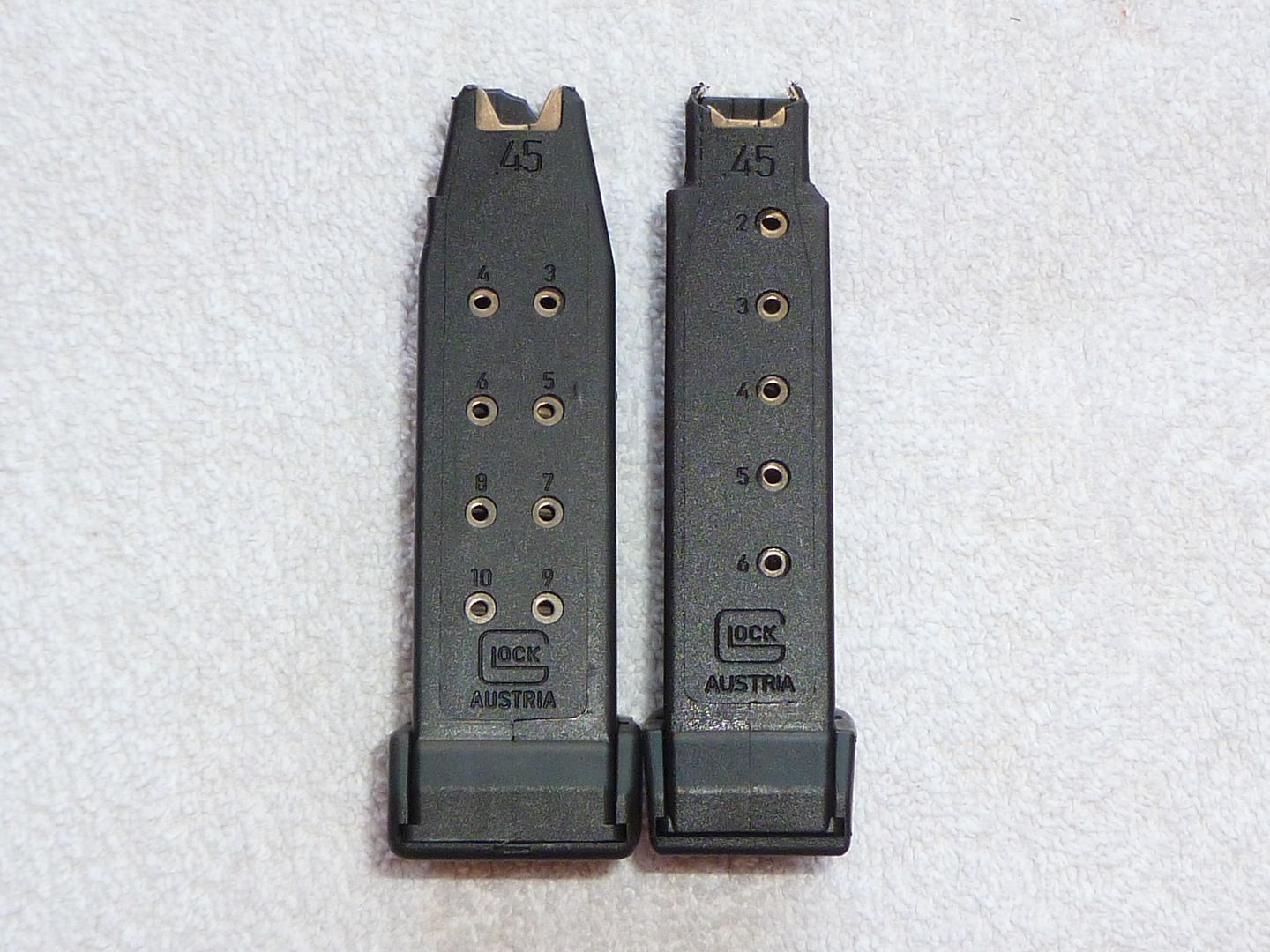 I have no regrets on buying this G30S...
And it is very close to the same size as a G19.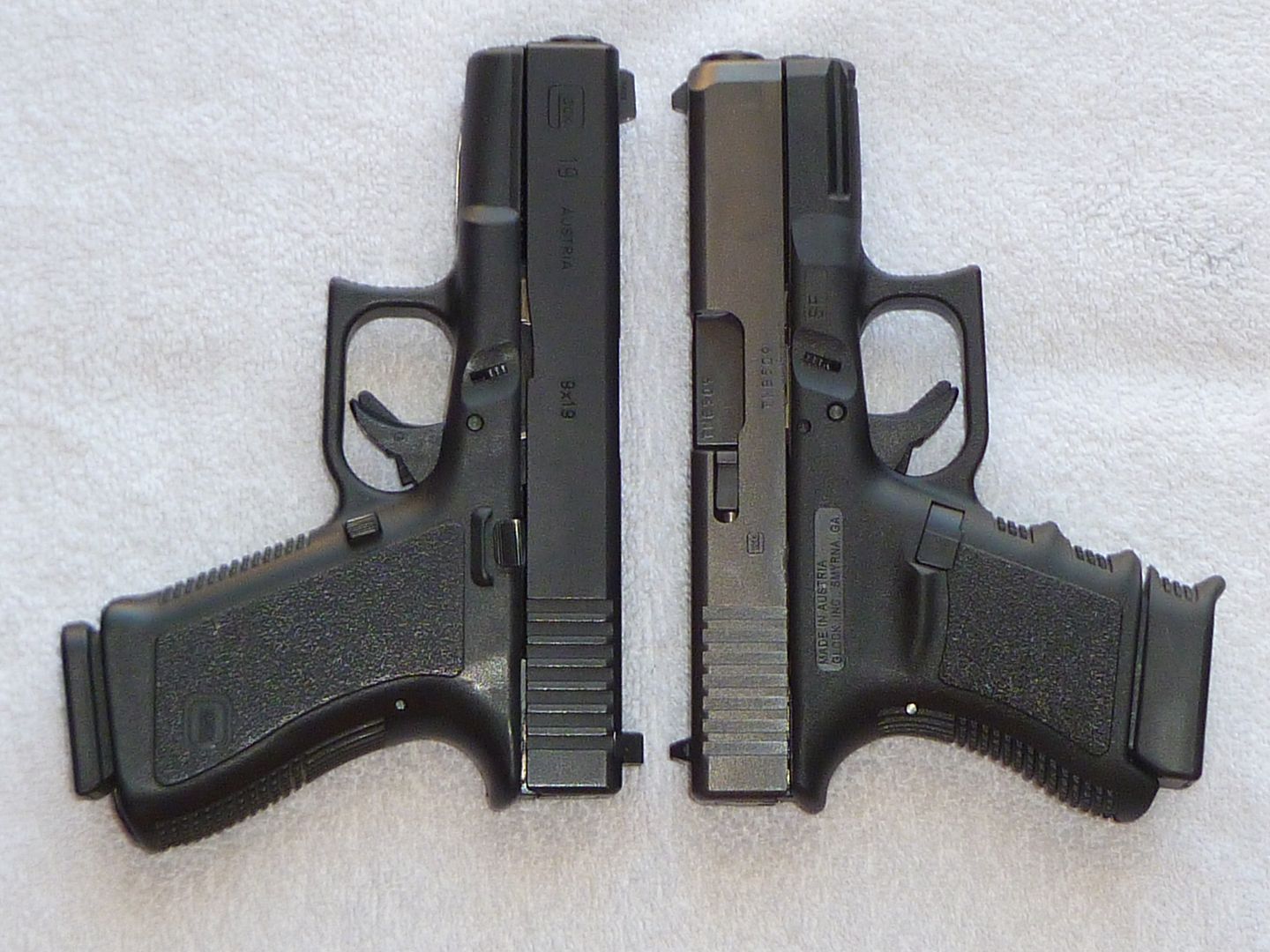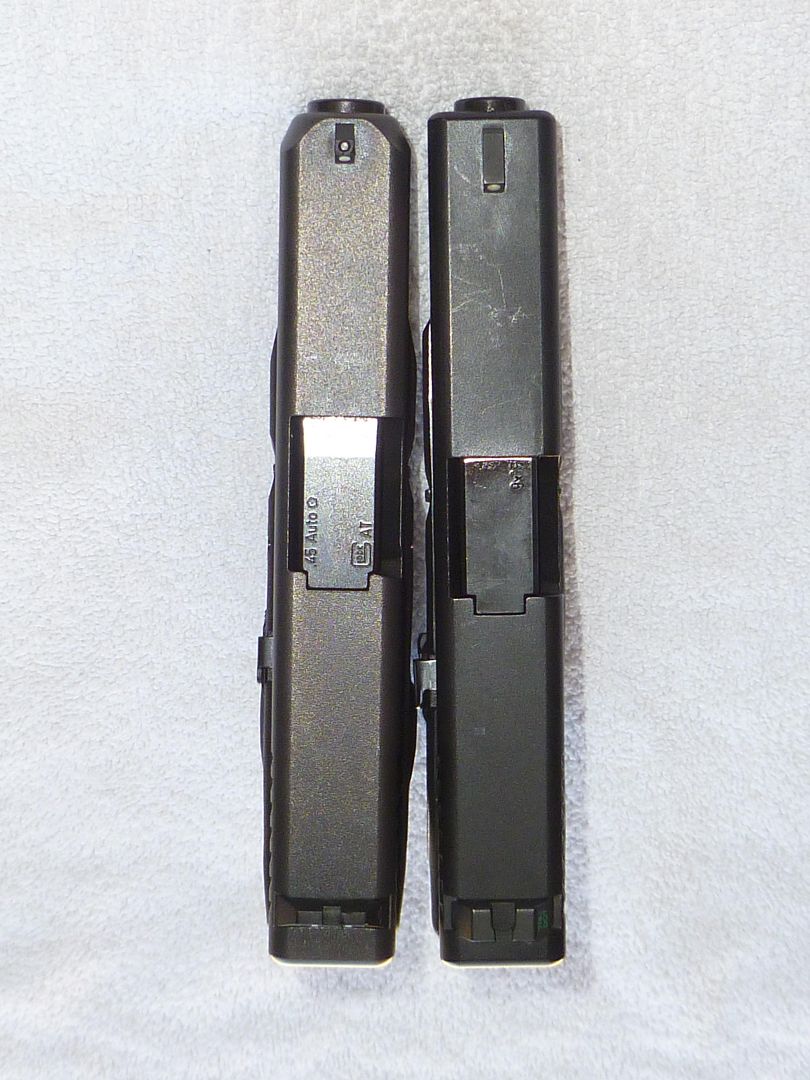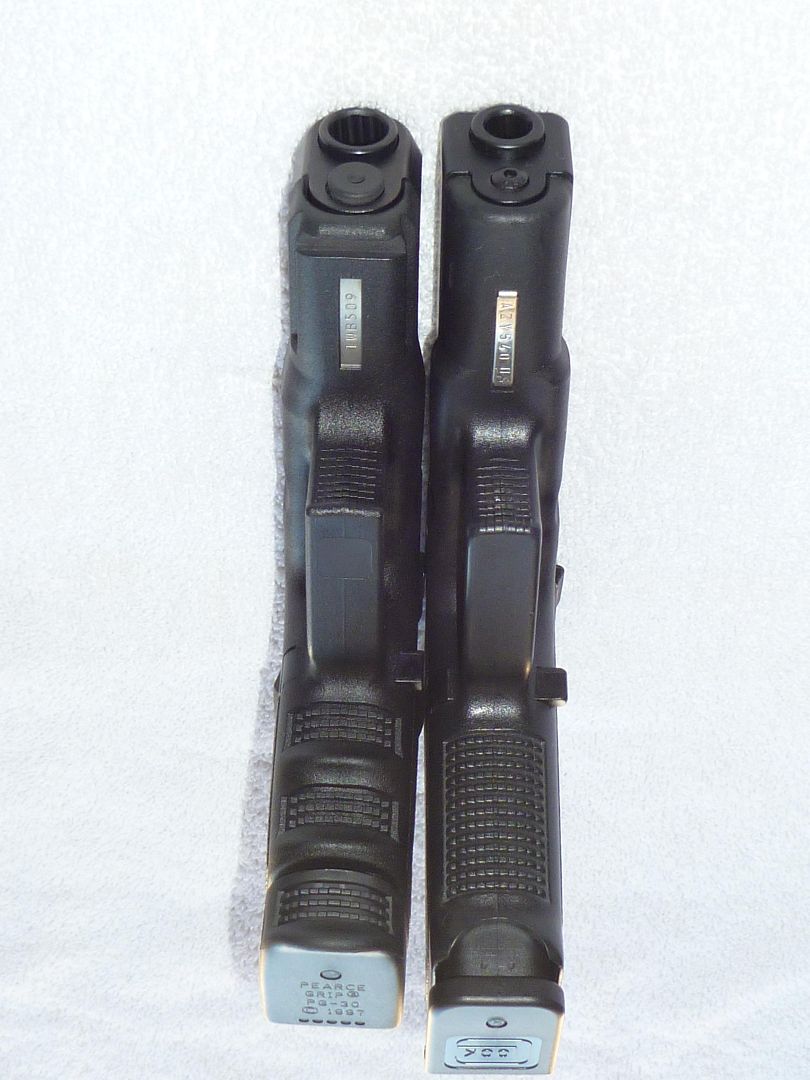 With a quite of bit of difference on the business end of the pistol...