It is OK to like both Texas and Smith & Wesson wheelguns. If we read the History book, those two things have gone together for many, Many years
That is a GREAT back story on your Model 57 and you were fortunate to have been handed down a piece that has such a rich history and close family connection
Probably more than 2/3 of my handguns are revolvers with the bulk of that being Smith & Wessons
The Smith & Wesson Model 57/357/657 family of 41 Magnums are among my favorite firearms. This 41 Magnum group photo is well over a decade old, currently it represents only a portion of my 41 Magnums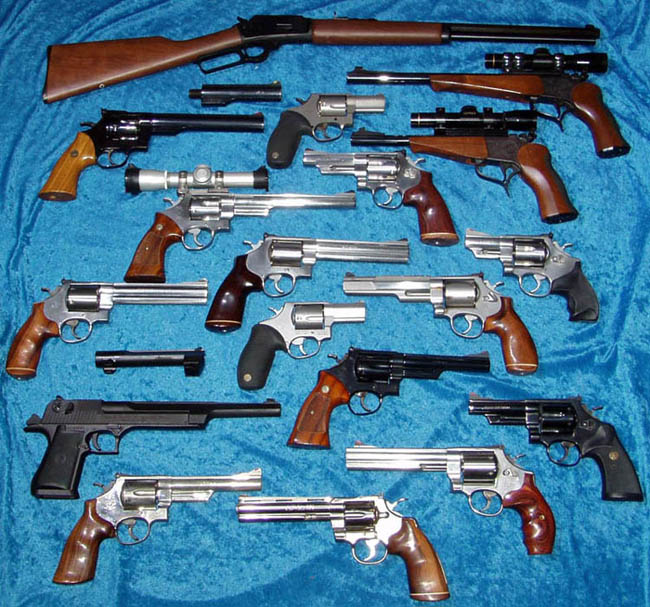 I accidentally got involved in 41 Magnums back in 1980 when a coworker of mine brought his two week old Nickel 6" 57 to me and asked if I could give him $250. He needed retainer money since his wife had just hit him with divorce papers.
At that time, I knew nothing about 41 Magnums. I only owned one revolver at the time, a 6" 27 I had bought new two years earlier, but I had family members that owned Smith & Wessons
Since the package ncluded the presentation case and a few boxes of ammunition, I grabbed a box of ammo and went to the range. I was going to try it once and then sell it to recoup my money (I already had an offer).
Well that was a BIG Mistake
I loaded the firearm and pulled the trigger.....bullseye, a dead solid perfect shot. I fired a second shot and could not see the hole. I was shooting next to a jeweler buddy who said I missed. We pulled in the target and the two holes made a slight oval in the paper. Back out for shot three and still no additional hole. So we checked again, tiny clover leaf. Shot four did the same thing. At that point my buddy said he would give me $5000 if the next shot did the same .....so I ended up pulling shot #5

#6 was touching the first 4.
That revolver is still in my safe. It will not be sold as long as I live.
This experience, 40 years ago, began a long term love affair with this amazing cartridge. Today I have over 3 dozen firearms chambered in 41 Magnum from various manufacturers and I do not see an end insight.
My most recent addition is an early Factory Engraved 4"
It left the factory wearing very plain standard Target stocks. I turned to the Master . . . . Cullina for a over the top set of presentation grips crafted from French Cake Walnut. One of the most expensive set of grips I have ever purchased, but I like the complete package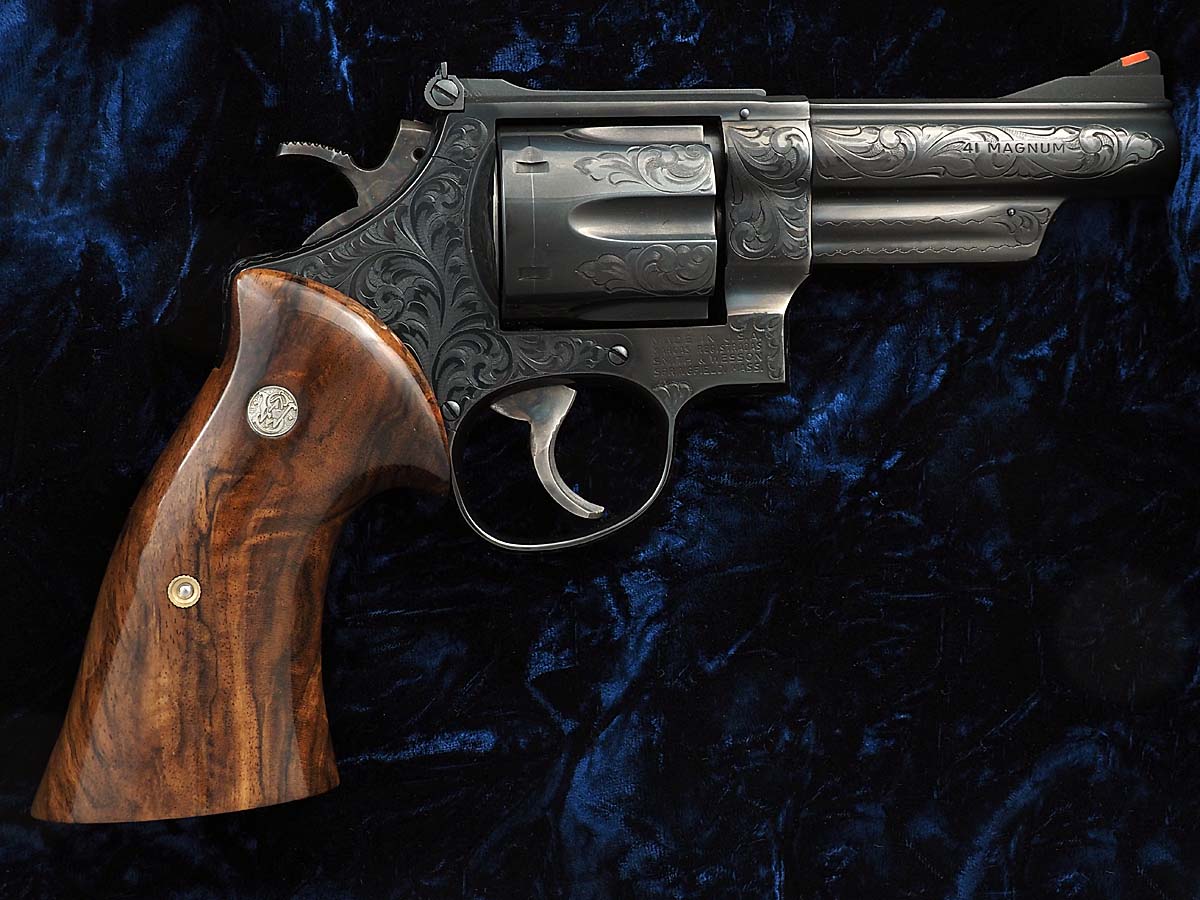 Where will the 41 Magnum path lead me next? For that I trust in the FORCE to Guide Me
quote:

Originally posted by TexasRaider:
Pardon my digression, but at any rate the older I get, the more and more cool those old dark blue steel & wood gripped handguns get. Even though I have quite a few, I keeping watching those videos anyway and then wandering over to auction sites wondering if I really need a retirement account, maybe a m34 Kit Gun or Model 1950 .45 ACP is all it'd take to make me really happy! Or a bizzaro m1953 in .22 Remington Jet? Maybe a Texas Wagon Trail 544 in .44-40 Winchester? That's besides all the damned cool m19's, m40's, m29's, m28 Highway Patrolman's...and I'm not even getting into Colts, Dan Wesson's or Rugers.

The Texas Sesquicentennial Commemorative Model 544 is a very interesting firearm. The Sesquicentennial Commission ordered 7800 of these, but sales were so poor that less than 5000 were ever manufactured and delivered. The Standard 544 was a 5" blue revolver with a few roll marks on the barrel and the Texas Wagon Train route depicted on the sideplate. These were shipped in a bass wood presentation case and wearing smooth presentation grips. This was a handsome revolver indeed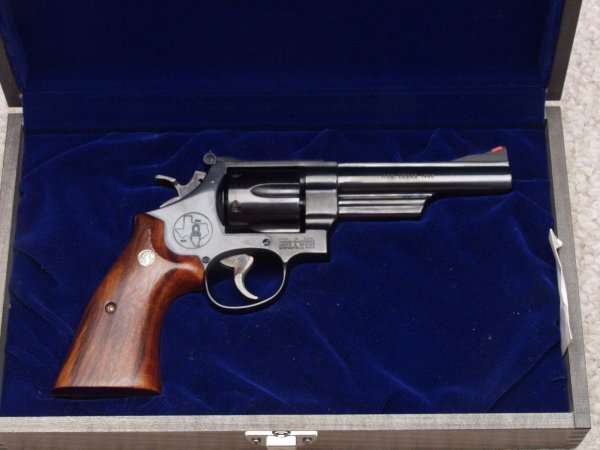 What many folks do not know is that the first 150 revolvers were Deluxe editions, product code 103196.
These had engraving and gold wire line work along with hand scrimshawed (depicting the Wagon Train), coke shaped, Elephant Ivory target stocks. The hammer, trigger, cylinder release and ejector rod are all gold plated. The Sesquicentennial Commission also had a bronze Texas Longhorn produced for the Deluxe version of the model 544. These bronzes are signed and numbered to the revolvers. There is also a large medallion that was produced.
All of this fits into a large presentation case with glass on 5 sides and lid that opens up. This huge case is also mounted on a lazy susan so that it can be rotated and viewed from any angle.
I like serial numbers. This example of the Deluxe Model 544 is a 44-40 chambered revolver whose serial number is 44.
I have often referred to the 150 Model 544 Texas Sesquicentennial Deluxe Commemoratives as one of Smith and Wesson's finest presentations of one of their worst selling Commemeratives.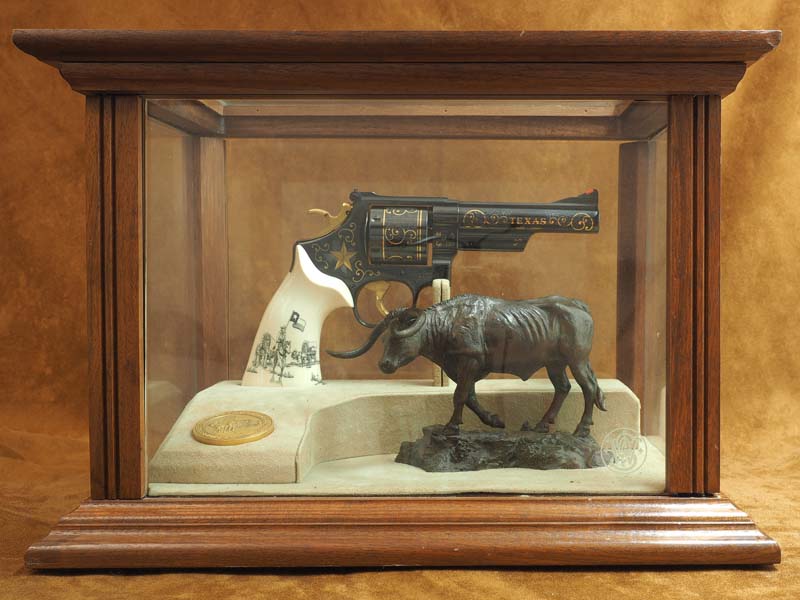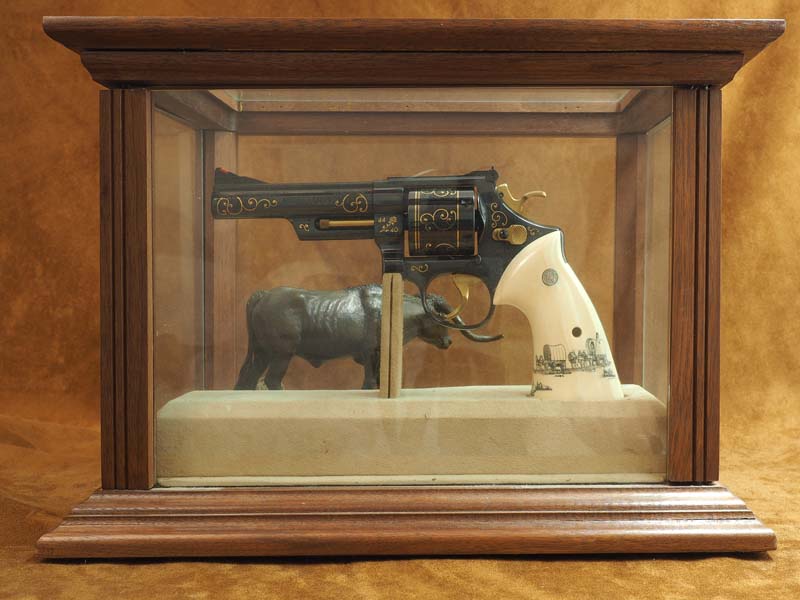 ------------------------------------------------------------------
NRA Benefactor . . . Certified Instructor . . . Certified RSO
SWCA

356TSW.com
45talk.com
RacingPlanetUSA.Com