quote:

Originally posted by mr kablammo:
Robert Culp carried a P38K on 'I Spy'. How rare are those?
Relatively speaking, P38-Ks are quite scarce, with a total production of just over 2600 pistols from 1973 to 1981. However, Robert Culp didn't carry a P38-K, despite what
IMFDB
says. Culp carried a shortened P38, and that's what's pictured on their site.
That TV series ended five years before the very first pre-production P38-Ks were produced. I've never seen an actual P38-K in any film or TV show.
These are P38-Ks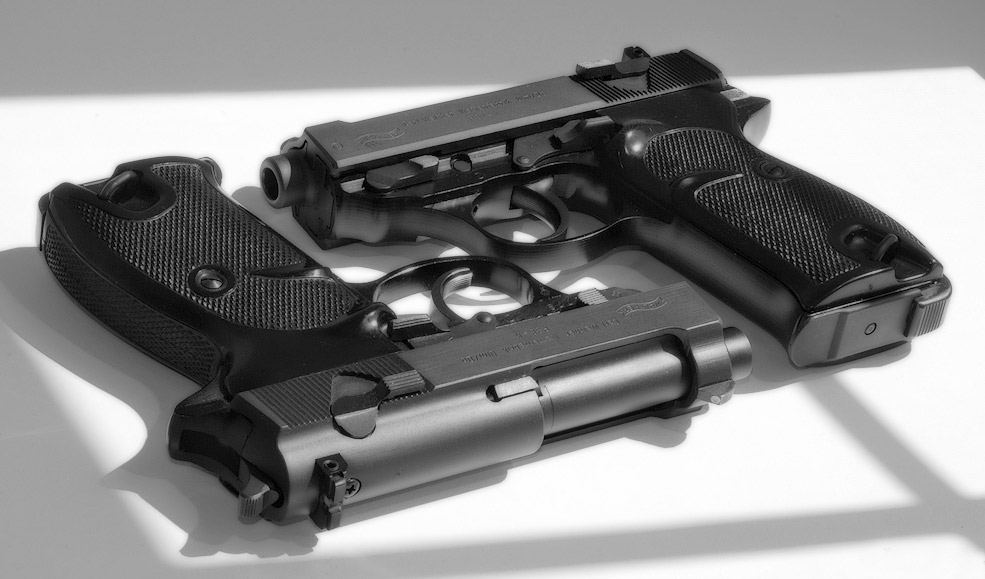 Solid top slide, no firing pin cover. Bobbed hammer. No manual safety. Instead, the pistol has a decocker. The common assumption is the P38-K was derived from the P4, but, chronologically, the P38-K appeared before the P4, so its actually the other way around. For the German Police Pistol Trials, Walther lengthened the barrel of the P38-K and moved the front sight from the slide bridge to the barrel. The P38-K has a rear sight capable of windage adjustments via a pair of Allen screws. The P4 rear sight is windage-adjustable (unlike the P38 rear sight, which is not windage-adjustable) but adjustments are made by drifting the entire rear sight in the dovetail. Other than these things and the slide markings, the P4 and P38-K are identical
And yes, those are my pistols. Like many low-production postwar Walther pistols, prices for the P38-K have gone into the stratosphere. The same is true for the P5 Compact.
This message has been edited. Last edited by: parabellum,