So there I am at an LGS' gun range a week and a half ago, finding out what ammo my Kimber Rimfire Target likes and what it does not, and adjusting the sights.
Guy a couple lanes down, when I stopped to clear away the brass: "Are you training for competition?" (I'm shooting one ragged hole, less the rare flyer, at seven yards or so. This guy's got targets well under that that look like he'd taken a shotgun to them.)
Same thing earlier this week. Heck, even out to twenty yards I'm keeping them mostly in the ten-ring. (At twenty yards the ten-ring on an NRA B-8 target is just a round, red blur for me.) Here's a guy two lanes down with his target not fifteen feet out, spraying 'em all over creation.
Then again: I'm shooting slow-fire. These other guys were just blasting away.
I dunno... If I'm going to be blasting away I'll put a full-size silhouette target out at seven yards and practice double- and triple-taps.
And, even then, if it looks much worse than this, then I ain't doin' it right: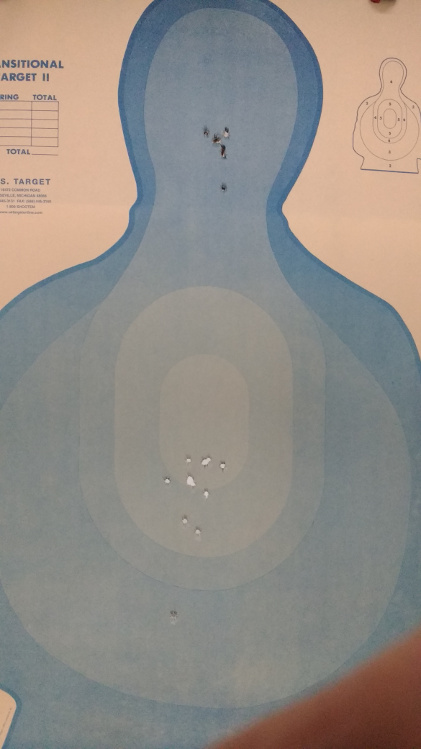 (That was with my Ruger LCP-CT .380 ACP at ±7 yds. It's a remarkably shoot-able little pistol.)
---

"America is at that awkward stage. It's too late to work within the system,,,, but too early to shoot the bastards." -- Claire Wolfe
"If we let things terrify us, life will not be worth living." -- Seneca the Younger, Roman Stoic philosopher
"The dominant media is no more ``mainstream`` than leftists are liberals." -- me