Hello everybody
Took off $150 from original posting
First daughter is off to college and needs things for the dorm so Dad got to part with some of my belongings.
Have a ARX100 in 556. I have less than 100 rounds on the rifle and it's only been to the range once.
The range in Hawaii sucks and that's the reason why I only took it once.
Asking $950 shipped to your FFL.
If there's any transfer fees from your FFL - that will be on your dime.
Comes with everything- bag, spare mag and lock
I can send you more pictures I just have a dang time getting it to work here -
Thanks for looking
[IMG]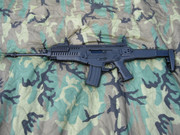 [/IMG]
This message has been edited. Last edited by: rolin808,


Everyone has their own personal Demons , I just tend to let mine out