Originally posted by offgrid:
Well over 30 knives using the CBN stones. 30V, 35V, 90V, 110V, 4V, M4, M390.... The 110V and M4 are my knives, sharpened them a few different ways. The more I use the CBN stones, the more I like them. They do a fantastic job on the "Super" steels. The stones don't clog or build up, great feel....
https://www.practicalsharpening.com/edge-pro/
Getting great cutting results with a simple polished toothy edge. 300 grit, 700 grit then .25 diamond emulsion on a Nano cloth strop. Really like this edge on these steels. On my M4 have stropped it to .025, silly fine edge. BUT, I know that very fine edge is going away fast. Still fun!
Mentioned in a above post I geeked out and ordered some Rizla+ cigarette paper for a standard test media. About out of arm hair! Learned about using the paper here.
http://knifegrinders.com.au/Ma.../Sharpness_Chart.pdf
Long Push cut I believe is plenty sharp for a "working" knife, EDC or kitchen, easy shaving sharp. Both my knives in 110V and M4 will easily long cut with a simple 300/700/.25 strop edge. You know I'm going to try the cross cut! Three knives have passed that with just a smidge of tear. My favorite knife, our 210MM Gyuto freshly sharpened, my Spyderco PM2 in M4 and one that surprised me a Zero Tolerance 0770CF in 35V.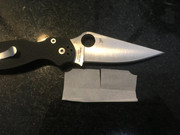 The PM2's sure have a heck of a point on them, challenge to keep it.....