Those of you that have seen some of my past posts here, know that I spend a lot of time in the woods. Most of my life, my cutting tool choice has been the standard axe, saw, belt knife trio, but a few years back I realized that I'm getting old and swinging an axe isn't as safe as it used to be. So, I started looking for larger knife that could handle the light to medium chopping and splitting functions of a short axe, and still be comfortable for smaller work. I settled on the following tasks as a test for what could fill this role:
1) One stick fire - process a 5–6-inch hardwood log(split, feather, shave, spark a ferro rod)
2) Figure 4 deadfall (carving and notches)
3) 6-foot tripod (chop and delimb)
4) Food prep (dice an onion)
5) Carve a utensil (shallow spoon)
Some things I learned along the way;
Kukris, recurves, and specialty blades, like the Trakker, while all great blades, were a pain in the ass to maintain in the field. Lighter blades were not very capable of processing frozen hardwood without significant effort. The balance point of the blade needed to be far enough forward of the handle to be effective for delimbing, clearing, and chopping, but close enough to comfortably perform lighter tasks. Flat grinds suck at splitting. Some blades' harmonics were so bad, it felt like an electric shock when struck. Some produced hot spots after minimal use. A lanyard hole needed to be available so that I could support the handle on my forearm and choke up on the blade for smaller carving tasks, better if a hidden attachment. Since vendors don't let you try blades out and send them back, it took a while given my budget but…
…Meet "Mongo" …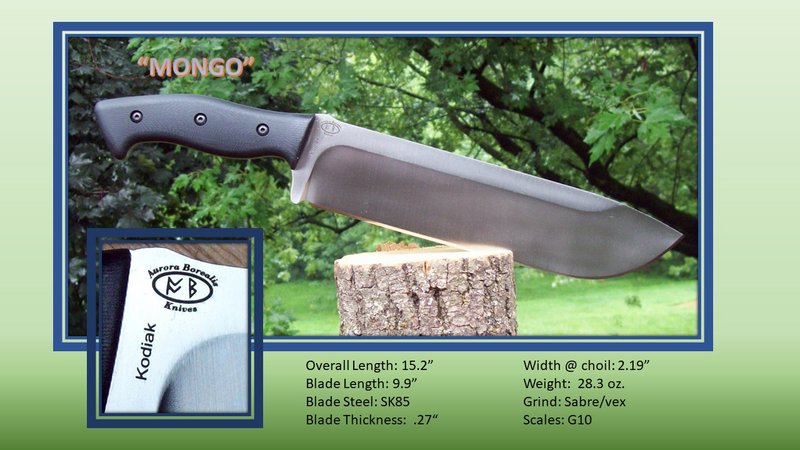 This knife has been flawless and was shaving sharp out of the box. All boxes checked; sharp, 90-degree spine, hidden lanyard, excellent ergos, etc. With excellent blade geometry, it performs all necessary tasks with ease. Edge retention is such that field maintenance is a breeze. Requiring only 10 – 15 minutes with a strop after a day's use to bring it back to shaving sharp, it has yet to see a sharpening stone. While I'm not a big believer in the "one tool option" thing, this could certainly fill that role if needed.
Oh, and here's the "didn't make the cut" pile: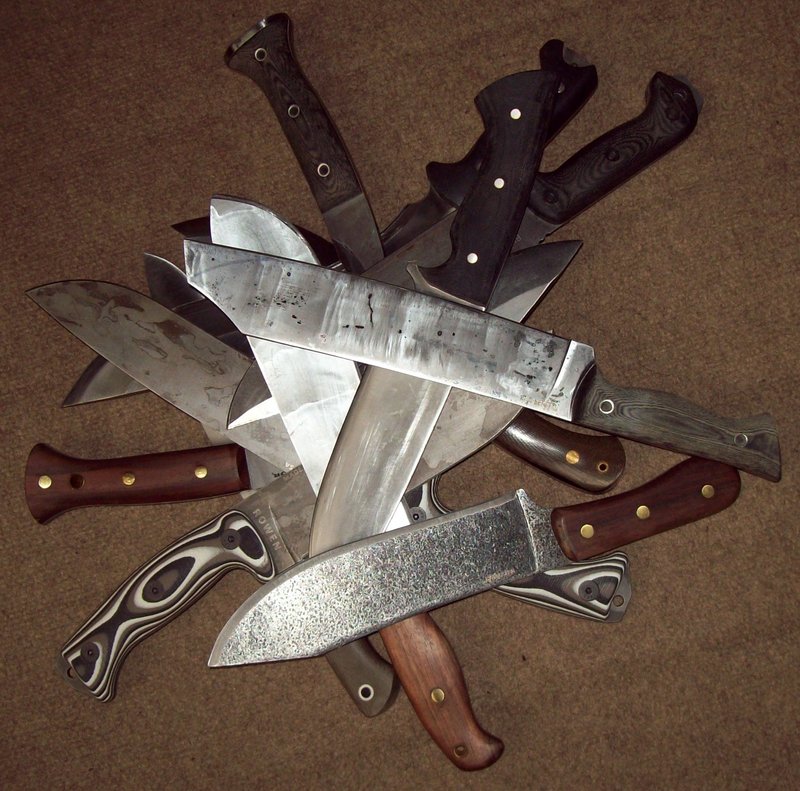 This message has been edited. Last edited by: pace40,


____________
Pace