Finally! I don't know if some may recall but I put my 2013 Jeep Moab up for sale a few months ago and yep, its gone. I really enjoyed the Jeep and having a rare model made it even more fun. It was a GREAT car and 50,000 trouble free miles! What's not to like? Well I got bored. No im not some rich brat, I was just born into a car business family. I am actually the only one not in the business. I guess it spoiled me a little.
Well, I really liked the capabilities of the Jeep, and it came in useful in the snow days here in middle Tennessee. I really liked the fact it was a really good-looking kinda bad-assed to me. I must say I never really took it off road to flog it, it was babied.
I was in a quandary about what to get next and I started to look at the 4 Runners. Thought my family was going to turn over in their graves because we had the first Datsun dealership in Orange County California! Oh well, let's give em something to talk about! When checking out the 4Runners, I learned they had a trim called the TRD PRO! Four months was the estimated wait times and I wasn't sure I could get one as I was TOLD they only made 30 for US distribution in 2017! Well yesterday the call came in and off to the Dealer I went here in Nashville. This is the first car I've ever paid sticker price for and there was zero negotiation. I knew this going into it but it didn't make it any less painful, and then I laid my eyes on it! Now I've only seen a stock photo of the TRD PRO and it looks good, but in person, dayum!! Toyota did this RIGHT! Lifted, great tires, full Bilstien suspension, wheels, more gizmos that I have ever seen in a car! The packet with the manuals is almost 3.5" thick! I really feel I can go anywhere with this vehicle without it even thinking twice! Screams take me off the road and get me dirty!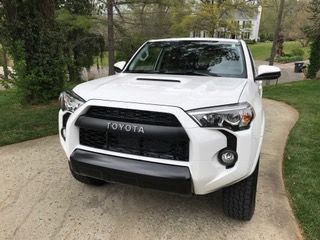 I've got to say, I'm pretty exited, what a cool car, maybe I'll go out and get it dirty!!