SIGforum
The Trump Presidency : Year IV
January 20, 2020, 02:56 PM
erj_pilot
The Trump Presidency : Year IV
KAG 2020!!!

---
"If you're a leader, you lead the way. Not just on the easy ones; you take the tough ones too…" – MAJ Richard D. Winters (1918-2011), E Company, 2nd Battalion, 506th Parachute Infantry Regiment, 101st Airborne

---
"Woe to those who call evil good, and good evil... Therefore, as tongues of fire lick up straw and as dry grass sinks down in the flames, so their roots will decay and their flowers blow away like dust; for they have rejected the law of the Lord Almighty and spurned the word of the Holy One of Israel." - Isaiah 5:20,24

January 20, 2020, 03:34 PM

Balzé Halzé

As many are aware, especially those in the Jersey area, President Trump will be in Wildwood on January 28th for a rally. It's a relatively small beach town and will no doubt be overwhelmed a bit from all the people traveling to the rally. So far I've heard that over 100,000 tickets have been requested for a venue that only holds 7,000 people.

Well, the NJ department of transportation just dropped this: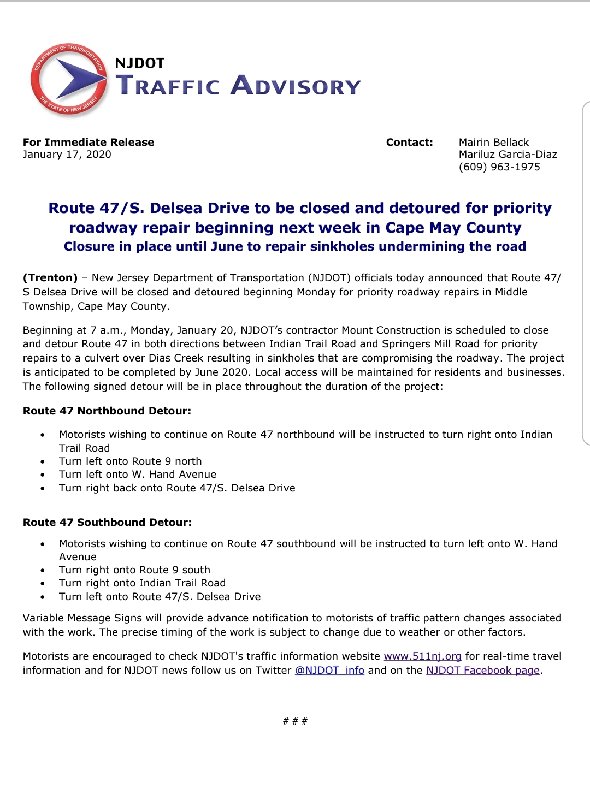 Call me a cynic, but this is exactly the type of thing Gov. Murphy would do. I'll let this article say the rest.
IS THE CLOSING OF RT. 47/S. DELSEA DRIVE "BRIDGEGATE 2″?
HARRY HURLEYJanuary 19, 2020
I'm an eternal optimist. I simply refuse to believe that the mounting conspiracy theories could possibly be true. There is just no way that the state of New Jersey would close Route 47, also known as Delsea Drive right before United States President Donald Trump is set to come to Wildwood; Unless it was an absolute necessity. Right?
However, you can't dismiss the supreme distrust that so many people have in government, today. I have lost track of the number of people who have asked me if this is a circus stunt by New Jersey Governor Phil Murphy ... in order to politically retaliate against President Trump, right before his fast-approaching Tuesday, January 28, 2020 Rally at The Wildwoods Convention Center?
Tens of thousands of people will be traveling to Wildwood, New Jersey.
It raises the question: Is this Bridgegate 2?
The official state Department of Transportation (see attached memorandum) position is that priority road repairs are necessary due to "sinkholes that are compromising the roadway.
The repairs begin on (tomorrow) Monday, January 20, 2020 at 7:00 a.m., and, are expected to be completed by June, 2020.
If the sinkholes are a priority and safety hazard; than all of the conspiracy theorists should cease and desist. However, I expect this criticism to mount as more and more people find out about it.
Route 47 is a New Jersey state highway in Southern New Jersey. It runs a total length of 75.20 miles, from Wildwood, Cape May County, New Jersey to U.S. Route 130 in Brooklawn, Camden County.
It runs through rural areas of Cape May and Cumberland Counties. It's a two-lane road, but, it moves a lot of traffic.
During the summer months, there are regular traffic jams (miles long) on Route 47. There will be summer-like traffic conditions during President Trump's rally and this road will not be accessible in key areas of travel. It's going to be a major problem.
I don't often believe in coincidences. But, it may be true this time. The closing of Route 47 at a very inopportune time, may be exactly that. Just a coincidence and not a juvenile political attack.
Remember, the current Bridgegate convictions are presently being deliberated by The United States Supreme Court. If the convictions are not overturned (and, I think that they will be), people are going to jail.
It's hard to imagine that anyone would put themselves in the position to replicate this ever, again.
https://wpgtalkradio.com/is-th...&utm_medium=referral


~Alan

---
Acta Non Verba
NRA Life Member (Patron)
God, Family, Guns, Country

January 20, 2020, 03:37 PM

PASig

Good on Mitch! I think he should pull that SOB within the first hour of this thing tomorrow because that is EXACTLY what the Dems have planned:

Mitch McConnell reportly has "Kill Switch" ready to end Senate trial if Dems make it a circus





January 20, 2020, 03:50 PM

PASig
quote:

Originally posted by Balzé Halzé:


It raises the question: Is this Bridgegate 2?

The official state Department of Transportation (see attached memorandum) position is that priority road repairs are necessary due to "sinkholes that are compromising the roadway.

The repairs begin on (tomorrow) Monday, January 20, 2020 at 7:00 a.m., and, are expected to be completed by June, 2020.


This has the NJ Democraps greasy fingerprints all over it, there's no way this is just coincidence.
Let 'em try and stop this, there's going to be a TON of people showing up anyway no matter what games they play. I've seen FB discussions where people are heading there to be IN LINE at
5 am
.
January 20, 2020, 06:29 PM
flashguy
We must work to insure he has Republican majorities in both the Senate and the House in 2021.
Regarding Mount Rushmore--I doubt there is another Gutzon Borglum available now.
flashguy
---

Texan by choice, not accident of birth

January 20, 2020, 07:13 PM

sdy

a little more detail on Pasig post above

https://www.breitbart.com/poli...-as-trial-commences/

Senate Majority Leader Mitch McConnell is as of now including in the U.S. Senate impeachment trial rules a "kill switch" that effectively allows for the president's legal team to seek an immediate verdict or dismissal of the case should Democrats engage in any shenanigans like they did in the House process.

The revelation comes after the House finally late last week formally sent the Articles of Impeachment it adopted before Christmas—after holding them for more than a month without transmission—to the U.S. Senate, thereby triggering the start of a Senate trial. The Senate will formally commence its trial procedures in votes this coming week, and while some Republicans want to outright dismiss the charges altogether from the outset, others believe a trial should take place.

In so finally transmitting the Articles of Impeachment to the Senate, House Speaker Nancy Pelosi also named impeachment case managers—the Democrats who will present and manage the House's case to the Senate—last week. They include House Intelligence Committee Chairman Rep. Adam Schiff (D-CA) and House Judiciary Committee Chairman Rep. Jerry Nadler (D-NY). Both Schiff and Nadler were widely panned for the highly unfair process they ran in the House of Representatives, and many Senate Republicans do not trust them to refrain from playing games that seek to make the Senate trial unfair to the president as the highly partisan process in the House ended up.

Republicans on the House side, who were essentially powerless to stop the Democrats' shenanigans since they are in the minority in the lower chamber, are warning Senate Republicans to be on the lookout for Schiff's gamesmanship and that from his ilk.

"It's incumbent upon the Senate to preserve the right of the President's legal team to ask for a verdict or move to dismiss this sham impeachment anytime they see fit during the Senate trial," a source close to House GOP leadership told Breitbart News. "Otherwise, Mitch McConnell and Senate Republicans risk allowing Adam Schiff and his conspiracy caucus to hijack and take control of the trial."

Senate GOP leaders, including Sen. Roy Blunt (R-MO)—the conference chair—say there are not yet enough votes to dismiss the charges altogether from the outset. But Sen. Josh Hawley (R-MO), a freshman senator who emerged as a top ally of the president and had previously drafted a measure dismissing the charges if the House did not formally transmit them by changing Senate rules to do so, has said that the rules package for the impeachment trial includes a measure that allows for the president's legal team to quickly push for a summary judgment or dismissal at any time should things get wild.

January 21, 2020, 04:22 AM

spunk639

The impeachment and trial will be a major turning point for our nation. Leftists, socialists and the rest of their ilk didn't hear the wake up call in 2016, this election cycle will see more and more red over blue and a Republican House and Senate, as well as President Trump in his second term.

The Democraps have marginalized freedom loving Americans and the the time for reckoning is here.

January 21, 2020, 05:49 AM

Bassamatic

Of course the democrats will turn this into a circus, it's all they have. If this kill switch option gets activated they can then declare the whole thing a conspiracy or something.

It won't matter. Trump will still win big in November.




---
.....never marry a woman who is mean to your waitress.

January 21, 2020, 06:33 AM

Pipe Smoker

The first image in this article is a

great

photo of President Trump.

"Donald Trump laid on the charm today as he set out his desire for a 'tremendous' post-Brexit trade deal with Britain.

In a wide-ranging speech at the World Economic Forum in Davos, the US president hailed 'wonderful new Prime Minister' Boris Johnson ahead of trade talks which are due to start officially within weeks.

He told an audience at the exclusive enclave of global powerbrokers in Switzerland: 'We look forward to negotiating a tremendous new deal with the United Kingdom, who have a wonderful new Prime Minister, who very much wants to make a deal.'

It came as it was revealed Mr Johnson will publish his plans to negotiate post-Brexit EU and US trade deals on the same day in a bid to put pressure on Brussels and stop the bloc dragging its feet…"

https://mol.im/a/7910861




---
Serious about crackers!

January 21, 2020, 09:41 AM

sdy

https://www.breitbart.com/poli...m-impeachment-trial/

House Intelligence Committee Chairman Rep. Adam Schiff (D-CA) and the other House impeachment managers sent a letter Tuesday to White House Counsel Pat Cipollone seeking to disqualify him from representing President Donald Trump at the Senate trial.

The argument: because the articles of impeachment allege Trump committed "obstruction of Congress" by following legal advice to decline subpoenas, the lawyer who advised him is a "material fact witness."

The letter argues: "Evidence indicates that, at a minimum, you have detailed knowledge of the facts regarding the first Article and played an instrumental role in the conduct charged in the second Article. The ethical rules generally preclude a lawyer from acting as an advocate at a trial in which he is likely also a necessary witness."

If Cipollone is to represent the president, Schiff and the Democrats argue, he should have to "disclose all facts and information to which you have first-hand knowledge that will be at issue in connection with evidence you present or arguments you make in your role as the President's legal advocate."

In other words, Cipollone would have to violate attorney-client privilege and his duty of confidentiality to his client, effectively disqualifying him from participating.

The extraordinary letter is the latest in a series of bold — or desperate — tactics by House Democrats determined to retain control of an impeachment process that has passed into the hands of the Republican-controlled Senate.

Democrats are, in effect, arguing that the president does not have the right to any legal counsel other than counsel who follows their instructions — an echo of Schiff's warning last year that any attempt to assert the president's rights would be considered evidence of obstruction.

Ironically, Cippollone's trial memorandum Monday responding to the House articles of impeachment argues that Schiff himself is an "interested fact witness" whose role made the entire House impeachment inquiry illegitimate.

The Senate trial begins Tuesday afternoon. Democrats have accused Senate Republicans of a "cover up" by adopting an accelerated schedule for what they once called an urgent process.

xxxxxxxxxxxxxxxxxxx

DEMs have been trying to strip President Trump of his key staff members ever since he won the election.

January 21, 2020, 10:17 AM

az4783054

Term limits now, of all Democrats in Congress more than two terms. Republicans are pending.

January 21, 2020, 10:23 AM

PASig

Mitch isn't messing around which gives me hope that this charade may soon be over:
quote:


House impeachment managers will have just two days to prosecute their case against President Donald Trump according to a resolution circulated by Senate Majority Leader Mitch McConnell, in a move meant to accelerates the timetable for a trial Republicans intend to end in a speedy acquittal. President Trump's team will also have two days to present their arguments and then senators will have a chance to ask questions and consider subpoenas of witnesses.

Of course Chuckie doesn't like it once bit:
quote:


The resolution does not require additional witnesses to be subpoenaed, much to the anger of Democrats, and does not allow House prosecutors to admit evidence into the Senate trial record until after the opening arguments are heard. The rules would also allow the president's team to seek a quick dismissal of the charges, though many Republican senators have said they should at least hear the case.

In response, the top Senate Democrat, Charles Schumer quickly pushed back and vowed to force votes on amendments. "Sen. McConnell's resolution is nothing short of a national disgrace," Schumer said in a statement Monday afternoon, further accusing McConnell of casting aside public statements that he would use the same rules as under the Clinton trial, adding that the majority leader is clearly "hell-bent on making it much more difficult to get witnesses and documents and intent on rushing the trial through."

You've got lot of balls to complain about rushing this thing, you jackass.

Link
January 21, 2020, 10:46 AM
ensigmatic
quote:

Originally posted by sdy:
In other words, Cipollone would have to violate attorney-client privilege and his duty of confidentiality to his client, effectively disqualifying him from participating.
Uhm... IANAL, but ISTM he'd have to violate attorney/client privilege to testify
regardless
of whether he was still Trump's attorney or not.
It is my
understanding
attorney/client privilege doesn't end when the attorney's employment with the client ends. It is my
understanding
that, attorney/client privilege, like a priest's vow of confidentiality, is forever.
It is my
understanding
that an attorney is allowed to break confidentiality, and, in fact, as an officer of the Court, is obliged to do so, only if they have knowledge of a crime which is
going
to be, or is in the process of being committed, no?
If my understanding is correct, Shiff is being just a bit >< disingenuous.
---

"America is at that awkward stage. It's too late to work within the system,,,, but too early to shoot the bastards." -- Claire Wolfe
"If we let things terrify us, life will not be worth living." -- Seneca the Younger, Roman Stoic philosopher
"The dominant media is no more ``mainstream`` than leftists are liberals." -- me

January 21, 2020, 11:18 AM

signewt
quote:

"Sen. McConnell's resolution is nothing short of a national disgrace," Schumer said
Schumer & Shiff et al are the de facto National Disgrace. Perhaps they can be put on display at some kind of National Losers Tour, where one can write more chapters of the witless fictions presented by the House Intelligence Chairman while the other plays a tune:


**************~~~~~~~~~~
"I've been on this rock too long to bother with these liars any more."
~SIGforum advisor~
"When the pain of staying the same outweighs the pain of change, then change will come."~~sigmonkey


January 21, 2020, 11:36 AM
Johnny 3eagles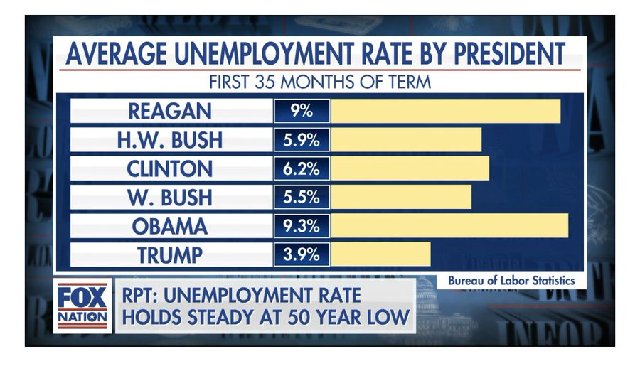 ---
BUCK FIDEN

"Fate whispers to the warrior, 'You can not withstand the storm.'
The warrior whispers back, 'I AM THE STORM."

NRA ENDOWMENT LIFE MEMBER
---
January 21, 2020, 12:38 PM
wxdave
I have a hard time even listening to schiff. This is a dark time for our country. I am disgusted with the democrat's bullshit. Do they actually believe what they are saying? I think they know how disingenuous they are. They NEVER give up the con. ever.


--------------------------------------------
Floridian by birth, Seminole by the grace of God
January 21, 2020, 01:06 PM
bigdeal
quote:

Senate GOP leaders, including Sen. Roy Blunt (R-MO)—the conference chair—say there are not yet enough votes to dismiss the charges altogether from the outset.
And each one of those members should be told to get on the bus or find themselves under it when election time rolls around. The GOP Campaign Committee should withhold all funding from the campaigns of anyone who does not vote to dismiss, and openly support and fund their primary competition. No more games, no more BS from this GOP wannabe filth. Put up or be voted out. End of story.


-----------------------------
Guns are awesome because they shoot solid lead freedom. Every man should have several guns. And several dogs, because a man with a cat is a woman. Kurt Schlichter
January 21, 2020, 01:16 PM
Balzé Halzé
Iranian Legislator Puts $3 Million Bounty On Trump's Head
By Hank Berrien
DailyWire.com
On Tuesday, an Iranian legislator who hails from the same province as Iranian Gen. Qassem Soleimani, who was killed in a U.S. airstrike on Jan. 3, told the Iranian parliament that the people of that province have offered $3 million to anyone who murders President Trump.
According to Reuters, which was quoting the ISNA news agency, legislator Ahmad Hamzeh stated, "On behalf of the people of Kerman province, we will pay a $3 million reward in cash to whoever kills Trump." Reuters added, "U.S. disarmament ambassador Robert Wood dismissed the reward as 'ridiculous,' telling reporters in Geneva it showed the "'terrorist underpinnings' of Iran's establishment."
Hamzeh continued, "If we had nuclear weapons today, we would be protected from threats … We should put the production of long-range missiles capable of carrying unconventional warheads on our agenda. This is our natural right."
Threats from members of the Iranian government targeting the United States have been steady for some time; last September, after theattacks on two oil refineries in Saudi Arabia that destroyed 5% of the world's oil supply, prompting accusations from the U.S. government that the attacks were launched by Iran, a top Iranian general boasted that U.S. sites were in range of Iranian missiles and Iran was ready for a "full-fledged" war.
Amirali Hajizadeh, who heads Iran's Revolutionary Guards Corps Aerospace, bragged, "Everybody should know that all American bases and their aircraft carriers in a distance of up to 2,000 kilometers (1,250 miles) around Iran are within the range of our missiles," adding "Iran has always been ready for a 'full-fledged' war," as quoted by the semi-official Tasnim news agency and reported by Reuters.
Last August, Iranian President Hassan Rouhani suggested the United States would have to bow down to Iran and repent from "economic terrorism" against Iran. He said in a video translated by the Middle East Media Research Institute (MEMRI), "If you lift all the sanctions and bow down before the Iranian people, the circumstances will be different."
Last July, Rouhani threatened to shoot down more American drones after Iran shot down an American drone, saying American drones "will receive the same response" as the American drone that was shot down in June.
Last June, Rouhani attacked President Trump, saying the White House's actions showed that Trump was "mentally retarded," Trump fired back with a series of tweets warning Iran that if they attacked anything American, that action would be met with "great and overwhelming force. In some areas, overwhelming will mean obliteration. No more John Kerry & Obama!"
Just prior to that, Former Iranian Minister of Defense General Hossein Dehghan, who was an advisor for defense affairs to Iranian Supreme Leader Khamenei, said that Iran would put America in "the garbage bin of history" if attacked. As MEMRI translated Dehghan's comments on June 20 in an interview on Al-Nujaba TV:
"Trump proved once again that he is merely an agent of his administration's interests, that a war in this region would not be a walk in the park, that the United States is by no means ready for war, and that is completely understands how strong Iran is. What we understand from the behavior of the Americans is that they fear very much the break out of a war in the region. They are not ready for this, and they cannot assemble an international coalition, because there is no U.N. resolution to begin with. They don't have global legal consensus to do this … In my personal opinion, this war will not take place – not because America does not want war, but because Iran is strong enough to engage in confrontation. Iran would achieve a great victory, and America would find itself in the garbage bin of history."
https://www.dailywire.com/news...ounty-on-trumps-head
In all practicality, we would destroy Iran in just one evening of fighting.


~Alan

---
Acta Non Verba
NRA Life Member (Patron)
God, Family, Guns, Country

January 21, 2020, 01:19 PM

Bisleyblackhawk

As per the old saw..."Nothing succeeds like success"...and the success is right in front of the American people...there will be some slow walking and sad singing within the Democrats come November



...KAG!!!


********************************************************

"we've gotta roll with the punches, learn to play all of our hunches
Making the best of what ever comes our way
Forget that blind ambition and learn to trust your intuition
Plowing straight ahead come what may
And theres a cowboy in the jungle"
Jimmy Buffet
January 21, 2020, 02:27 PM
sdy
impeachment trial has begun in Senate
Lawyer Pat Cipollone for the president is good. I like his style.
"They're not here to steal one election, they're here to steal two."