Ice Ice Baby
North GA, TN, VA and NC you're fooked
From WXSOUTH
The storm will drop serious snow totals on Tennessee, esp Middle and lower sections, west of the Plateau. The eastern part of TN will have mixed, or even rain at times, thanks to how the flow over the mountains of NC downslope (warm) around Knoxville, but later Sunday will go back to snow.
The upper low travels through a good spot in middle Mississippi and Alabama to wrap around snowfall there, with some accumulation there, but a foot of snow is likely far northeast Georgia, and the Spine of the Apps in western NC, western VA and West Virginia.
The Piedmont of VA, NC, SC is complicated and changeable, with snow initially stretching across the RVA south to Triad, down to the Upstate, but quickly goes to sleet, then freezing rain very near the 85 corridor around the Triangle south to the Upstate and into northeast side of Atlanta. The icestorm will be the big story in the piedmont of NC, upper SC when all is said and done.
Image from PivotalWx.com European Model Snowfall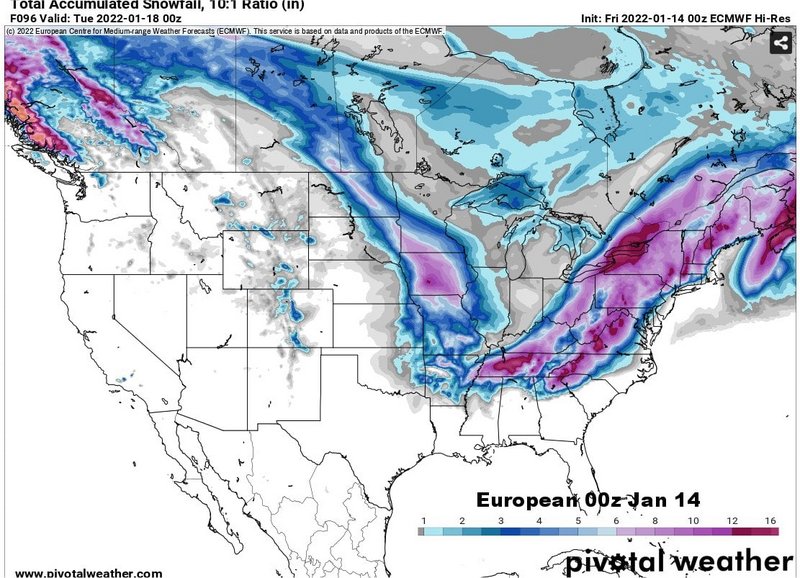 *********************
"I owe my success to having listened respectfully to the very best advice, and then going away and doing the exact opposite."