quote:

Originally posted by HRK:

Head over to the Ah Pop Kah Lowes, plenty of window shakers from $200 and up, I'd suggest a portable you can move from room to room, get one that doesn't require you to empty the bucket.
Thanks, HRK, but that won't work. The two areas that I really need cooled are the bedroom and the kitchen area. Unable to vent a unit like this in either place.
Bedroom does not have a window to vent, the only opening to the outside is a sliding patio door. Kitchen is sort of in the middle of the house, with no outside wall.
Window units won't work either, for the same reasons.
I sent an email to the outfit that sold and installed the system in October 2018. To my surprise, the owner replied today (Sunday). He said that when they ordered the replacement thingy on Friday, July 15, they were quoted two weeks for delivery, but he understands my problem and will contact the distributor again tomorrow as soon as they're open, and see if he can get them to accelerate.
Meantime, here's what's going on: the screen shot shows that the thermostat is calling for 79° and the system can't cool it down below 89°. I'll be medium rare in a few hours. I'm
schvitzing
; glad my wife is in Ohio right now, not having to deal with this.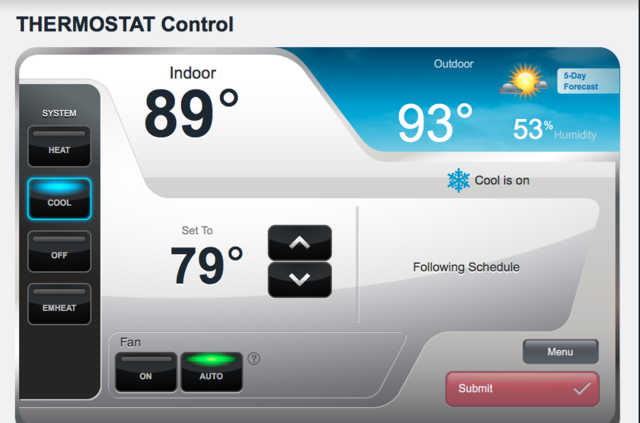 ---
Any cocktail can be a shrimp cocktail if you put your mind to it, and if you carry lots of loose shrimp in your pocket.

הרחפת שלי מלאה בצלופחים