Had the Mother Of All Storms come through here last night. This following a similar storm that had come through very early yesterday morning. Between the two of them, they dumped a lot of rain on us. Plus the ground was already pretty well saturated. Our irrigation system has hardly run this month.
Went downstairs last night to check on the water softener, dehumidifier, and a fan we run down there to keep the air moving, because the power had gone out for a bit.
Found this

Used the carpet cleaning machine to suck up the water. Went back down this morning: Still wet. And maybe even wetter under the book shelves that were up against that wall to the right, so I unloaded and moved 'em.
Just as I suspected.
When I bought the home it came with a certificate noting there'd been a crack in that wall water-proofed. I guess it isn't, anymore

Some of that paneling damage was there, I presumed from prior to the crack being mitigated, but, you can see how it's freshly wet.
Over thirty-one years in the home. This is the first time this has ever happened. So now I have to decide whether to let it ride, assuming this was a once-in-Lord-knows-how-many-years event, or tear that paneling off and have somebody come in and fix the problem.
Meanwhile: This happened to a neighbor: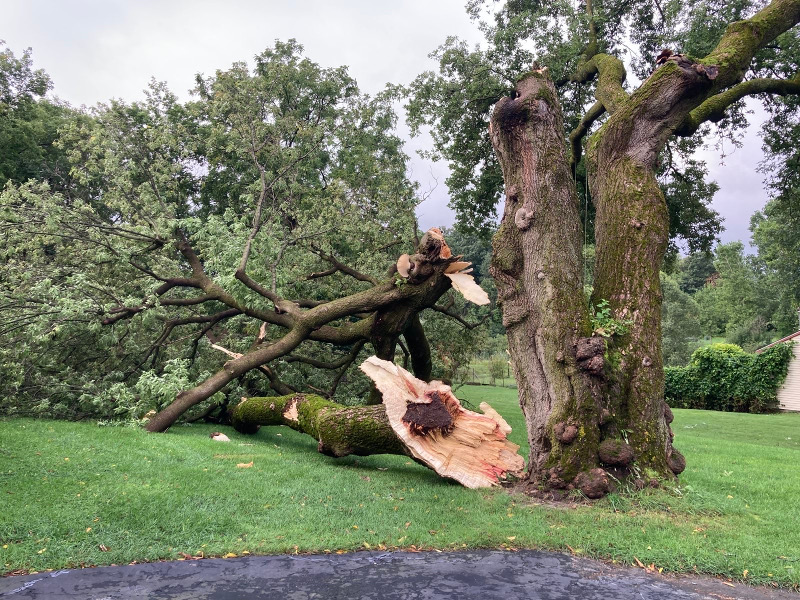 Very sad. Was a beautiful tree. But, you can see, from the ends of those limbs, it was only a matter of time. Luckily they missed his shop, just to the left of those branches.
---

"America is at that awkward stage. It's too late to work within the system,,,, but too early to shoot the bastards." -- Claire Wolfe
"If we let things terrify us, life will not be worth living." -- Seneca the Younger, Roman Stoic philosopher
"The dominant media is no more ``mainstream`` than leftists are liberals." -- me