I'm normally not one to expect anything from my few years in a few decades ago. But, about ten years ago, I was neck deep in a complete remodel of my home after a hot water heater leak destroyed pretty much everything (and what it didn't, the mold did), and I signed up for the Lowes military discount to save a few bucks on the project. It cost me well north of $40K, so that $4K was a chunk of change.
Back then, I don't recall anything not being eligible for the discount. I'd ring up the whole order and they'd knock the 10% off and I'd be on my merry way. "Not a bad deal", I thought.
However, for the past 2-3 years, everything I've tried to buy has not been eligible for the discount, and when I questioned why, I was told that sale or discount items were not eligible for the military discount. I'd shrug it off and pay up, but was getting a little perturbed as it happened every time...even times when I was unaware that the item was on sale.
Today, I went in and bought a new range hood for $329. I made it a point to look at the tag and nope. Not an on sale item...or otherwise discounted that I could tell. I get up to the self checkout, scan my Lowes card, and lo and behold...the discount doesn't show up...again.
The helper woman there walked over and asked if there was a problem, and I explained that my discount is not showing up. She explained that it was a sale item and thus not eligible. I then asked her to follow me. We walked back to the rack where I got it and I asked her to show me where it said that this item was on sale or otherwise discounted. She, of course, couldn't, and then went on to explain that the discount doesn't apply to appliances. I then asked, "Which is it? It's on sale, or the discount doesn't apply to appliances?" She tripped over her tongue trying to talk her way out of it.
I paid full price because I needed the hood, and when I got home I found this on their website: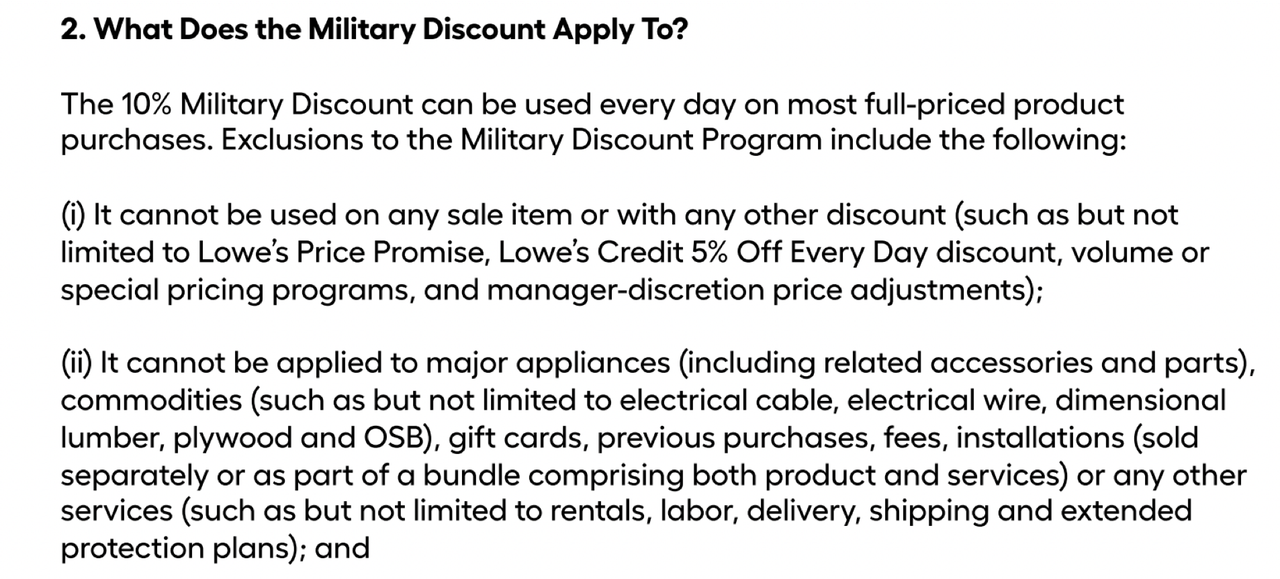 Not only are sale/discount items (which seems to be everything in the store) not eligible now, neither are major appliances (wasn't aware that a range hood was a major appliance), but electrical cables, wires, and lumber...among other things.
Screw Lowes. They are doing everything they can to not honor their military discount while advertising that they offer a military discount.
I've cut up my MyLowes card and called customer service to tell them why.


________________________________________________________
"Great danger lies in the notion that we can reason with evil." Doug Patton.