I recently picked up a P232SL that appeared to be completely unfired. Some minor handling marks on the frame, but the internals were immaculate (and almost completely dry).
I did a full function check at home, field stripped, put a bit of grease on the rails and oil on the other moving parts and then cycled a few dozen times, checked the trigger, etc. All of the standard "fiddle with a new gun" kinds of things one does.
It was working flawlessly (or so it seemed) for the first 20 rounds (S&B 92gr FMJ) so I loaded up a few rounds of SIG V-Crown. Around the second round, the slide started to stick, sometimes the round was caught up on the feed ramp, sometimes it failed to fully go into battery. I thought maybe it was the rounds themselves, but then the same thing was happening with the next five rounds of S&B. This continued for one more magazine with more S&B and a couple of rounds of Hornady Critical Defense.
At this point I figured that maybe I had screwed up the recoil spring the first time I tried to reassemble or maybe failed to give it enough oil. Either way I tossed it back into my bag and headed home.
When I got home and got the pistol apart and cleaned, I realized that the problem wasn't lubrication nor was it the recoil spring. Even when fully clean, even when pressing by hand, the slide was really tight and stubborn, needing to be forced into battery on an empty chamber. At this point I started to get really worried that I'd done something stupid and broken it, though I couldn't figure out what I could have done that would cause such a failure. I also wondered if something was assembled incorrectly (perhaps the previous owner detail stripped it and put something together the wrong way) but that didn't explain why it had worked at first then suddenly stopped.
After a bit more experimentation I found the culprit.. I still don't know what happened, but when I removed the slide catch lever, the problem went away. Looking carefully at the lever, it appears to be almost bowed (there is a significant gap between it and the frame).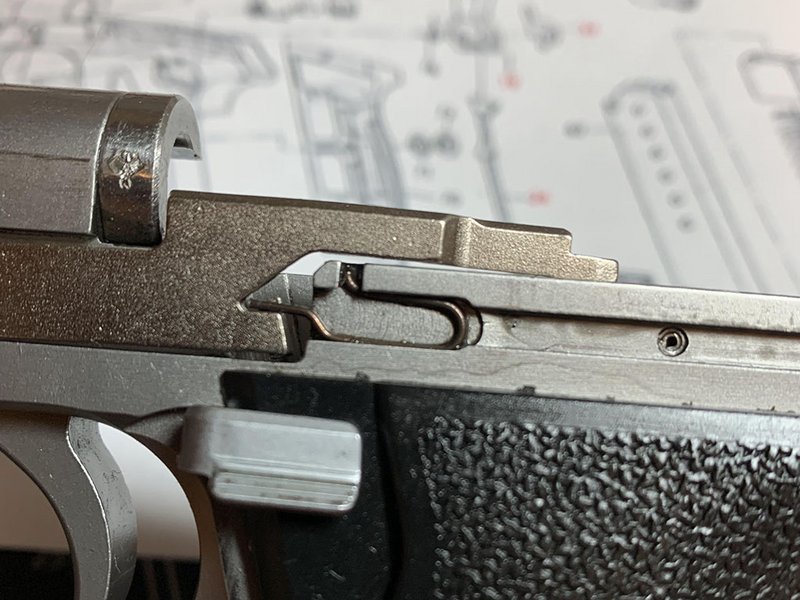 I didn't take a photo of the internals before firing, so I'm not 100% positive it changed shape, but when comparing it against photos of the part I've seen online, it has a curve where others look completely straight.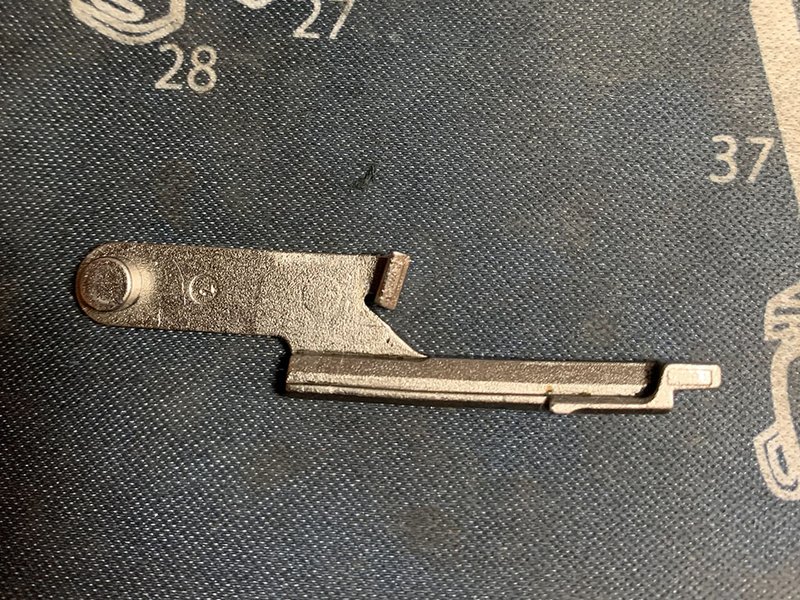 So my working theory is that this MIM part might not have been heat-treated correctly, and might have bent ever so slightly each time it locked the slide back under a full power recoil. After a few magazines, it had bent enough to start rubbing on the slide, which is causing the friction. I tried very lightly dressing the contact point with the frame and the topside, but didn't want to remove too much material and that didn't seem to alleviate the problem.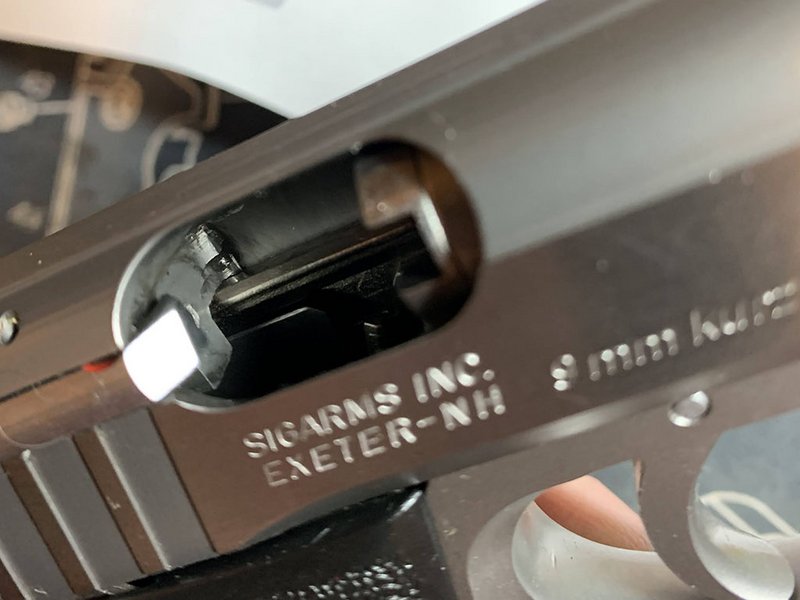 So, I'm kind of stuck at the moment. I found another slide catch lever on eBay and will try to see if that fixes the problem, but if anyone else has seen an issue like this and has any advice to offer, I'd love to hear it.
This message has been edited. Last edited by: tp1l,