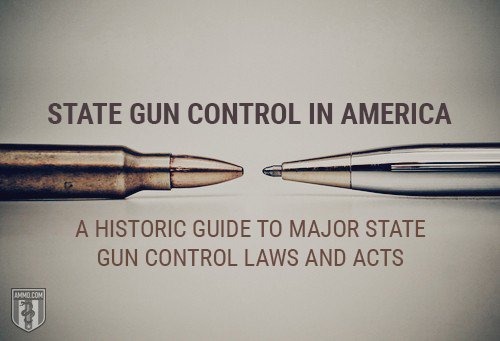 The Second Amendment guarantees American citizens the right to bear arms, but both federal and state governments determine how citizens may legally exercise that right. And while both federal and state gun control laws regularly change, laws at the state level change more frequently and often without the media coverage that surrounds changes at the federal level.
This results in a constant challenge for gun owners to keep up with the latest state laws, especially for those who carry their weapons across state lines. Because while some states have more restrictions than others, state gun control policies across the country are diverse and can change quickly – too easily putting responsible gun owners on the wrong side of the law.
This guide is a timeline of major state gun control acts throughout the history of the United States – not only to help gun owners understand the state laws that have influenced our nation, but also to showcase how one state's gun laws can set an example for others, creating a domino effect of gun control policy for the entire country.
Colonial America: Slavery Versus The Second Amendment
Pre-Constitution, the original Articles of Confederation established that "every State shall always keep up a well-regulated and disciplined militia." The Bill of Rights' Second Amendment holds that "A well regulated Militia, being necessary to the security of a free State, the right of the people to keep and bear Arms shall not be infringed." However, those rights were at that time granted specifically to white males.
Fear of slave and Native American uprisings prompted many colonial states to establish laws banning "free Mulattos, Negroes and Indians" from having firearms. By the antebellum period, southern states like South Carolina, Louisiana, Florida, Maryland, Georgia, North Carolina, Mississippi and even Delaware all had various laws denying guns to people of color and allowing search and seizure of weapons as well as punishment without trial. Crucial to all of this was the Supreme Court case Dred Scott v. Sanford.
Previously a slave, Dred Scott sued for freedom based on the fact that he'd lived in the free state of Illinois and a free area within the Louisiana Territory for a decade. When his suit was unsuccessful in Missouri, he appealed to the federal courts. The contention was whether "a free negro of the African race, whose ancestors were brought to this country and sold as slaves," was a citizen with protections under the Constitution. The Supreme Court decision on Dred Scott v. Sanford in 1857 denied "a free negro of the African race" citizenship – a milestone its issuer cited as "the most momentous event that has ever occurred on this continent," excluding the Declaration of Independence. In that moment, those denied citizenship were also excluded from any of the rights associated with it.
After The Civil War: The Postbellum Era, Emancipation, Reconstruction, and the Black Codes
While President Abraham Lincoln's Emancipation Proclamation freed all slaves, President Andrew Johnson's failing leadership brought with it all the struggles of the Reconstruction Era. Meanwhile, the Supreme Court Dred Scott decision still denied people of African descent citizenship.
Former Confederate states enacted Black Codes to define and restrict freedmen's positions within society. Along with mandating legal responsibilities, land ownership rights, contract labor wages and harsh criminal laws, nearly all the Black Codes effectively and pointedly banned "persons of color" – anyone "with more than one-eighth Negro blood" – from possessing firearms. Mississippi, South Carolina, Louisiana, Florida, Maryland, Alabama, North Carolina, Texas and Tennessee all enacted Black Codes, attempting to maintain the status quo and deny weapons to people of color.
The 13th, 14th and 15th Amendments banned slavery, provided all citizens equal protection under the law and ensured voting rights for all citizens. The 14th Amendment was particularly important, as it defined citizenship as "all persons born or naturalized in the United States," overturning the Dred Scott decision, establishing people of color as citizens and overriding state statutes denying them the right to possess firearms based on their heritage.
Jim Crow South: The Supreme Court Cedes Gun Control to the States
In the following decades, a second civil war ensued as freed slaves sought to embrace their citizenship and formed freedmen militias to protect black communities and maintain political footing. The Jim Crow South, however, was equally intent on keeping firearms out of the hands of black Americans. The Ku Klux Klan (KKK) was founded in 1866 as a "social club," and the Knights of the White Camelia and the White Brotherhood quickly followed. These white supremacist groups swept the South, their foremost demand that freedmen surrender their firearms.
Despite attempts to pass a federal law making the specific seizure of firearms "without due process of law, by violence, intimidation, or threats" a felony, the language of the resulting Enforcement Acts was instead diluted to encompass obstructing civil rights, and the terror continued.
Tensions came to a head in 1873 in Louisiana, when armed white Democrats overpowered Republican freedmen militia at the Grant County Courthouse in what came to be known as the Colfax Massacre. Three whites died, but estimates indicate as many as 150 freedmen were killed – possibly more – most in the hours after they'd surrendered. Initially, three white men were prosecuted under the Enforcement Acts. But in 1876, the Supreme Court decision on the case – United States v. Kruikshank – dropped all charges, ruling that the power to protect citizens from private actions like those of the KKK resided with the states, not the federal government.
Southern states were quick to pass Saturday night special laws limiting handgun ownership through financial requirements that retained a racial bias. Tennessee had already enacted "An Act To Preserve the Peace and Prevent Homicide" in 1870, but simply reworked it for 1879's "An Act to Prevent the Sale of Pistols." It set the precedent by banning all handgun sales except expensive Army and Navy model handguns.
Arkansas followed in 1882 with an identical law, while in 1893, Alabama placed a heavy tax on handgun sales. In 1902, South Carolina limited handguns to law enforcement – often Klan members – while Mississippi followed a subtler path, requiring firearms dealers to maintain records available upon demand for handgun and handgun ammunition sales (with the intent to allow race-based confiscation). In 1907, Texas, like Alabama, decided to adopt a tax aimed at preventing both poor whites and blacks from being able to buy handguns.
Prohibition Era: Immigration, Organized Crime and Concealed Carry Laws
Concealed weapons of any kind have long been a controversial issue. As early as 1813, Kentucky law controlled concealed weapon carry, to include Bowie knives, sword canes and pocket pistols. Laws in Louisiana, Georgia and Tennessee, for example, also retained language to control "how arms may be borne." In 1897, the Supreme Court case Robertson v. Baldwin determined that laws controlling concealed carry did not violate the Second Amendment, stating "the right of the people to keep and bear arms (Art. II) is not infringed by laws prohibiting the carrying of concealed weapons." Recently, the Ninth Circuit Court once again confirmed that ruling in Peruta v. County of San Diego.
The New York City of the early 1900s had no such laws, but was marked by European immigration, Tammany Hall, extensive organized crime and gun violence of all kinds. A newspaper article from the time cited the example of a grief-stricken Italian father fatally shooting the truck driver who'd accidentally run over his son. However, January 23, 1911, proved the tipping point when Fitzhugh Coyle Goldsborough used a concealed .32-caliber automatic pistol to assassinate novelist David Graham Phillips midday in Gramercy Park for an imagined slandering of his sister.
Supported by the Tammany Hall apparatus and effective August 31, 1911, the resulting Sullivan Act of 1911 mandated discretionary police-issued licenses to possess a handgun and made carrying an unlicensed concealed weapon a felony. While gun violence in fact escalated right into Prohibition, these two criteria formed the basis for many other states' "may issue" gun laws requiring discretionary police-issued licenses to restrict gun ownership.
By 1987, only one state had unrestricted concealed carry – while eight were "shall issue," 25 "may issue" and 16 "no issue." In 2016, 10 states have unrestricted concealed carry, while 32 are "shall issue" and eight "may issue." New York remains one of the few "may issue" states, and the Sullivan Act remains on the books as New York Penal Code Section 400.00 after more than a century.
Continue reading State Gun Control in America: A Historic Guide to Major State Gun Control Laws and Acts at Ammo.com .


We believe arming our fellow Americans – both physically and philosophically – helps them fulfill our Founding Fathers' intent with the Second Amendment: To serve as a check on state power.