These were actually taken of my bug yesterday. Some previous owner had removed the ashtray along with the frame & rollers that holds it in place, but I found one on Facebook, installed it and the turn-signal cancel cam I'd ordered a few weeks ago (it was on back order) showed up on Thursday before noon ...
Since Thursday is my day off and I had already planned on installing a Bosh tachometer I spent my bonus points on Amazon ... So I spent a good part of the afternoon putting those in. Since I now have an ash tray I modified and relocated the cup-holder that I'd got from JBugs. I had to drill a hole under the dash to mount it but its solid.
Also, without the cup holder in the way I went down to AutoZone and bought a power port (cigarette lighter outlet) for the right side of the ashtray (opposite the ignition switch) to use to power my cell phone, Bluetooth speaker or whatever ... Its amazing the "modern" conveniences we take for granted in new cars ...
It was a busy and satisfying afternoon!
The quick release steering wheel is part of my theft deterrent system, along with battery and ignition cut-off switchs.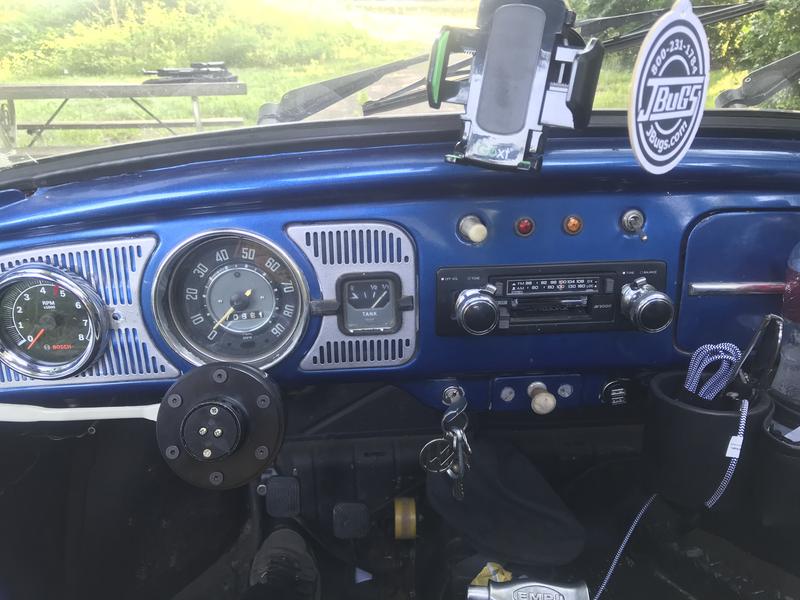 After I got done, I cleaned up a bit & went out to my buddy's farm with my Aresnal SLG 95 (MagPul furniture and a Texas Weapons Systems top cover, a CZ rear sight & old RDS) to see if it would co-witness ... After about 30 rounds I've pretty much decided the old red-dot is worn out and won't hold zero.
If you really want something you'll find a way ...
... if you don't you'll find an excuse.

I'm really not a "kid" anymore ... but I haven't grown up yet either