I haven't checked in for a while so;
The torch crossed my ming, but I didn't have one available(I've since gone out and bought one). I took the head to a machine shop and got it back last Friday. On Saturday I installed the head and adjusted the valves ... Just for good measure I pulled the other valve cover, removed the rocker arm assembly replaced those pushrod tubes and seals. While I was there I checked the torq on the right head bolts and both lower outside studs were below spec, then adjusted the valves.
Last Sunday was a complete waste of time.
I was thinking last Sunday "today is the day I'm finally going to get my new carbs on!" BUT ... When I grabbed the manifold and gasket I noticed there was no hole for the steel alignment pin in the head!
At first I thought "no problem, I can cut a hole using the old gasket as a template ... There I noticed there is no hole in the manifold either!
I grabbed some pliers ... No Good
I grabbed some vice-grips ... No Good
I grabbed my propane torch the new one that I wish I'd had when the exhaust stud) ... AGAIN, NO GOOD
I asked on the Samba forum and got a tip from someone on a there to give the pins in the heads a gentle but firm tap to the right then the left.
Skip to today ... The first time I had to work on it; I followed the advice and the first one I pulled out with my fingers, the other side I had to use pliers, but it came right out.
Today I only had a few hours and the instructions to mount the manifolds, carbs, air cleaners crossbar linkage. The instructions were on several pages and weren't well organized ... I'd take two steps forward, then a step back, then re-assemble, two more steps forward, then back ... But at least now I know better for next time!
I got the manifolds on and the carbs mounted along with the cross bar ... I'm not exactly where the coil is supposed to mount, but there is a bracket for it. It's in the instructions to remove it from the fan housing but I can't find anywhere in the text or diagram, where it's supposed to mount; but I'll get it figured out ... Then setup the linkage and fuel lines ... Put on my headers and slide it in ... Cross my fingers and hope it starts!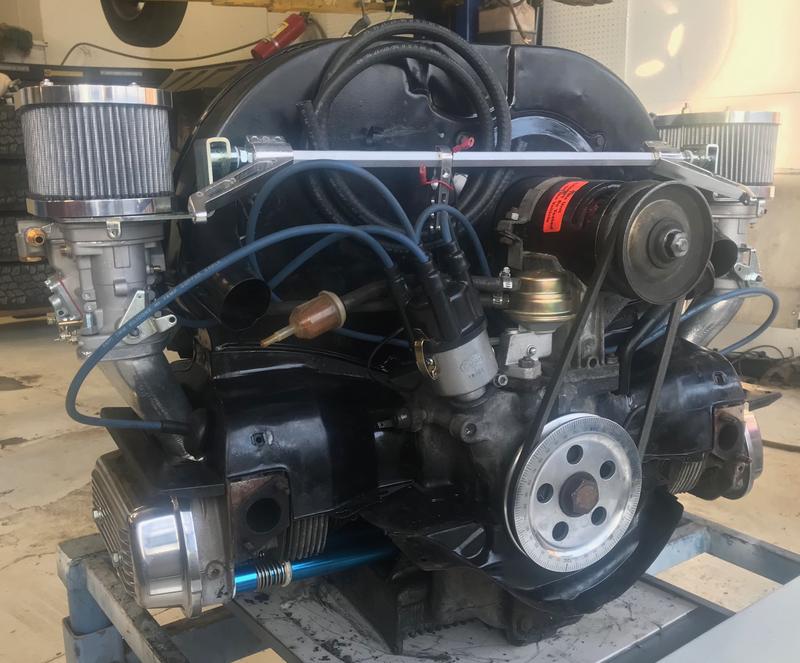 If you really want something you'll find a way ...
... if you don't you'll find an excuse.

I'm really not a "kid" anymore ... but I haven't grown up yet either