Very nice, I like Superbirds. The airplane stick shifter you mention is actually called the
Hurst Pistol Grip
shifter.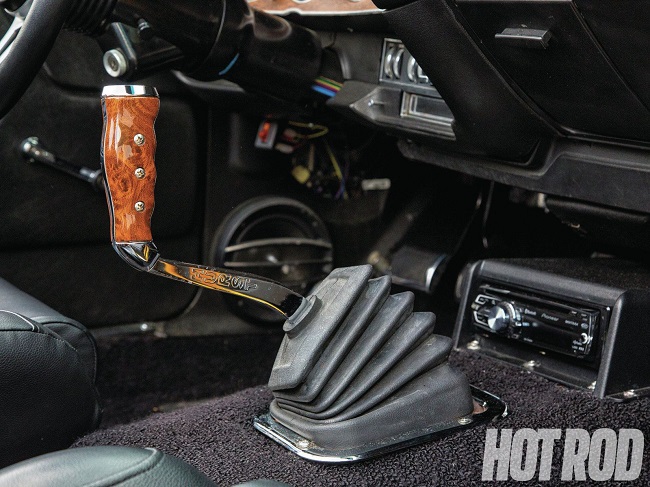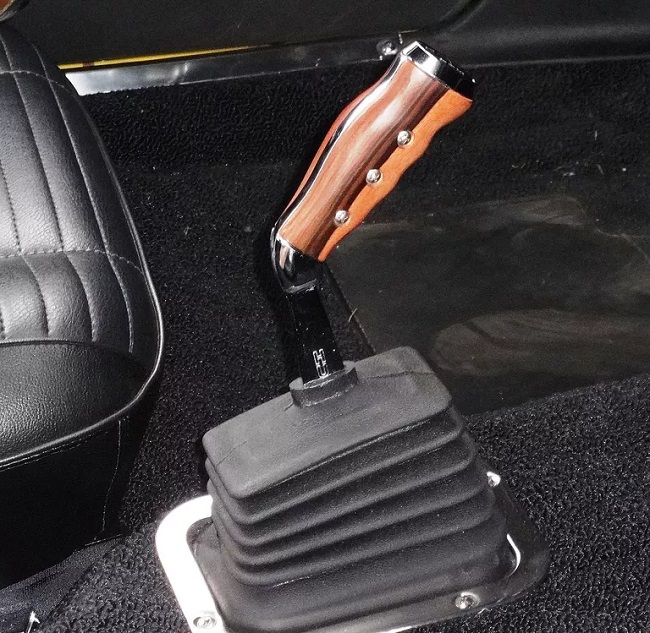 First Year for the Hurst Pistol Grip Shifter
The First Pistol Grip
The first pistol grip shifters landed in showrooms on 1970 model cars. If you stopped by the dealership in late 1969 you could see 4-speed cars like the second generation Dodge Charger sporting the unique shift handle. Chrysler pony cars like the Plymouth Barracuda and the Dodge Challenger RT (Road Track) also used them.
Shift handles of the past came in all shapes and sizes. However, all of them had threaded holes and they screwed down onto the threaded rod of the shifter. The pistol grip is a completely different ballgame. The real wood handles mount to the sides of the shift lever just like they would on a real hand held firearm.
Recessed, heavy duty, stainless steel screws with a drop of thread locking compound assured a solid connection. They finished off the top of the handle with a stainless steel cap that included an easy to read map of the shift pattern. When you reached down and grabbed the pistol grip shift handle it felt like you were holding a 357 Magnum.
Why you see so Many Pistol Grip Shift Handles
You gain a tremendous sense of power and precision when you hold the handgun shaped handle. Although it probably has little to no effect on quarter-mile time, it feels good and it looks awesome.
For this reason Chrysler, muscle car owners have a tendency to install it on their automobiles. Aftermarket companies like Brewer's Performance make adapters and high-quality reproduction handles at reasonable price points. This makes it possible for people to add the popular accessory, even if it doesn't belong on the car.
https://www.liveabout.com/firs...-grip-shifter-726344
---

Donald Trump is not a politician, he is a leader, politicians are a dime a dozen, leaders are priceless.