quote:

Originally posted by Blue68f100:
Yet some do it very consistently during competition. I'm with Fred on this. It's all about repeat ability from round to round. Keep detail notes. Little things like brass, OAL, temp, pressure, etc.... all make a difference.
The little things -- brass, OAL, jump/jam, powder weights -- are things the reloaders can comment on. I just try to click on the right box when I order ammo over the web. I just let the factories do their best in providing me quality boxes of ammo.
The little things -- temp, pressure -- unless you're the plant manager for Eley's UK factory and you're manufacturing 22lr match ammo, I seriously doubt you measure/control temp, pressure, or humidity during your loading process. Well, unless you have a climate-controlled loading room. Now during shooting, you bet. My handy Kestrel gives me accurate Density Altitude. I use the Kestrel, vegetation, and mirage to SWAG wind while pressing the trigger.
As noted by NikonUser, consistent 1 MOA performance at any kind of distance is truly world-class, record-setting performance. That "1 MOA all day long" line is an keyboard commando thing. Not to say that sub-MOA performance doesn't occur, just that we mere mortals realize it's a pretty darn special day when the stars are properly aligned for us.
Speaking of special days, the following is 5 shots at 1200 yards in 20-24 mph winds from right to left. That's a 24" square piece of steel, with impacts showing about 11" of vertical. And well, ahem, a little more lateral variation. All five rounds were fired in no more than 25 or 30 seconds -- close to as fast as I can fire at that distance, after watching my impacts, scanning the scope for any changes in grass movement, listening for changes in wind volume. I held wind, which was in the 12-14 MOA ballpark, and by coincidence was 12-14 feet right of target center.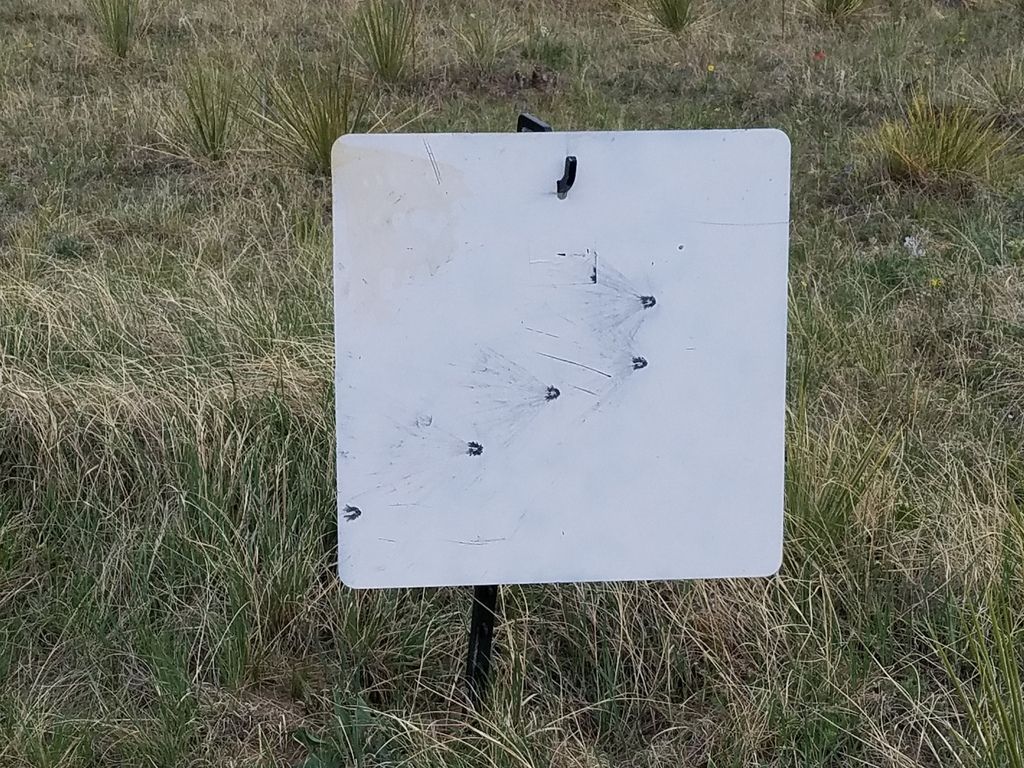 It's unfortunate that I was using factory Hornady ammo, because it evidently doesn't shoot all that well.
OP -- Definitely a lucky day for me, impacting 5/5 at that distance. Depending on how an imaginary milk jug was dangled in front of the plate, I could have hit it anywhere from 0 to 3 times. But honestly, ixnay the gimmicky milk jug thing and concentrate on more traditional targets and accuracy metrics at distance.