I have to make some cases for a .25 Gibbs, which is a 30-06, necked down to .25, blown out and shoulder pushed forward, wildcat from the 1950s.
I'd buy cartridge cases from Quality Cartridge, but they haven't made the .25 Gibbs in three years, and I'm running out of patience.
I'd like to fire form the brass from .30-06 cases, of which I have plenty, but have never done so, and need some advice.
First, I'd prefer to form without bullets if possible, using wadding, corn meal or wax instead of a bullet. I'd also need to know how much of what kind of powder to use for this.
Same info needed if the only way to do this is to use use a bullet. How much, of which powder, for the fireforming charge.
As a finished case, the Gibbs will use a slow burning powder, because it is a big case, with a small bore, and is moving at pretty high velocity. From a capacity standpoint, the finished Gibbs is half way between a .25-06 Remington and a .257 Weatherby.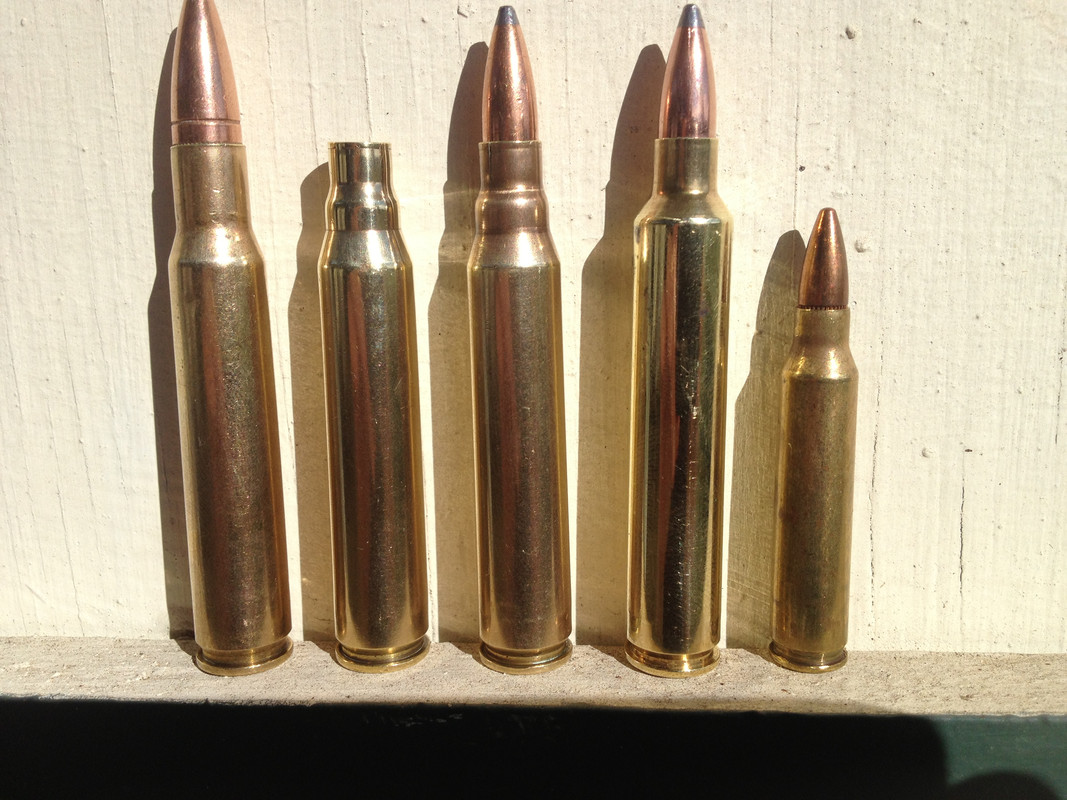 Here's a picture for comparison purposes. First, a 30-06, next, a .25 Gibbs case formed with shoulder, next, shoulder and bullet, then completed round, and a .223 for comparison.
I did not make these cartridges; they came with the rifle and dies when I got them, and the 7 or so stepped and loaded cases I got have split when I tried to form them. I haven't fired the finished case, as it is the only one I have, and want to keep it for measurement purposes.
There isn't much published information out on the web that I trust on this issue, and would like your input. Rocky Gibbs' wife burned all of his papers after his death, so there really isn't much to go on. When I do get cases, I will start with .25-06 load data and work up to a reasonable load from there.
I have read of a number of ways to do this on the web. Some posters suggest forming the step, using a bullet, and a reduced charge of the intended powder, but they don't say how much reduced. Some suggest using a bullet, not forming the step, jamming the bullet into the lands, and using a reducd charge. Again, no indication of how much reduced. Still others suggest a pistol or shotgun powder and a bullet, or, as noted above, powder, a buffer like corn meal and a wax plug.
I'm at sea on where to start with this, and could use some advice from the folks on here who I trust way beyond random information on the web.
Thanks for your help.
A
---
"We may consent to be governed, but we will not be ruled." - Kevin D. Williamson, 2012

"All the citizens of this land are of right freemen; they owe no allegiance to any class and should recognize no task-masters. Under the chart of their liberties, under the law of high heaven, they are free and without shackles on their limbs nor mortgages upon the fruits of their brain or muscles; they bow down before no prince, potentate, or sovereign, nor kiss the royal robes of any crowned head; they render homage only to their God and should pay tribute only to their Government. Such at least is the spirit of our institutions, the character of our written national compact."

Charles Triplett O'Ferrall of Virginia - In Congress, May 1, 1888