Tested one of my scales.
I settled on getting a Frankford Arsenal Platinum Series Precision Scale, for trickling, and a Lyman Gen6 Digital Powder Measure. The FA scale dropped $15 at Amazon, so I pulled the trigger on it now.
Then I got to wondering: "How will I know?" Luckily, I found a 1 gram Troemner Class 2 NIST-traceable test weight on eBay for $22, shipped USPS Priority.
Lookin' good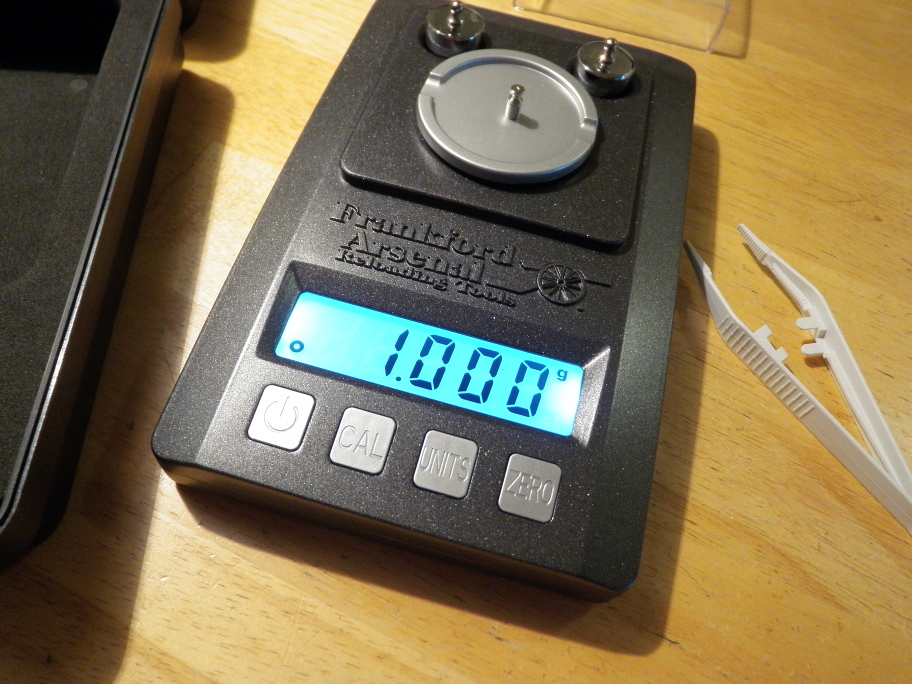 (The scale's resolution is 0.005 gm.)
Saturday, Aug. 5 Update
Stopped by the new Cabela's, whose Grand Opening was this weekend. They had Winchester large pistol primers on sale for $28/1000. Picked up two thousand of those, a 1 lb. can of Win 231 powder and a bag of 100 Starline 45 (Long) Colt brass

They gave me the military discount for being a veteran.
Stopped by my best friend's. He gave me his Lee Auto-Prime. (Already had the shell holders.) If I wanted to use the hand press, I could actually start reloading .45 ACP and .45 Colt now.
This message has been edited. Last edited by: ensigmatic,
---

"America is at that awkward stage. It's too late to work within the system,,,, but too early to shoot the bastards." -- Claire Wolfe
"Whenever somebody uses 'liberal,' when what they really mean is 'leftist,' they immediately lose my attention." -- Me