I was loading some rounds for my 6.5 Creedmoor FN SPR, and started getting frustrated with my Hornady trickler.
It drops 4-5 kernels of powder at a time, then nothing for a couple turns, then 4-5 more kernels, over and over.
Also, after about 50 rounds, i noticed that half my cases had noticably different smounts of powder than others.
So, i rechecked my cheap red midway usa scales calibration with a checkweight and it was way off.
So, i recalibrated it, dumped the cases and started over. After a few rounds, same thing happened again.
I got pissed, did a little google-fu, and in a moment of anger ordered a Satorius ES323-1s scale. Even if it saves me from blowing my face off just once, itll be worth the rather significant price. Its a magnetic force restoration scale.
But, a slow precise (1 kernel at a time) powder trickler seemed harder to find.
So, i made one!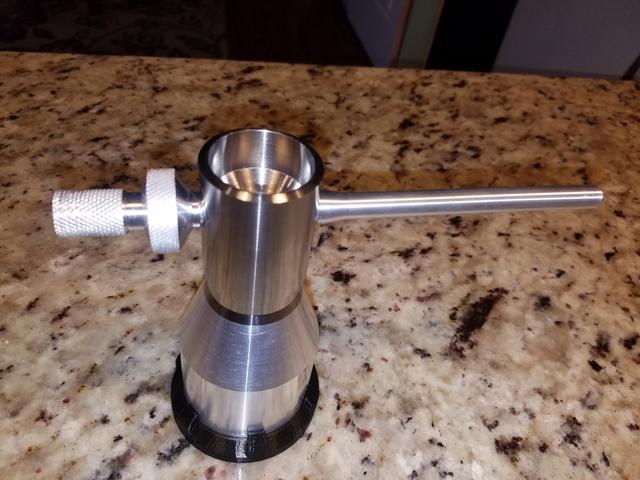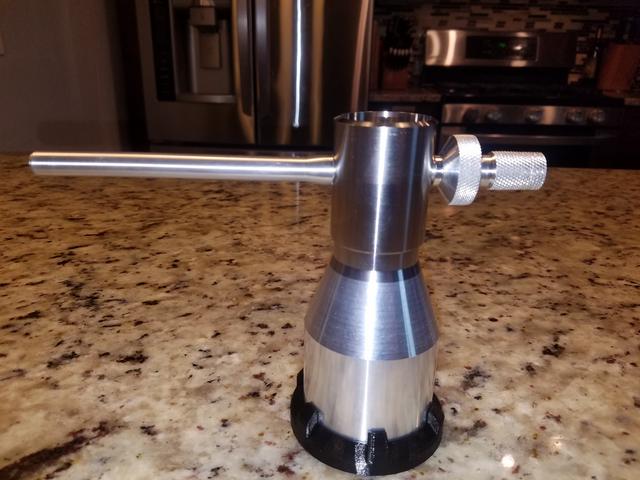 The bottom half was machined from a solid chunk of 6061-t6 aluminum. The top hslf is machined from a solid chunk of 6al4v titanium. The spout is 6061-t6, internally threaded 5/16-18. The threads seperate the powder into a nice evenly dispersed flow.
The plastic basepad is 3d printed.
It drops 1-2 kernals per rotation, every rotation. Its bottom heavy and doesnt move. Between the Satorius scale and the trickler, i can get charges to within a couple hundredths of a grain, consistently.
I just wanted to show it off. It took about 4 hours to make.